President Donald Trump recently reporters that five locations remain under consideration for his upcoming meeting with North Korean dictator Kim Jong-Un. The announcement came amid discussions between Washington and Pyongyang. Trump and Jong-Un intend to meet sometime before May 2018.
"We have had direct talks," Trump said, alongside Japanese Prime Minister Shinzo Abe. "I really believe there's a lot of goodwill. We'll see what happens, as I always say. Because ultimately it's the end result that counts." None of those locations rest within the United States. The meeting comes hotly anticipated, and not least because of Trump's long history of engaging North Korea. Let's take a look at his history with the dictator, as well as the latest statement he made on the country (Page 18).
1. 1999: Trump called North Korea 'sort of wacko'
He is big into negotiations. | Sven Heinrich via Twitter
In an interview with the late Tim Russert on Meet the Press, Trump said if he became president, he would "negotiate like crazy" with North Korea. "The biggest problem this world has is nuclear proliferation," he explained. "And we have a country out there — North Korea which is sort of wacko, not a bunch of dummies — and they are going out and they are developing nuclear weapons."
Next: The real estate mogul has never seemed shy about insulting the dictator.
2. 2000: He called North Korea's leadership 'very bad people'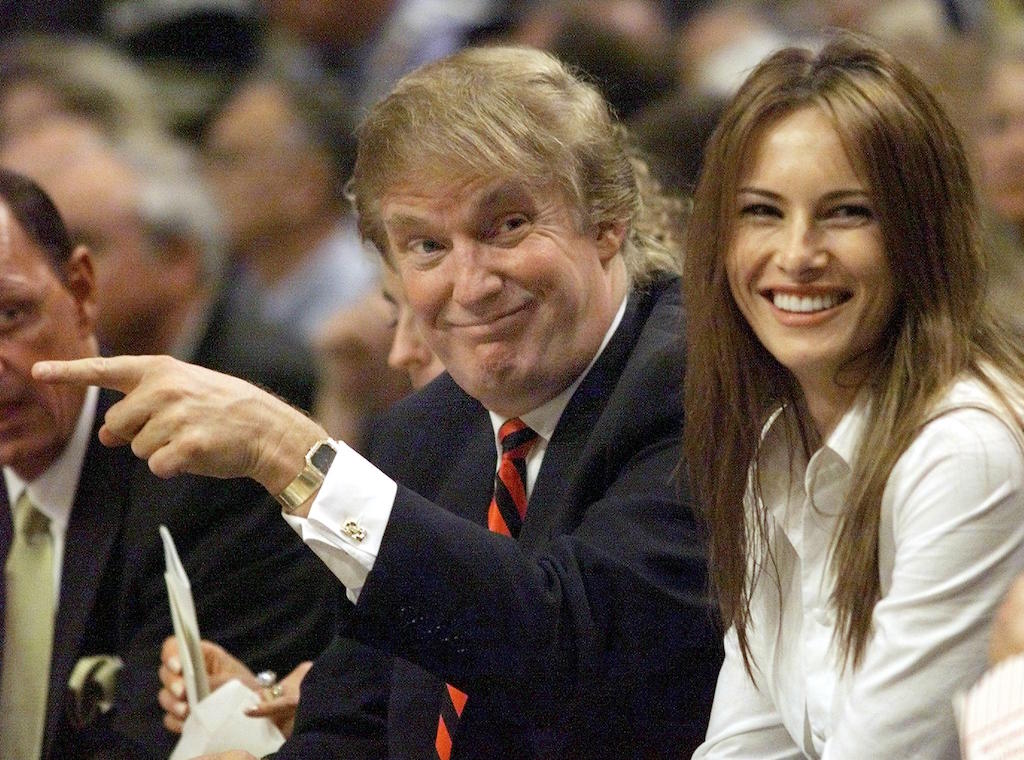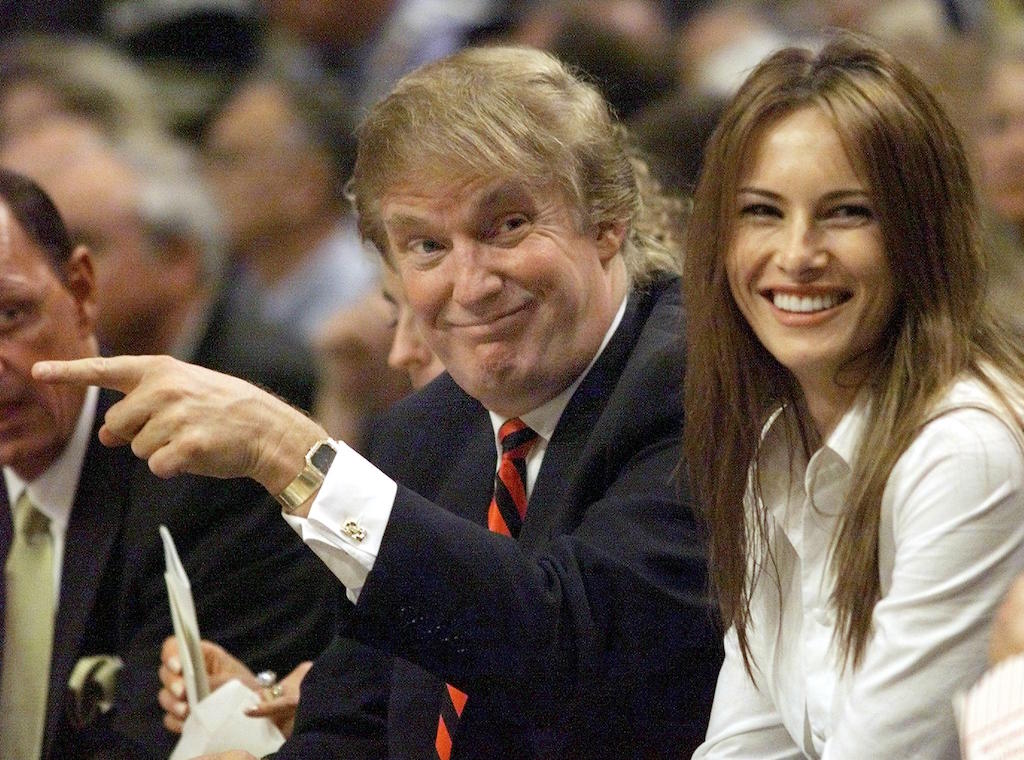 He called out both North Korea and Russia. | Jeff Haynes/AFP/Getty Images
When deciding whether to run in 2000, he described North Korea as the United States' greatest foreign threat. He also called it a country "run by some very bad people." Interestingly, he had some pot shots for Russia, as well. Trump called himself "a big, big fan" of the economic embargo against Cuba, but called its president "a bad guy."
He further accused Japan of "ripping us off for 25 years," and called Russia "totally mixed up." The future president added, "they have missiles run by people nobody ever even heard of."
Next: He also called on this Asian country to take North Korea to task.
3. 2013: The president wanted China to help with intimidation
He wants China to step up. | Donald J. Trump via Twitter
Trump did not only speak out when running for office, either. In 2013, he called North Korea reliant on China. He said, "China could solve this problem easily if they wanted to but they have no respect for our leaders." The reality TV star further criticized Obama's approach to North Korea, that same year.
Trump tweeted, "Where is the President? It is time for him to come on TV and show strength against the repeated threats from North Korea — and others."
Next: A few years ago, he also said he would never go to the country.
4. 2013: Trump called North Korea 'the last place I want to go'
He was glad he fired Dennis. | Donald J. Trump via Twitter
Always one for a nickname, Trump called out "crazy" Dennis Rodman during the 2013 season of Celebrity Apprentice. He tweeted, "Crazy Dennis Rodman is saying I wanted to go to North Korea with him. Never discussed, no interest, last place on Earth I want to go to."
Later, he wrote, "Dennis Rodman was either drunk or on drugs (delusional) when he said I wanted to go to North Korea with him. Glad I fired him on Apprentice!"
Next: As a presidential candidate, he also had harsh words for Jong-Un.
5. 2015: He called Jong-Un a 'maniac'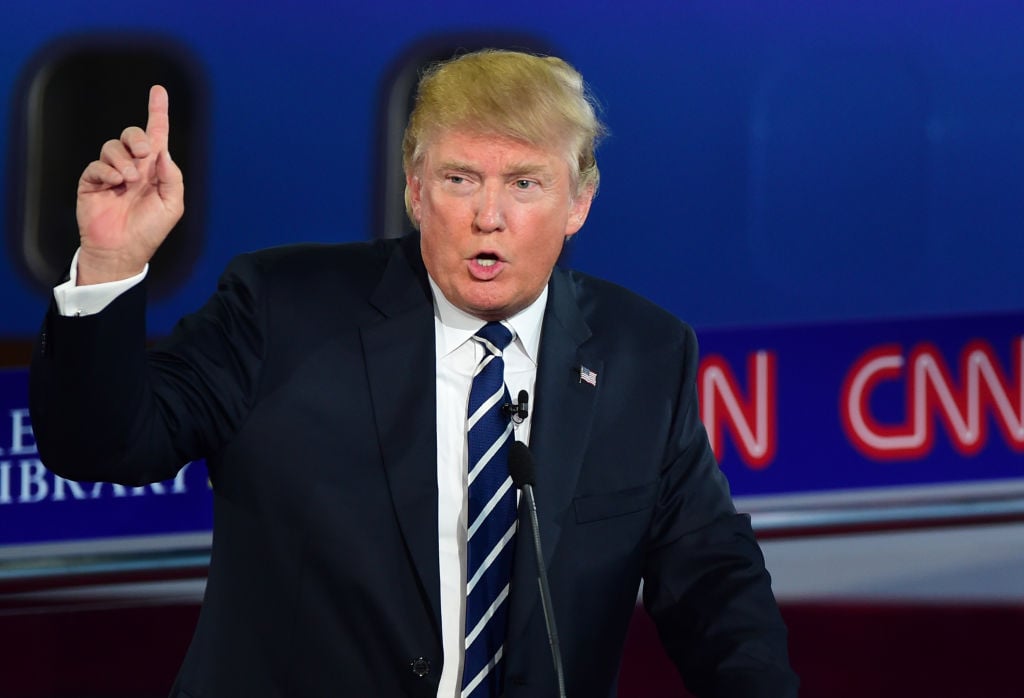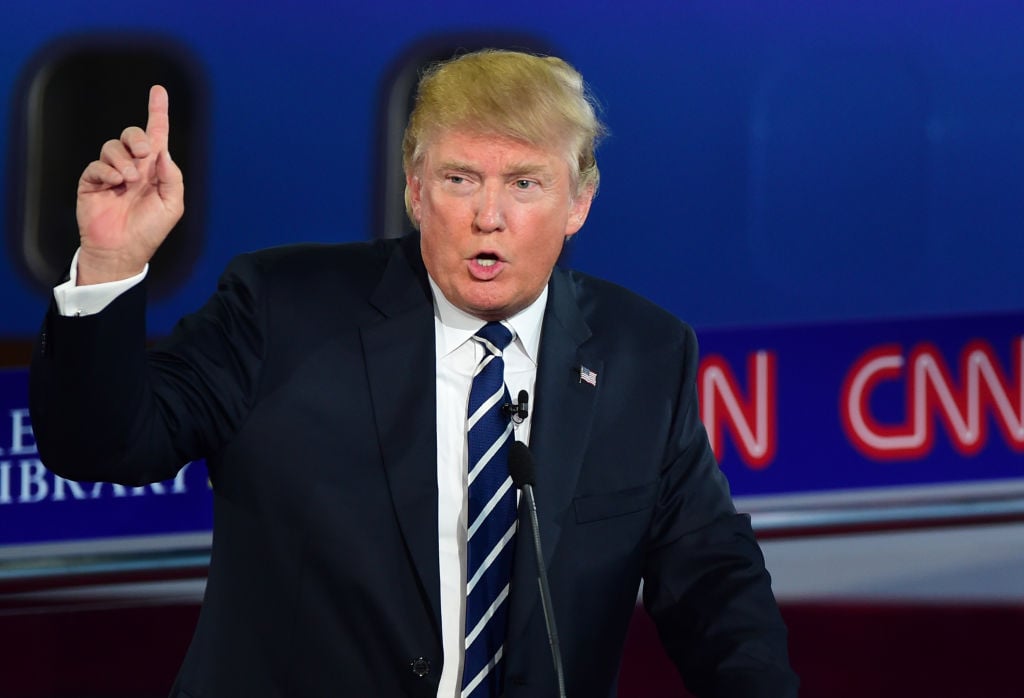 During the debate he referred to him as a 'maniac.' | Frederic J. Brown/AFP/Getty Images
During the second GOP presidential debate in September of 2015, he called Jong-Un a "maniac" without calling him out by name. "Nobody ever mentions North Korea where you have this maniac sitting there and he actually has nuclear weapons and somebody better start thinking about North Korea and perhaps a couple of other places," he said. "But certainly North Korea."
Next: He also called the dictator "a bad dude."
6. 2016: Trump wants to make Jong-Un disappear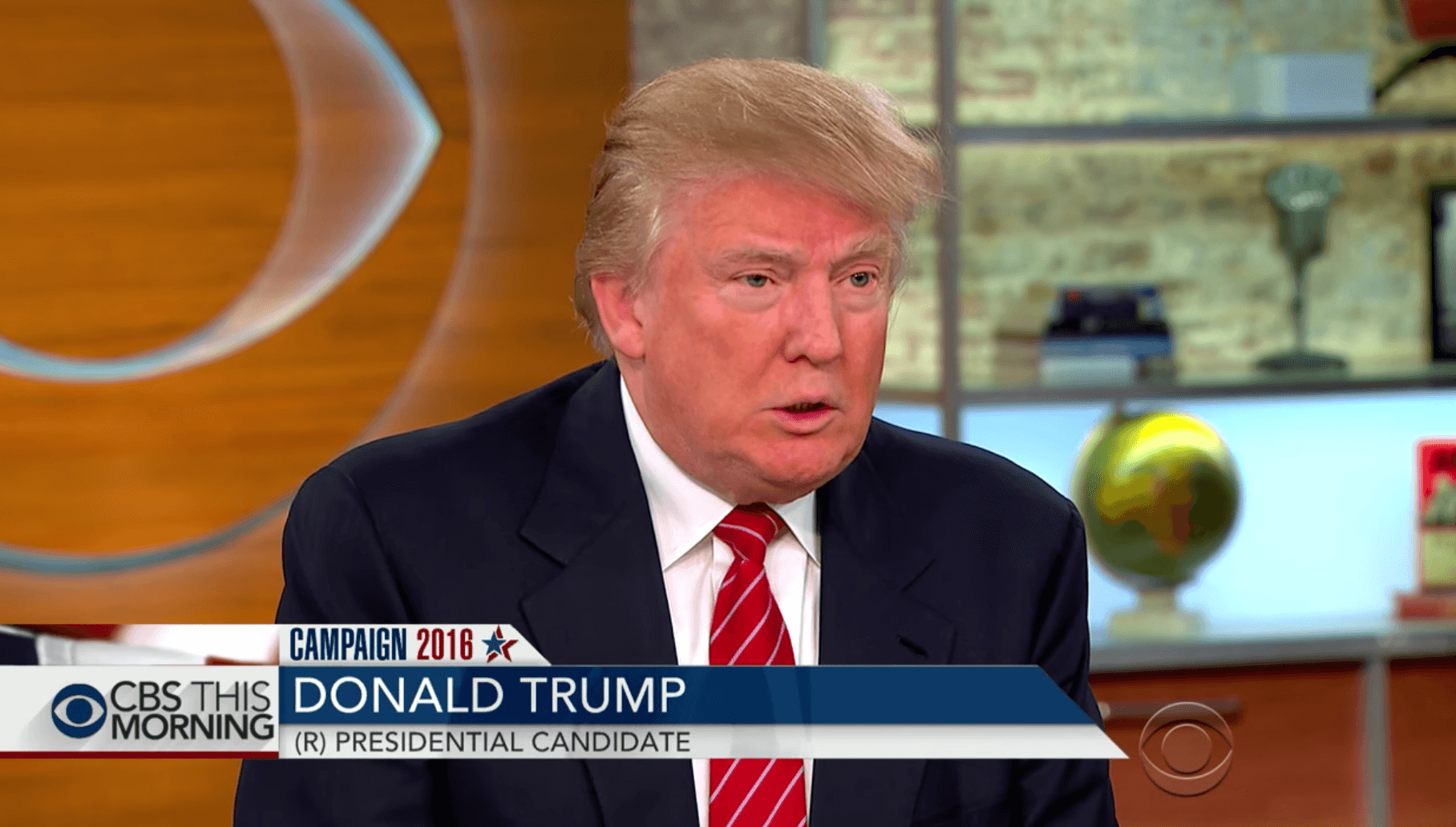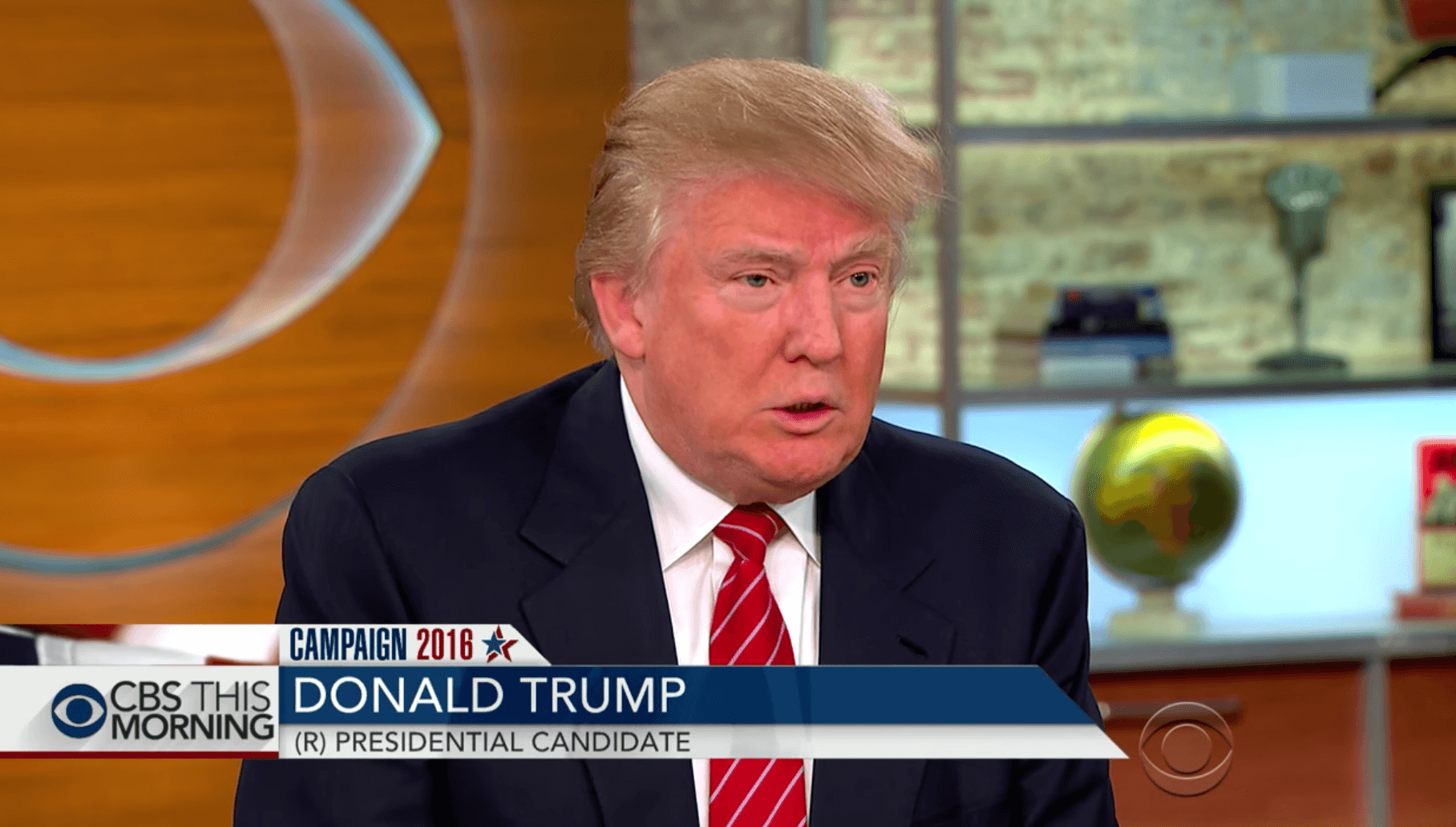 He suggested China make the leader 'disappear.' | CBS This Morning via Youtube
In an interview on CBS This Morning in February 2016, Trump once again suggested China assist the U.S. in dealing with North Korea. He also pledged to get China to make Jong-Un "disappear in one form or another very quickly." He added, "I mean, this guy's a bad dude — and don't underestimate him … Any young guy that can take over from his father with all those generals and everybody else that probably wants the position, this is not somebody to be underestimated."
In May of that year, Trump told Reuters he would speak to the dictator. "I would have no problem speaking to him," he said. That promise came true, shortly.
Next: The golfer-in-chief had questions about how the dictator spends his time.
7. July 2017: 'Doesn't this guy have anything better to do?'
He thinks the leader launches missiles out of boredom. | Donald J. Trump via Twitter
Some of the most honest statements Trump makes emerge on Twitter. In July of 2017, he tweeted, "North Korea has just launched another missile. Does this guy have anything better to do with his life? Hard to believe that South Korea … and Japan will put up with this much longer. Perhaps China will put a heavy move on North Korea and end this nonsense once and for all!"
Next: The following comment struck fear into the hearts of Americans and Koreans alike.
8. August 2017: Trump pledges 'fire and fury'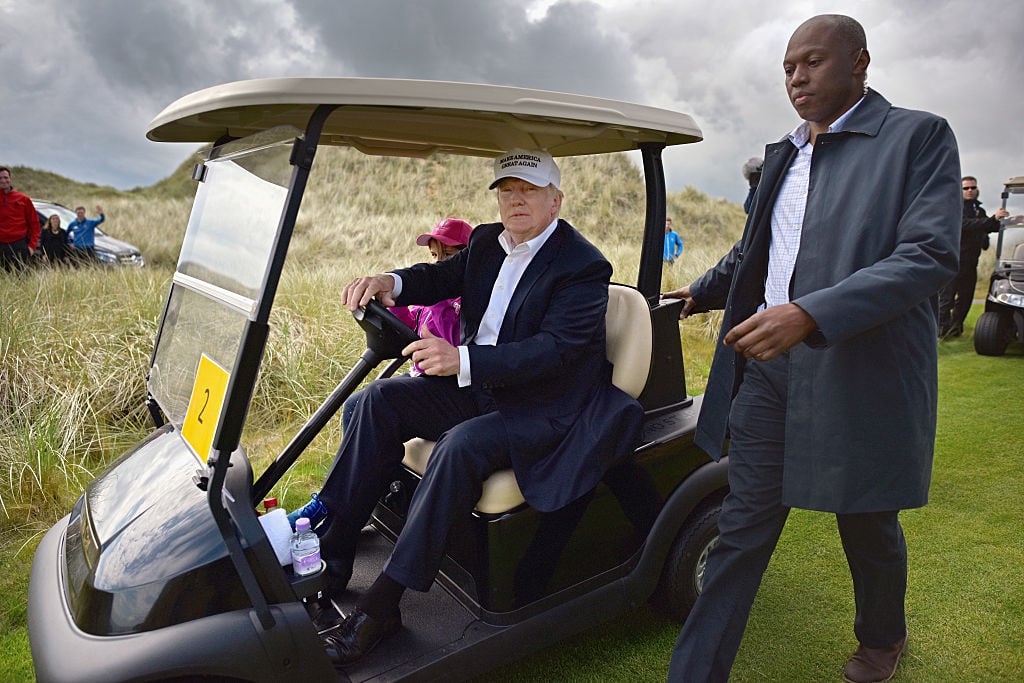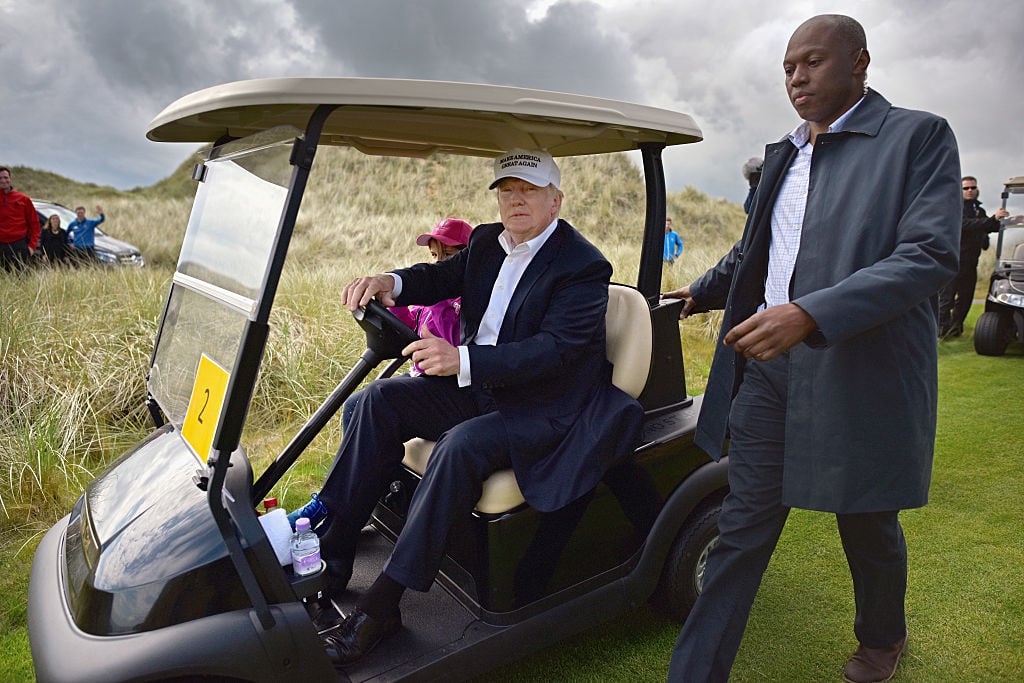 He threatened him while golfing. | Jeff J Mitchell/Getty Images
While at his golf resort in Bedminster, New Jersey, Trump warned that North Korea better not make any more threats. "They will be met with fire and fury like the world has never seen," he said. In response, North Korea announced its plan to fire missiles at Guam. It called that action "a serious warning signal to the U.S."
Trump's seemingly impulsive threat came only a few months after he said he would meet the dictator, "under the right circumstances." In April, he also called Jong-Un a "smart cookie."
Next: We wished that statement came as an isolated incident, but no such luck.
9. August 2017: The president doubled down
Not firing a missile at the U.S. is praiseworthy. | Donald J. Trump via Twitter
Later that month, Trump re-confirmed the "fire and fury" comment, proving it did not just represent an impulsive throw-away. "If anything, maybe that statement wasn't tough enough," he added. Later that month, after Jong-Un did not launch missiles at Guam after all, he praised the dictator.
"Kim Jong Un of North Korea made a very wise and well reasoned decision," Trump tweeted. "The alternative would have been both catastrophic and unacceptable!"
Next: Most of us remember this now-iconic nickname for the dictator.
10. Sept. 17, 2017: The dictator and Elton John have this in common
Don't drag Elton John into this. | Donald J. Trump via Twitter
Trump and his South Korean counterpart, Moon Jae-In, agreed to intensify economic and diplomatic pressure against Jong-Un. Trump added his signature twist to the agreement, calling Jong-Un "Rocket Man" in a tweet.
He said, "I spoke with President Moon of South Korea last night. Asked him how Rocket Man is doing. Long gas lines forming in North Korea. Too bad!"
Next: Many of the officials who heard the following speech found it too domineering.
11. Sept. 19, 2017: In a speech to the UN, he went even further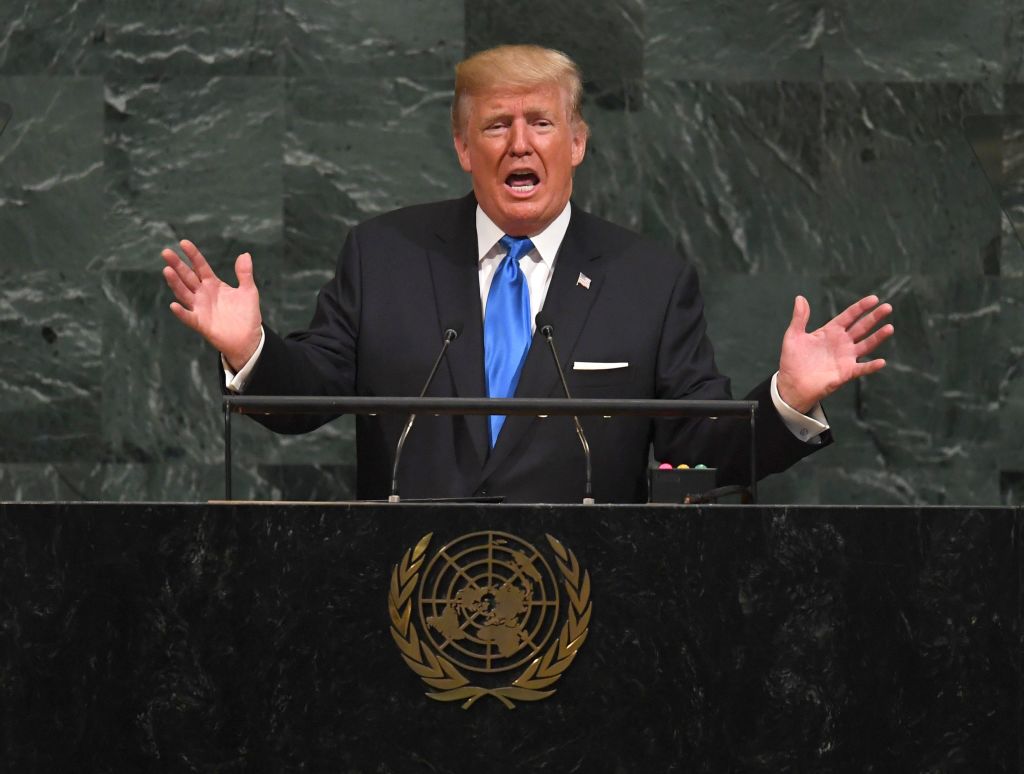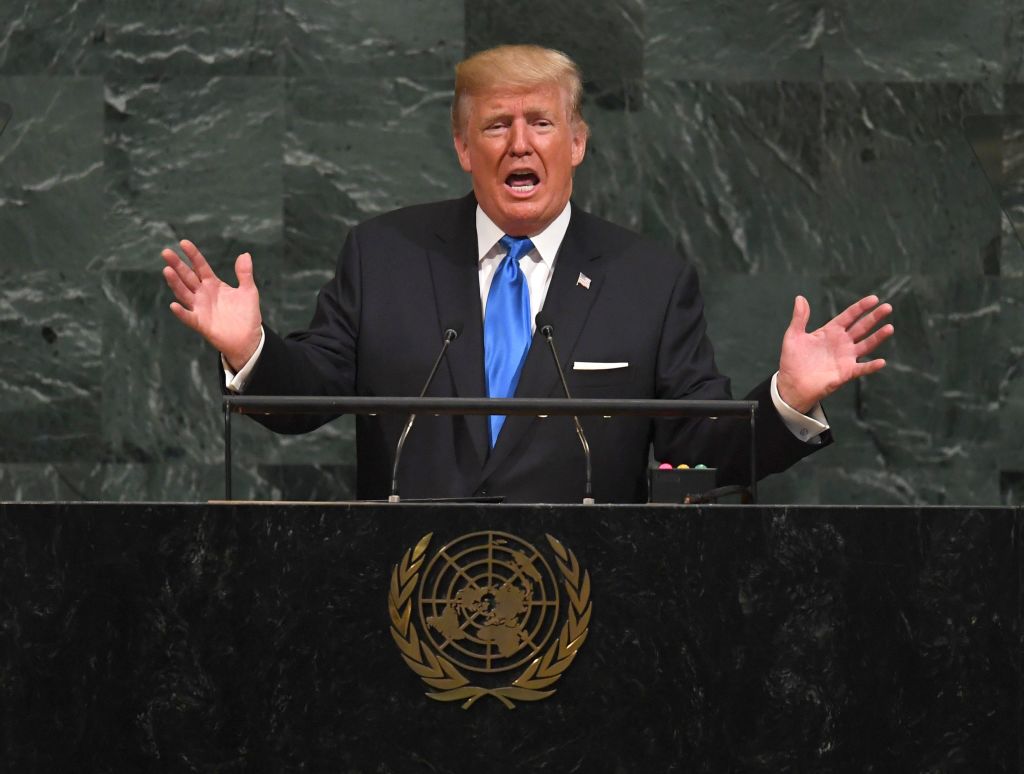 He warned of destruction. | Timothy A. Clary/AFP/Getty Images
When the president gave a speech to the UN General Assembly, he warned the U.S. would "totally destroy North Korea" if it had to defend itself or its allies. Trump said while the U.S. has "great strength and patience," its options might soon run out.
Never one to stand down, Trump suggested Jong-Un could not survive an American attack. "Rocket Man is on a suicide mission for himself," he said.
Next: Don't worry, we had to look up the next insult too.
12. Sept. 22, 2017: Trump lashed out after getting called a 'dotard'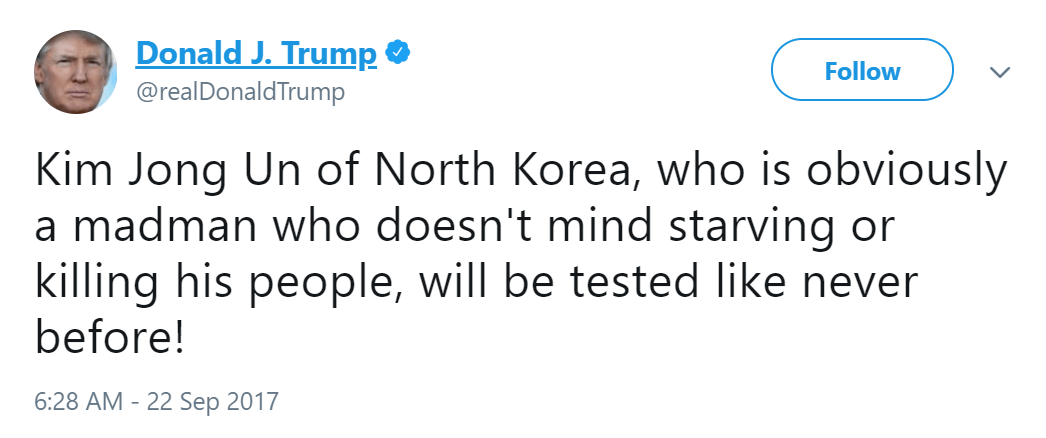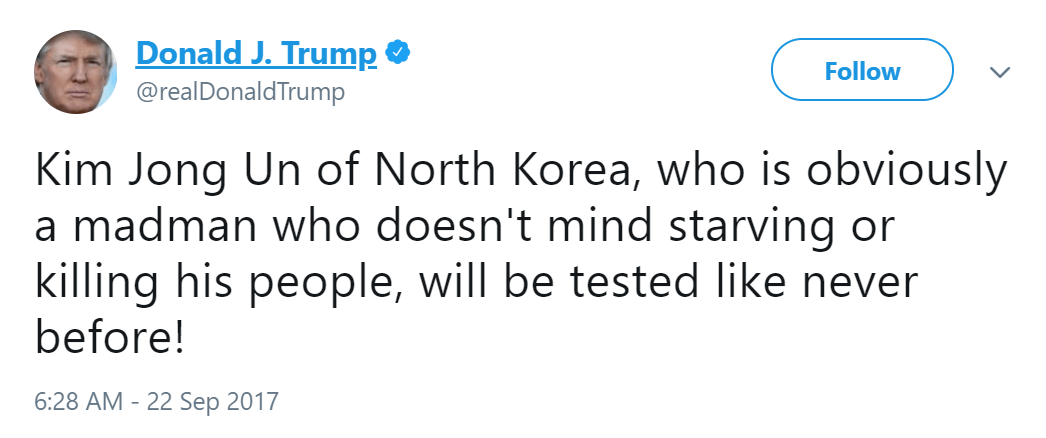 They just fire insults back and forth. | Donald J. Trump via Twitter
Shortly after the UN appearance, Jong-Un accused Trump of "mentally deranged behavior." Coming from the dictator, that really says something. "Action is the best option in treating the dotard who, hard of hearing, is uttering only what he wants to say," said Jong-Un to KCNA.
In response, Trump tweeted, "Kim Jong Un of North Korea, who is obviously a madman who doesn't mind starving or killing his people, will be tested like never before!"
Next: When things did not go his way, Trump got personal.
13. Nov. 12, 2017: He fat-shames the dictator
It's a new low of diplomacy. | Donald J. Trump via Twitter
In November 2017, Trump and Jong-Un exchanged schoolkid insults that do not befit the offices they hold. Trump tweeted, "Why would Kim Jong-Un insult me by calling me 'old,' when I would NEVER call him 'short and fat?' Oh well, I try so hard to be his friend – and maybe someday that will happen!" That might mark the first time a world leader gets upset because a tyrannical dictator did not want to make friends.
Next: The president also vaguely promised to deal with this issue.
14. Nov. 28, 2017: Trump pledged to deal with long-range missile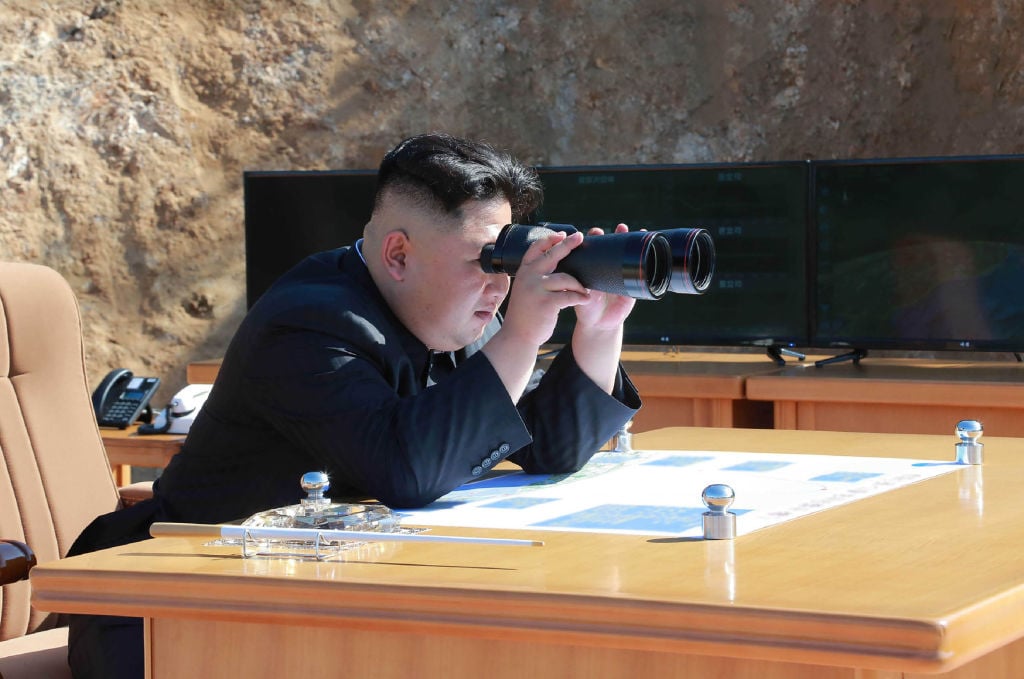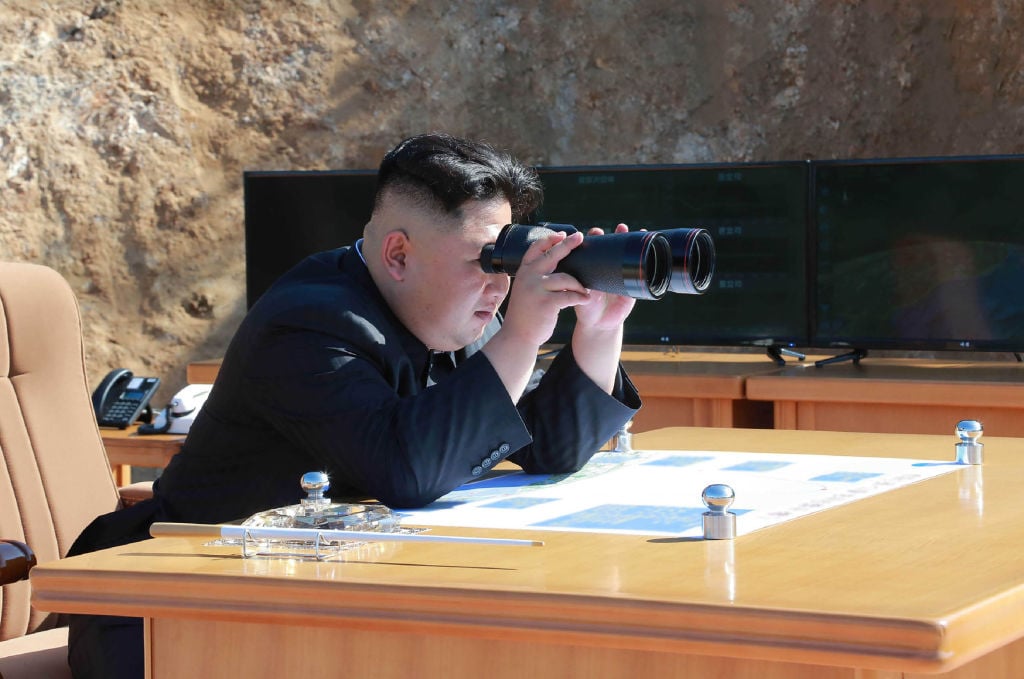 They claimed they could strike the mainland. | STR/AFP/Getty Images.
In November 2017, North Korea's state media announced that the country had successfully tested a new type of intercontinental ballistic missile. They said the weapon, topped with a "super-large heavy warhead," could strike the U.S. mainland. That came after the dictator also ordered an early-morning launch of a new missile with reached the highest altitude ever recorded in that country.
In response,Trump promised to handle the situation. "I will only tell you that we will take care of it … It is a situation that we will handle," Trump told reporters at the White House. "We will take care of it."
Next: He switched up the insults in the following interview.
15. Nov. 29, 2017: Trump called the dictator 'a sick puppy'
He insulted him out loud instead of in a tweet. | Donald J. Trump via Twitter
Following the missile launch, Trump announced additional sanctions against North Korea on Twitter. He wrote, "Just spoke to President XI JINPING of China concerning the provocative actions of North Korea. Additional major sanctions will be imposed on North Korea today. This situation will be handled!"
After America breathed a sigh of relief that he had not also insulted the dictator, he mentioned Jong-Un in an unrelated appearance. During a speech about tax reform, Trump called Jong-Un a "sick puppy."
Next: But don't worry, he returned to familiar territory shortly.
16. Nov. 30, 2017: The president used his favorite nickname again
He keeps trying to make the nickname stick. | Donald J. Trump via Twitter
While responding to the ongoing missile crisis in North Korea, Trump kept trying to make "little rocket man" happen. He tweeted, "The Chinese Envoy, who just returned from North Korea, seems to have had no impact on Little Rocket Man. Hard to believe his people, and the military, put up with living in such horrible conditions. Russia and China condemned the launch."
Next: The following comment made both leaders look very mature.
17. January 2018: He has a bigger, um, button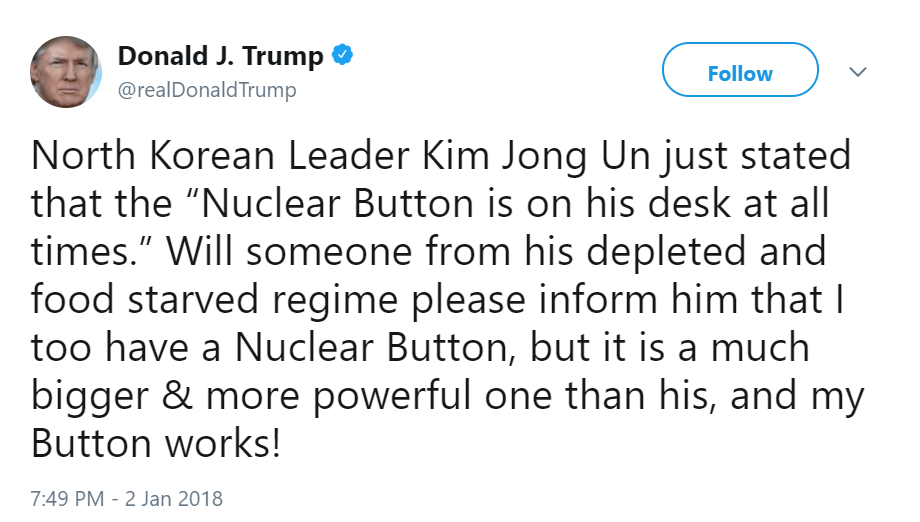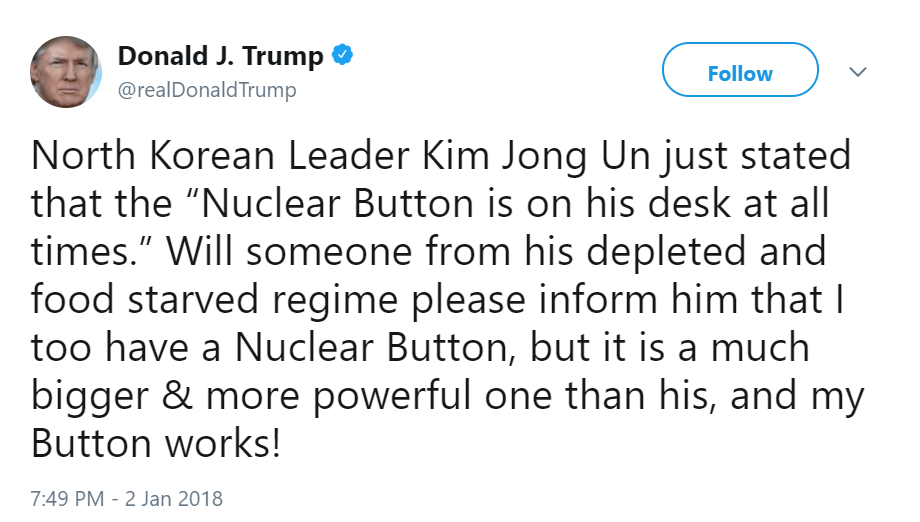 His methods of diplomacy are unusual to say the least. | Donald J. Trump via Twitter
Trump momentarily retired his favorite nickname for Jong-Un in January 2018, when he resorted to other schoolyard taunts. He tweeted, "North Korean Leader Kim Jong-Un just stated that the 'Nuclear Button is on his desk at all times.' Will someone from his depleted and food-starved regime please inform him that I too have a Nuclear Button, but it is a much bigger & more powerful one than his, and my Button works!" We can hear the 12-year-old boys snickering from here.
Next: Trump pointed out a historical fact in this statement.
18. April 2018: The Korean War continues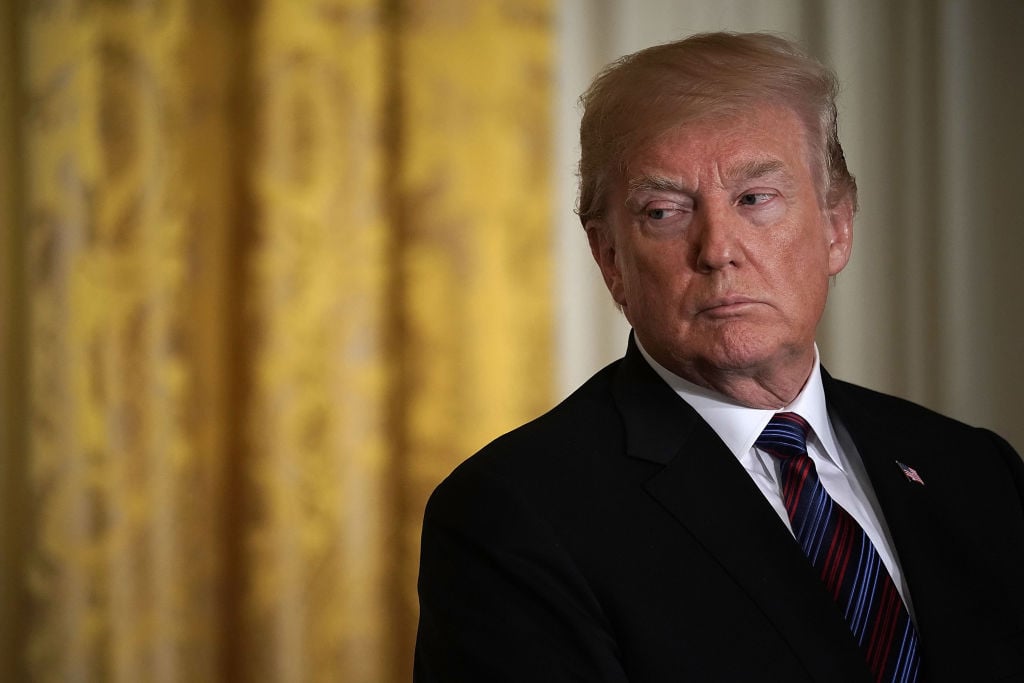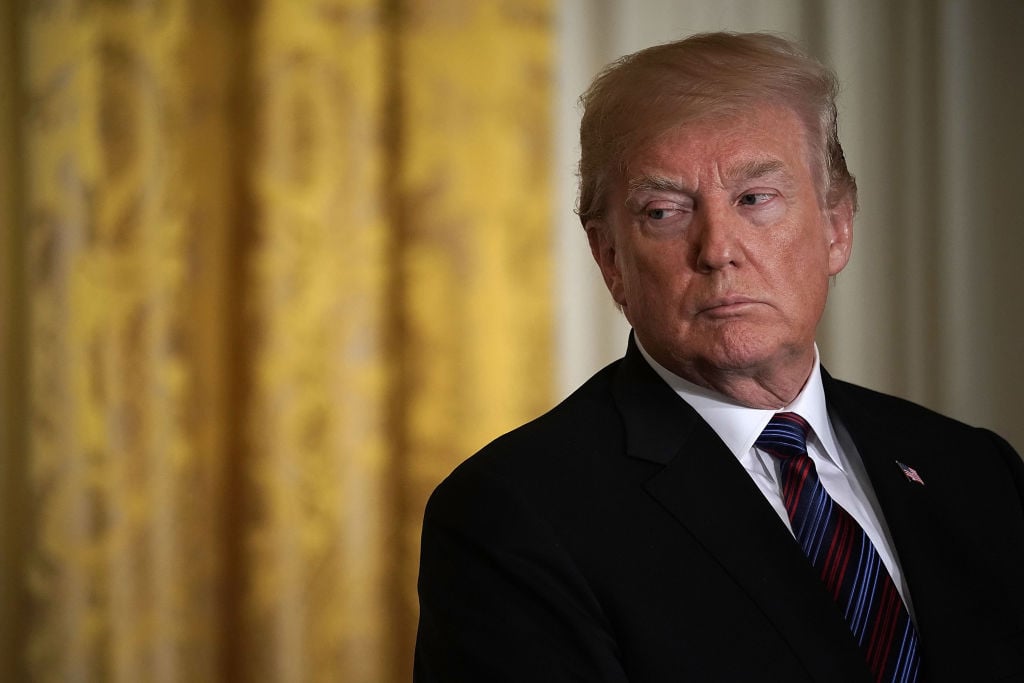 He gave his blessings to the countries. | Alex Wong/Getty Images
While discussing the location for his upcoming talk with Jong-Un, Trump said that he gives his "blessing" to North and South Korea. The two countries intend to talk about concluding the Korean War, which technically remains ongoing. Hostilities ended more than six decades ago.
"People don't realize the Korean War has not ended," Trump said. "It's going on right now."
Follow The Cheat Sheet on Facebook!
Source: Read Full Article