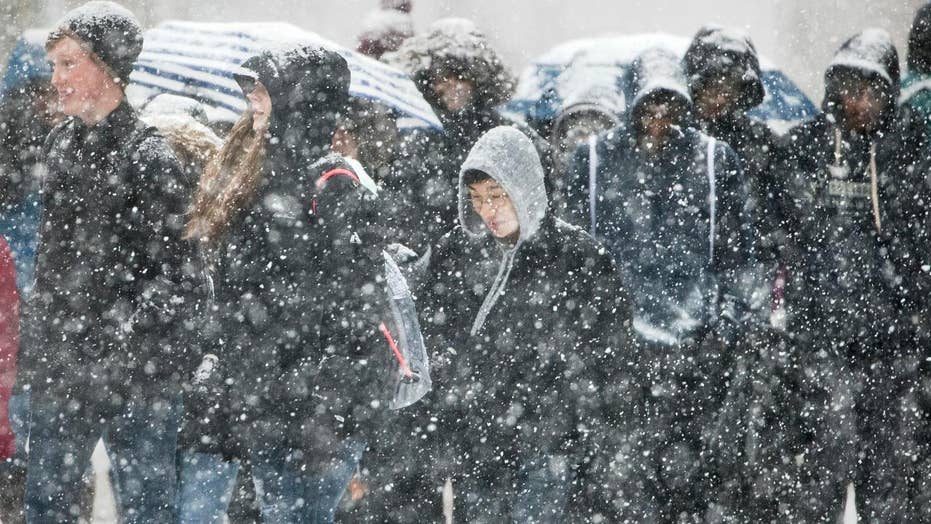 Flights canceled, highways shut down due to winter storm
Hundreds of flights canceled, major highways shut down as winter storm slams the Midwest.
A winter storm blanketed much of the central Midwest with snow Sunday, canceling hundreds of flights at airports in Chicago and Kansas City and forcing parts of some major highways to shut down as the Thanksgiving holiday weekend drew to a close.
According to the flight-tracking website FlightAware, 668 flights into or out of Chicago's O'Hare International Airport had been canceled as of 5 p.m. local time, with another 329 flights experiencing delays. Another 124 flights into or out of Chicago Midway International Airport were canceled, with 65 other flights experiencing delays.
Kansas City International Airport closed to arriving flights at approximately 2:30 p.m. local time due to visibility that was reduced to less than a quarter-mile. A total of 182 flights into and out of Kansas City were canceled as of 5 p.m. local time, with another 31 flights experiencing delays.
In St. Louis, a tornado warning was issued for an area including Lambert International Airport shortly before 5 p.m. local time. It was not immediately clear how many flights would be affected.
Strong winds and snow created blizzard-like conditions across much of Nebraska and parts of Kansas, Iowa and Missouri. The National Weather Service was warning those conditions would make travel difficult in places.
By mid-day, the blizzard warning was extended to parts of the eastern Illinois near Chicago, where snow is forecast to fall at a rate of about 2 inches per hour.
Other parts of the Central Plains and Great Lakes region were under a winter storm warning, that could see a foot or more of snow dumped in some places by the end of the day.
In eastern Nebraska, part of Interstate 80 between Lincoln and Omaha was closed Sunday morning because of multiple accidents after snow blanketed that area. That included semitrailer trucks jackknifed across the highway. It was re-opened by Sunday afternoon.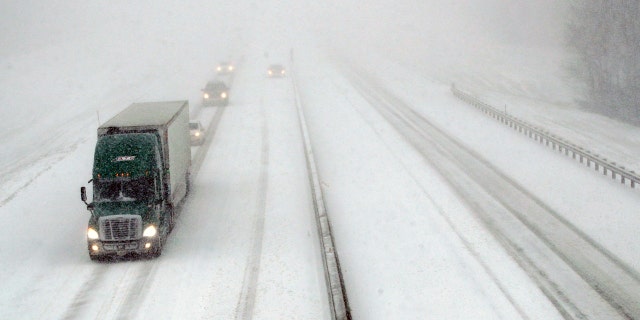 Traffic moves west along I-70 near Lawrence, Kan., Sunday. (AP Photo/Orlin Wagner)
In Kansas, Gov. Jeff Colyer issued a state of emergency declaration. The action came as a large stretch of Interstate 70, spanning much of the state, was closed between Junction City and WaKeeney.
Kearney resident Amy Scott told the Kansas City Star her brother-in-law, his wife and their son were hoping to make it as far as Salina, Kan., on Sunday evening. They reported seeing numerous crashes on Interstate 70, including an ambulance that was tipped over on its side. Scott added that the group was stuck on the highway for approximately an hour and hoped not to run out of gas.
"They wanted to get as far as they could because they were supposed to be back to work tomorrow [Monday]," Scott told the paper. "I'm just saying prayers for them and others who have to be out on the roads. I wish they didn't have to, but I understood why they did have to."
Separately, a portion of Interstate 29 was shut down in Missouri, near the Iowa border.
As much as a foot was expected in Chicago. Between 4 to 6 inches of snow was expected in the Kansas City area. Forecasters predict more than a foot of snow is likely in southeast Nebraska, northeast Kansas, northwest Missouri and southwest Iowa.
By Monday morning, the storm was expected to hit parts of northern Indiana and southern Michigan.
The Associated Press contributed to this report.
Source: Read Full Article