We can't deny it: President Donald Trump runs things quite differently than his predecessor. Policy aside, everything from his diet to his golf game departed sharply from Barack Obama's tenure. But when we line up photos of the two presidents with kids, we get a real glimpse into how wide the gap between the two has grown. Check out these shots of Obama and Trump with kids, and tell us you don't see it.
1. The Obamas really got into this story book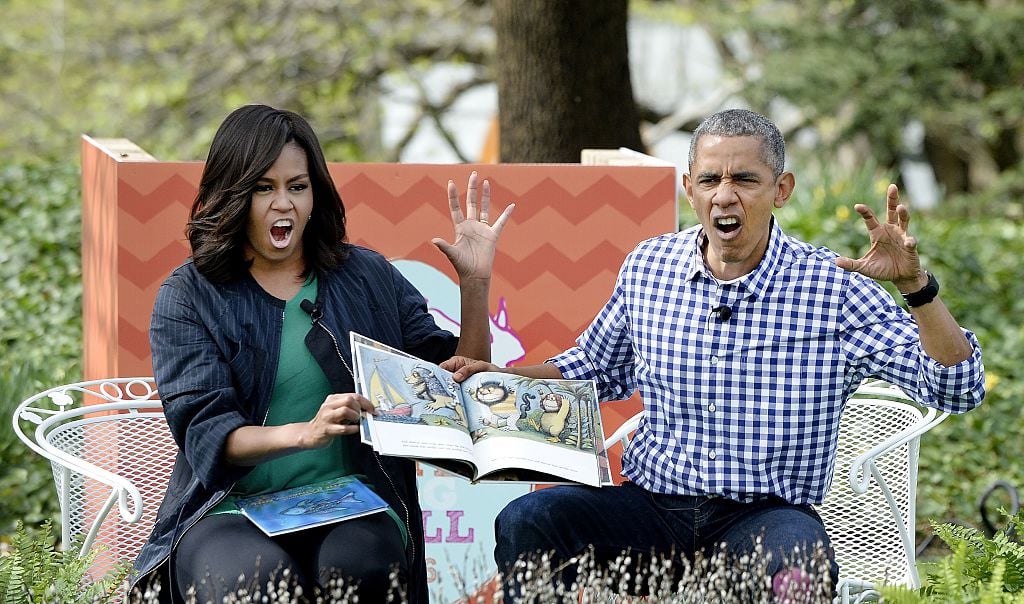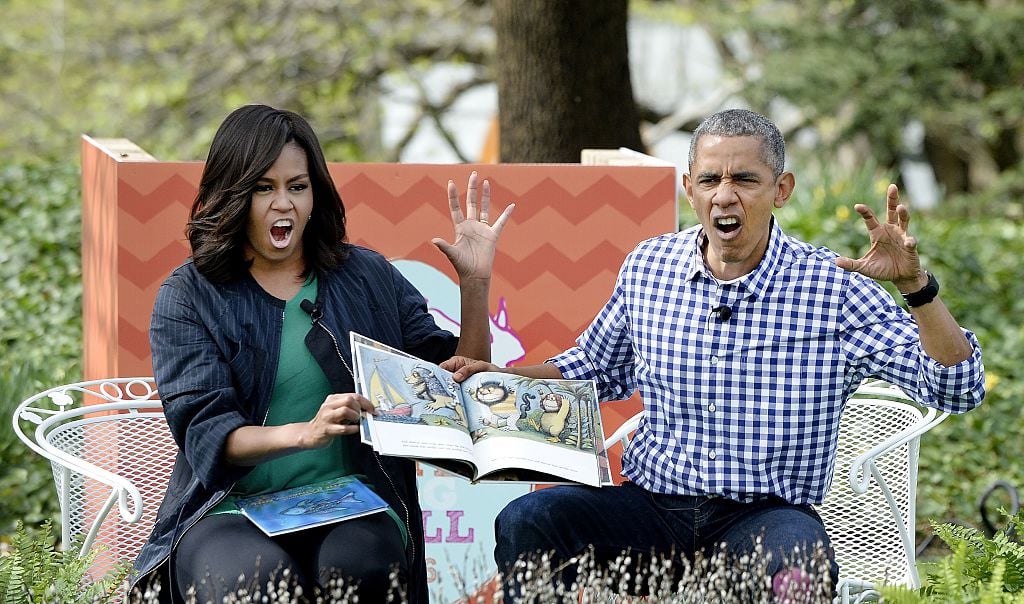 They got hilariously into it. | Olivier Douliery-Pool/Getty Images
Hearts melted when Michelle and Barack Obama read Maurice Sendack's Where the Wild Things Are to kids. The annual White House Easter Egg roll marks one of the popular children's events held at the president's home. Every year, the president and his family also get in on the fun.
Next: Trump got into the holiday with kids at Easter, too.
2. Trump made cards with children, but doesn't look happy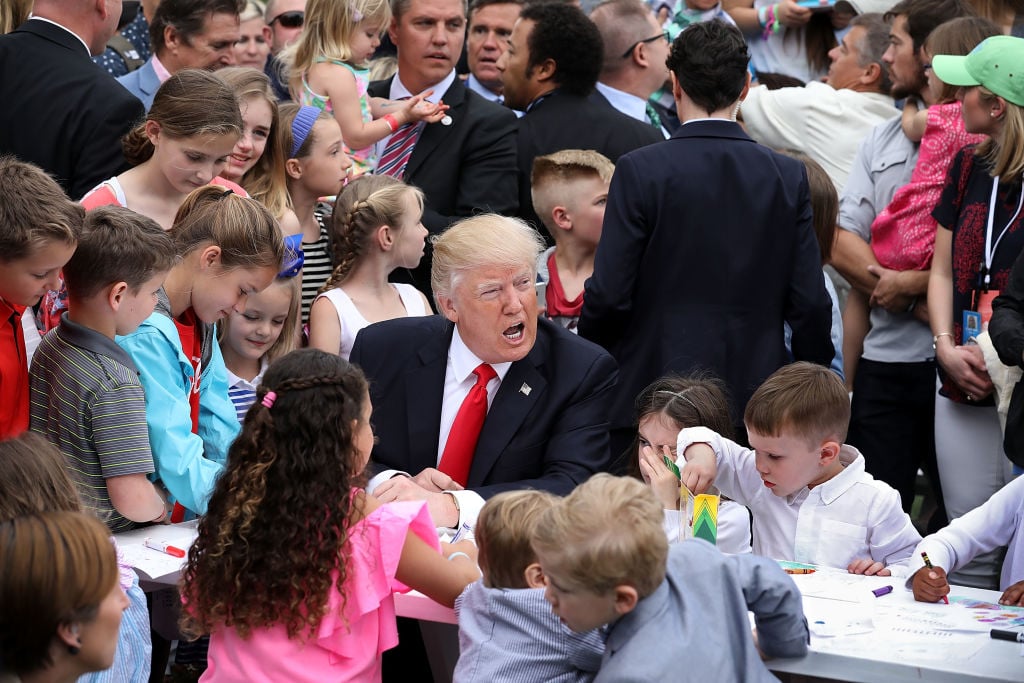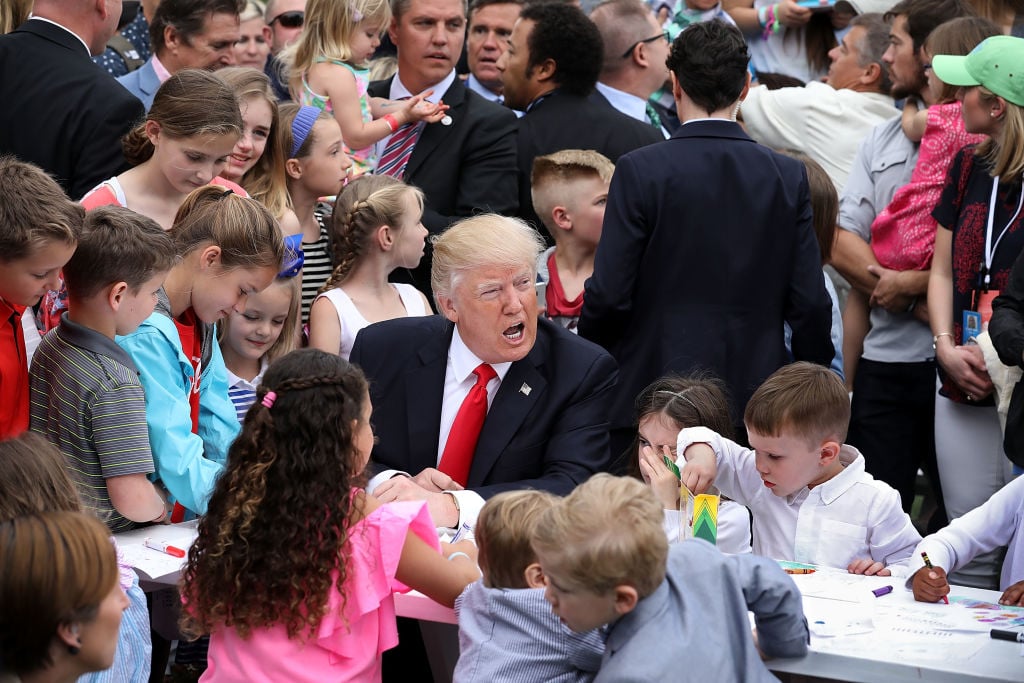 He doesn't look like he's enjoying himself. | Chip Somodevilla/Getty Images
Instead of reading a storybook at the Easter Egg roll, the Trump White House started a new tradition. The president and first lady made cards for deployed military members, and also got some children in on the action. If this photo provides any indication, Trump did not exactly enjoy art time.
Next: When Obama visited this ceremony, he got in on the action.
3. Obama jumped right into a group picture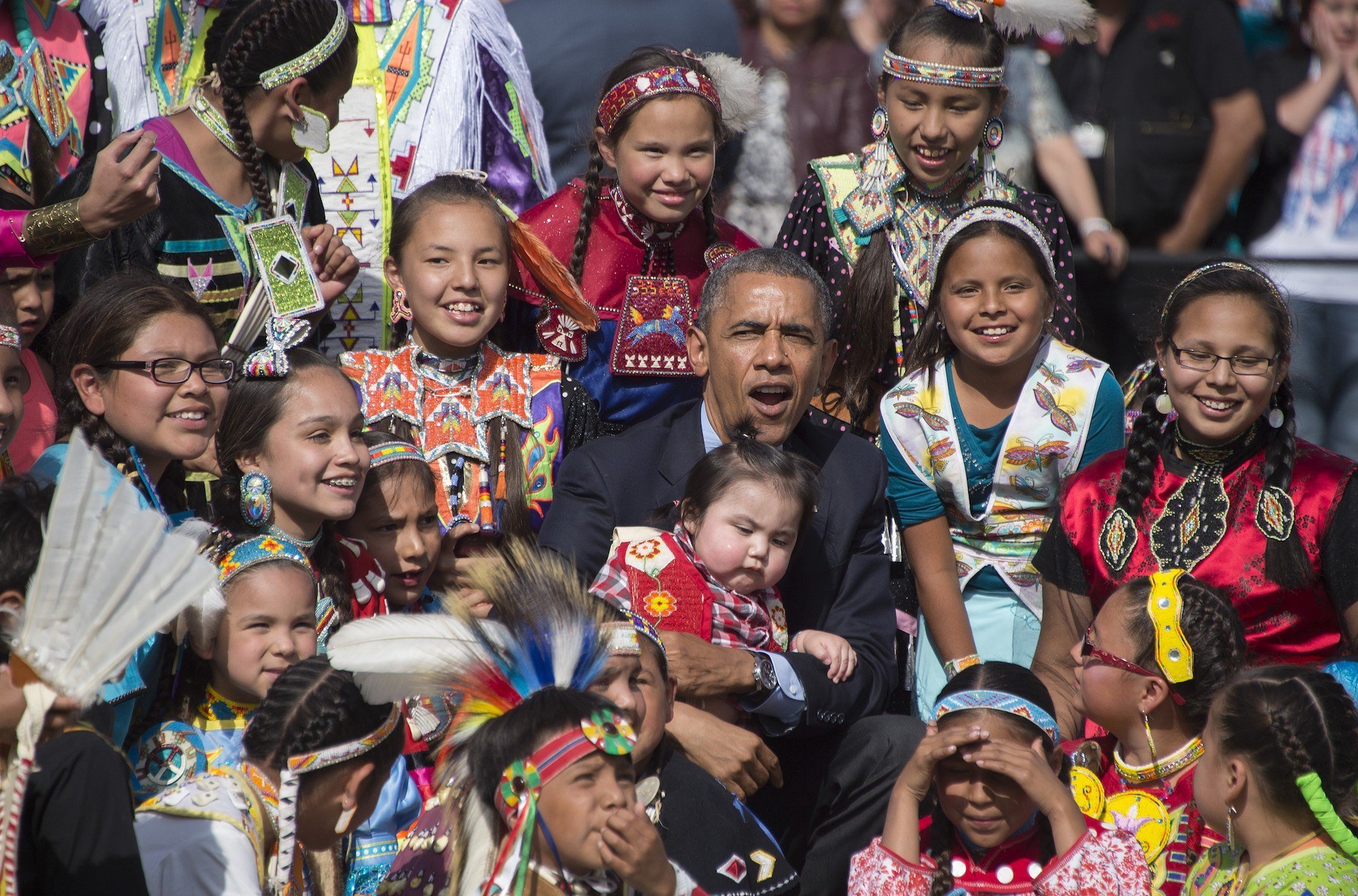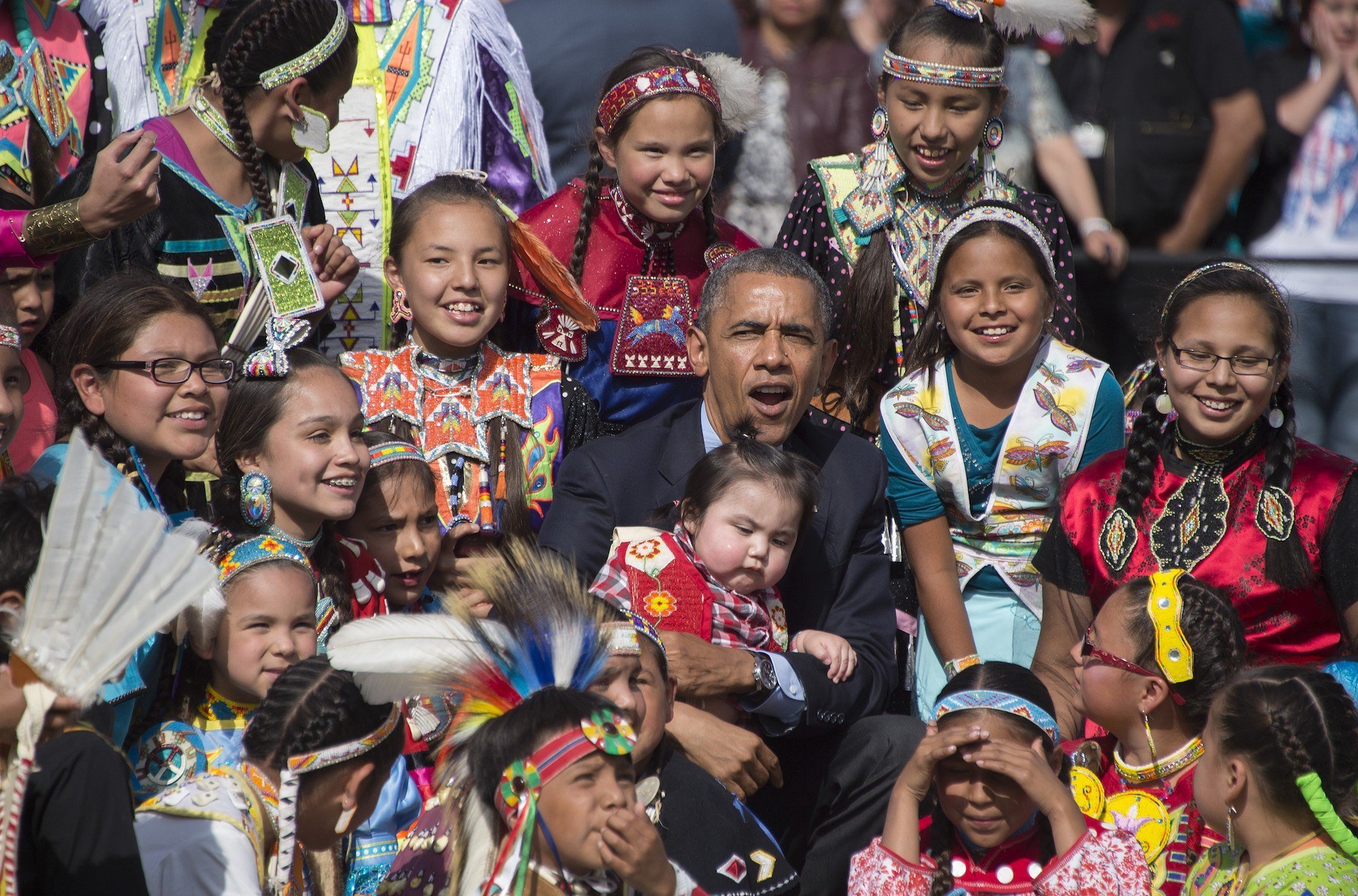 Kids are drawn to him. | Jim Watson/AFP/Getty Images
When Obama visited the Cannon Ball Flag Day Celebration in 2014, he did not have to get right into the crowd of performers. But with his signature approachability, Obama grabbed a kid and huddled up for a group pic. That became a theme throughout the Obama presidency, and many groups found themselves in a picture with the president.
Next: When Trump met with a gaggle of kids, his face says it all.
4. Trump's meeting with these kids does not look like fun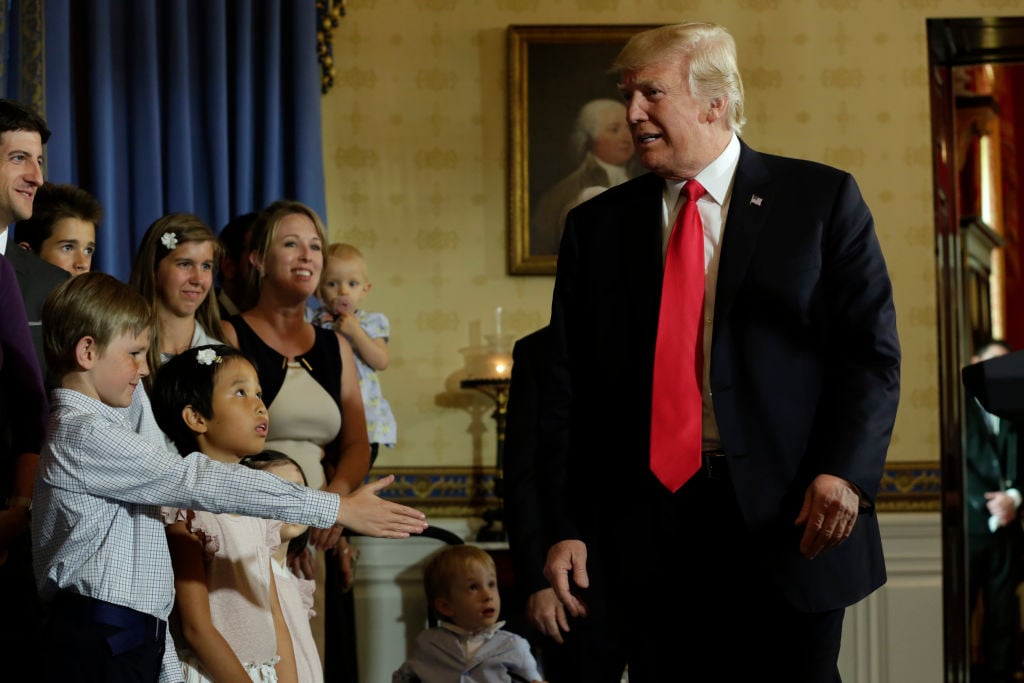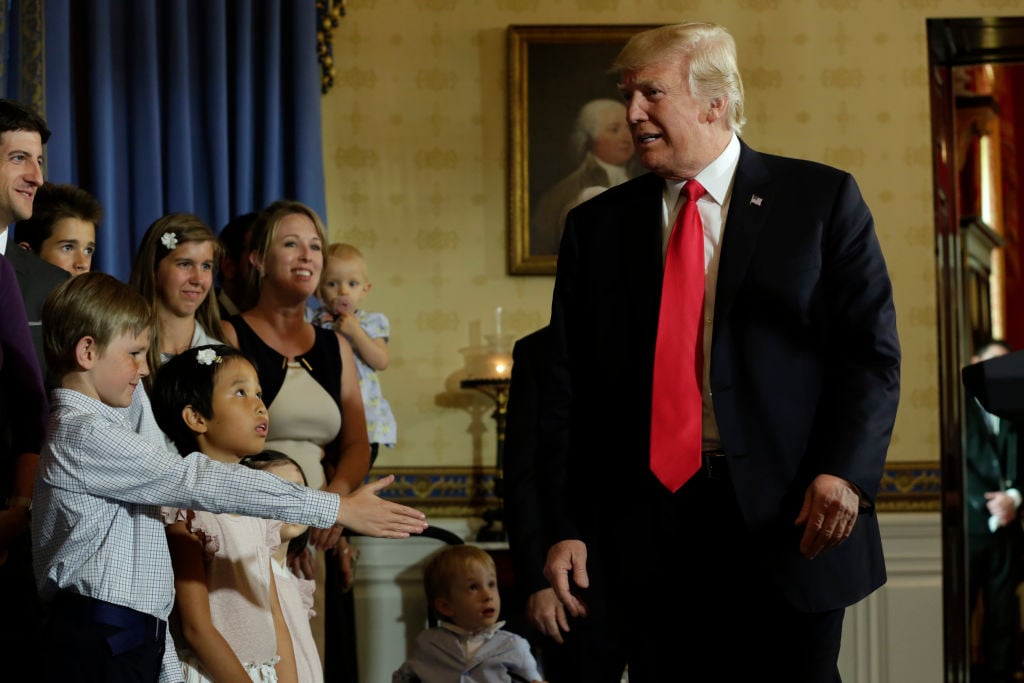 It doesn't look like he had a good time. | Yuri Gripas/AFP/Getty Images
When Trump invited "victims of Obamacare" to visit the White House, he also met with their kids. As this photo shows, he did not exactly love the experience. While the camera may have also caught him at an off moment, he doesn't jump into a group photo, at any point. We can't all get along great with children.
Next: When Obama visited schools, he almost always did some sort of activity. 
5. Obama fit in perfectly with these preschoolers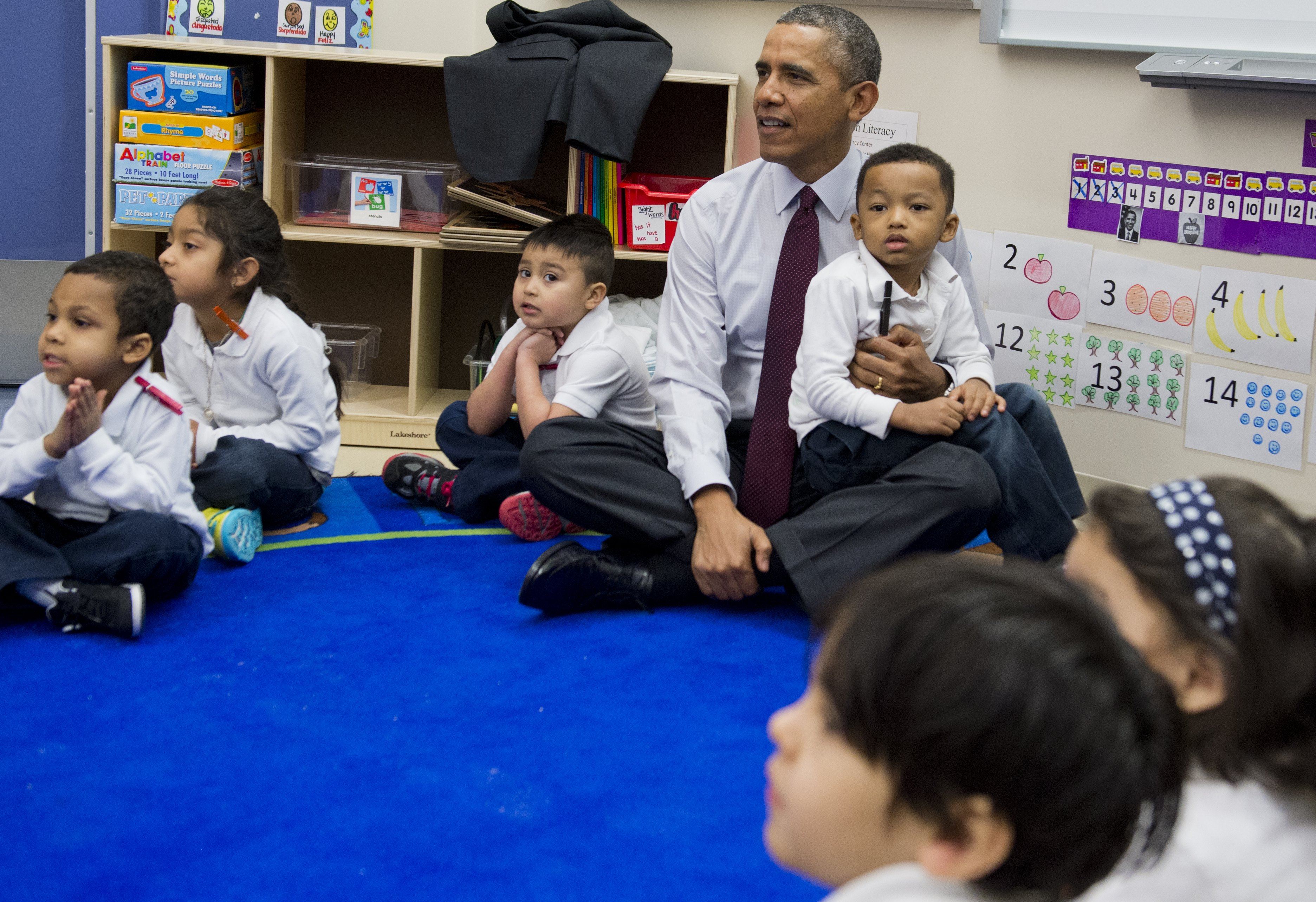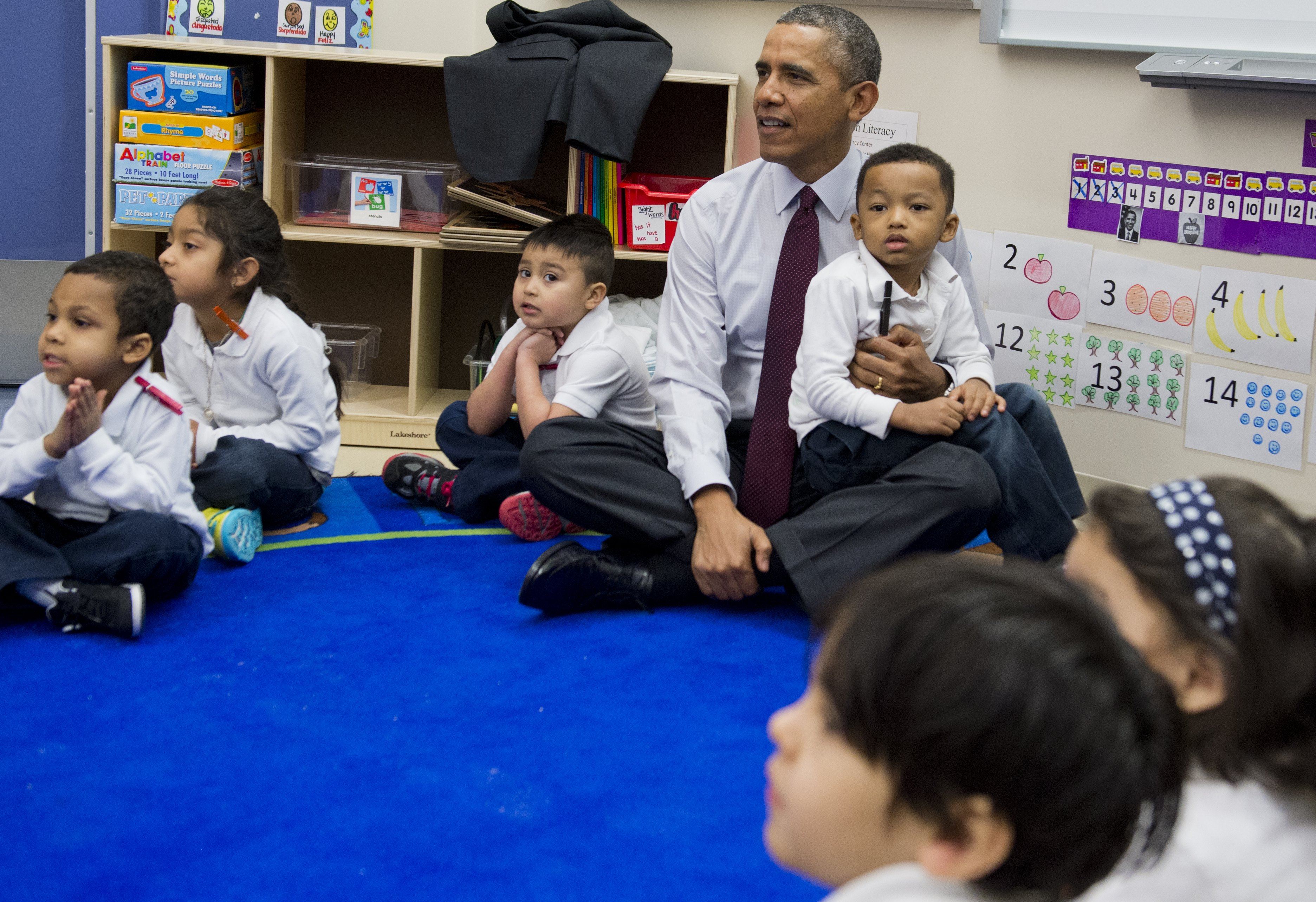 He fits right in. | Saul Loeb/AFP/Getty Images
Obama looked right at home when he visited a preschool in 2015. The former president spent a lot of time with young people. "One of the things I did throughout my presidency was I'd meet with groups of young people everywhere I went, whether it was here in the United States or when I was traveling overseas," Obama told students during a visit to McKinley Tech in Washington, D.C. "Just to kind of hear from them, find out what they're interested in, because I do believe that most of the problems we have are going to be solved by you."
Next: When Trump does interact with kids, he looks a little uncomfortable.
6. Trump held up a child while yelling into a mic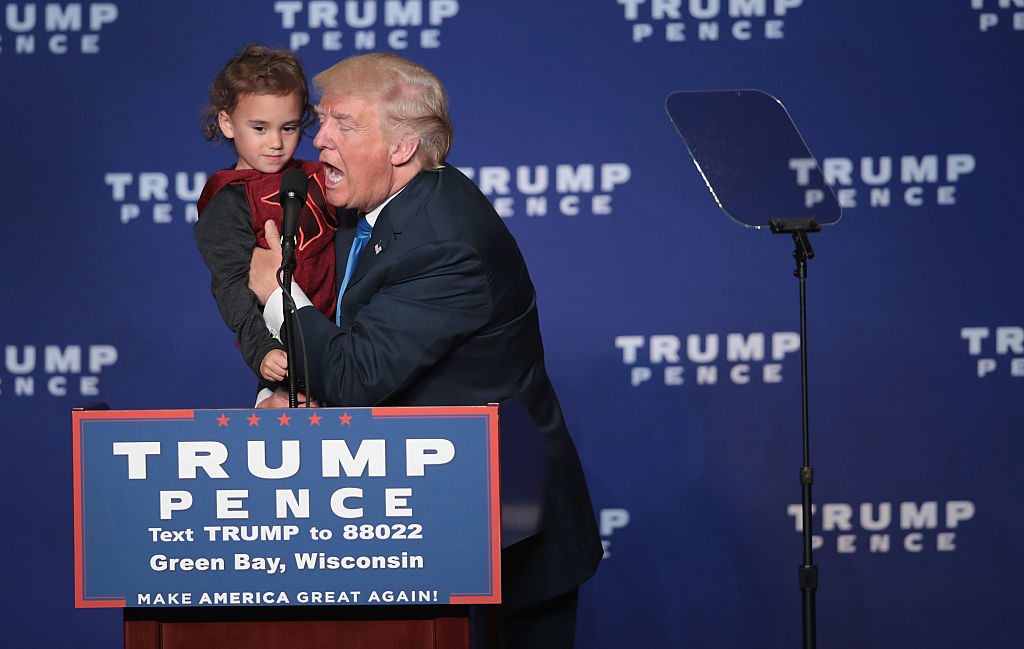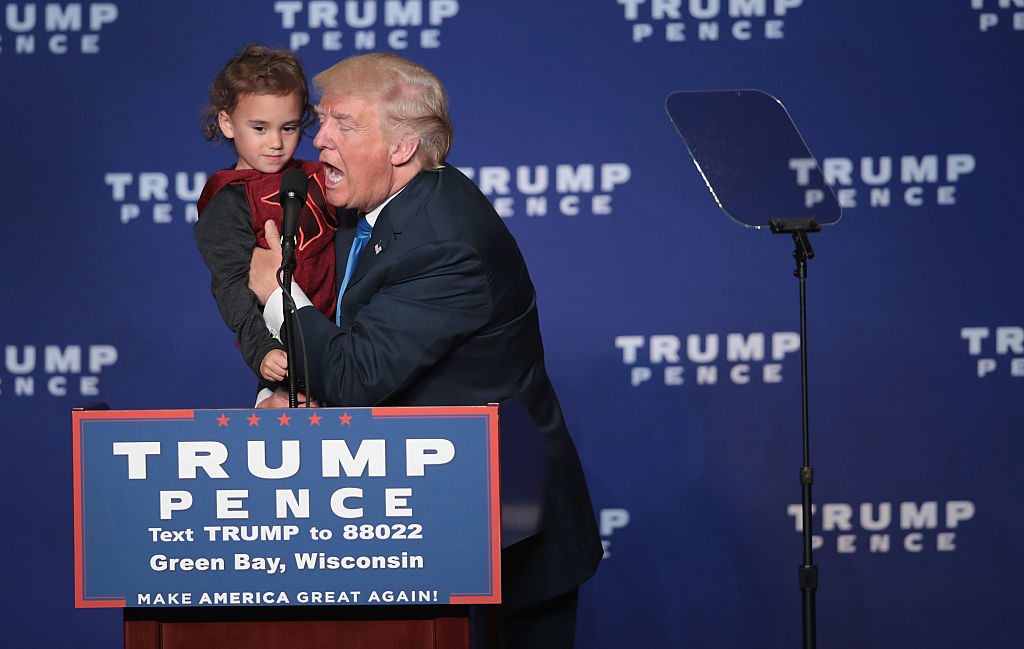 Trump used the child as a prop. | Scott Olson/Getty Images
When Trump invited children onstage during a campaign rally, they looked more like props than part of the event. He also started yelling into the mic with his typical fervor, as he held the child. Is it just us, or does everyone involved in this photo look uncomfortable?
Next: The former president also played around regularly.
7. Obama got onto the court with kids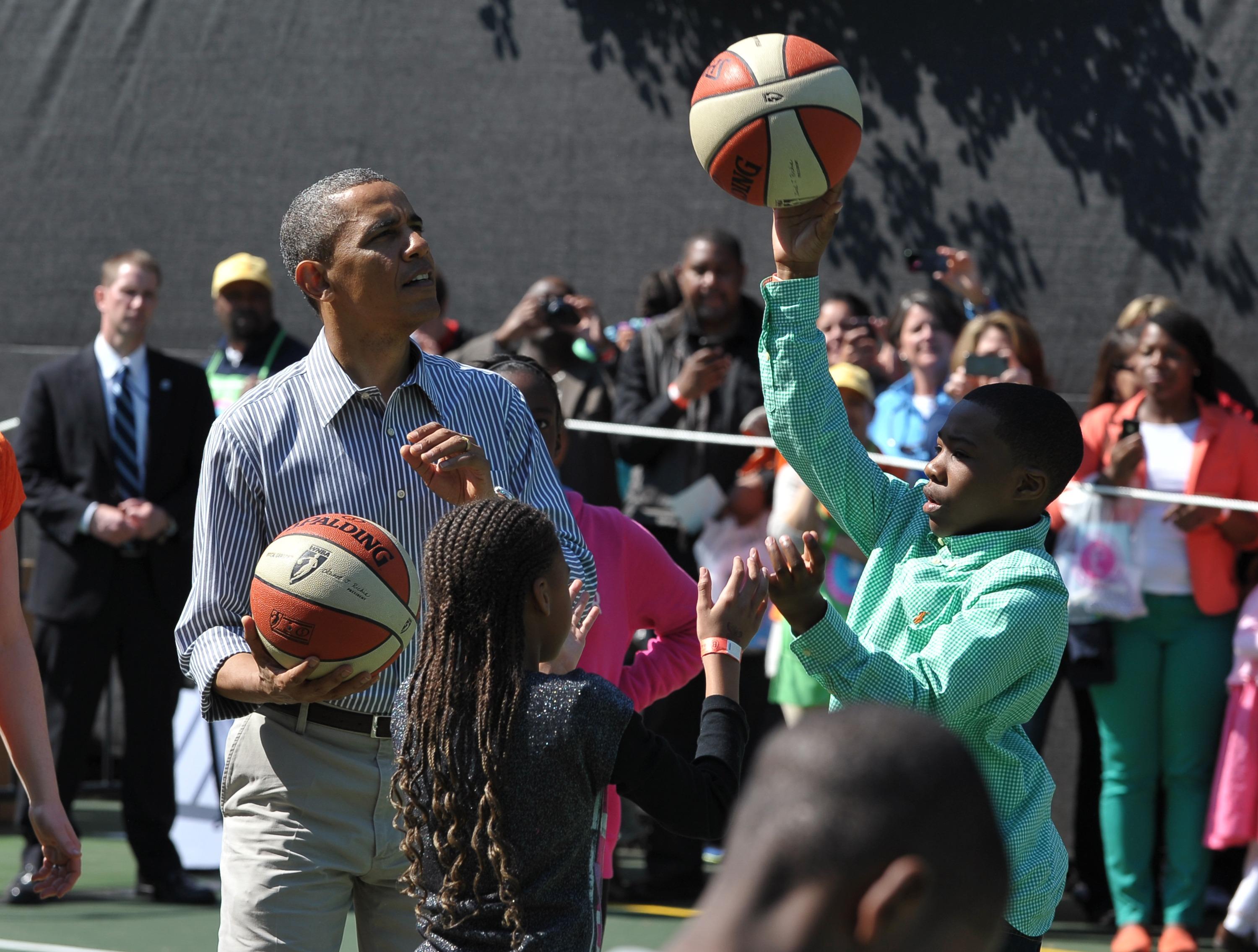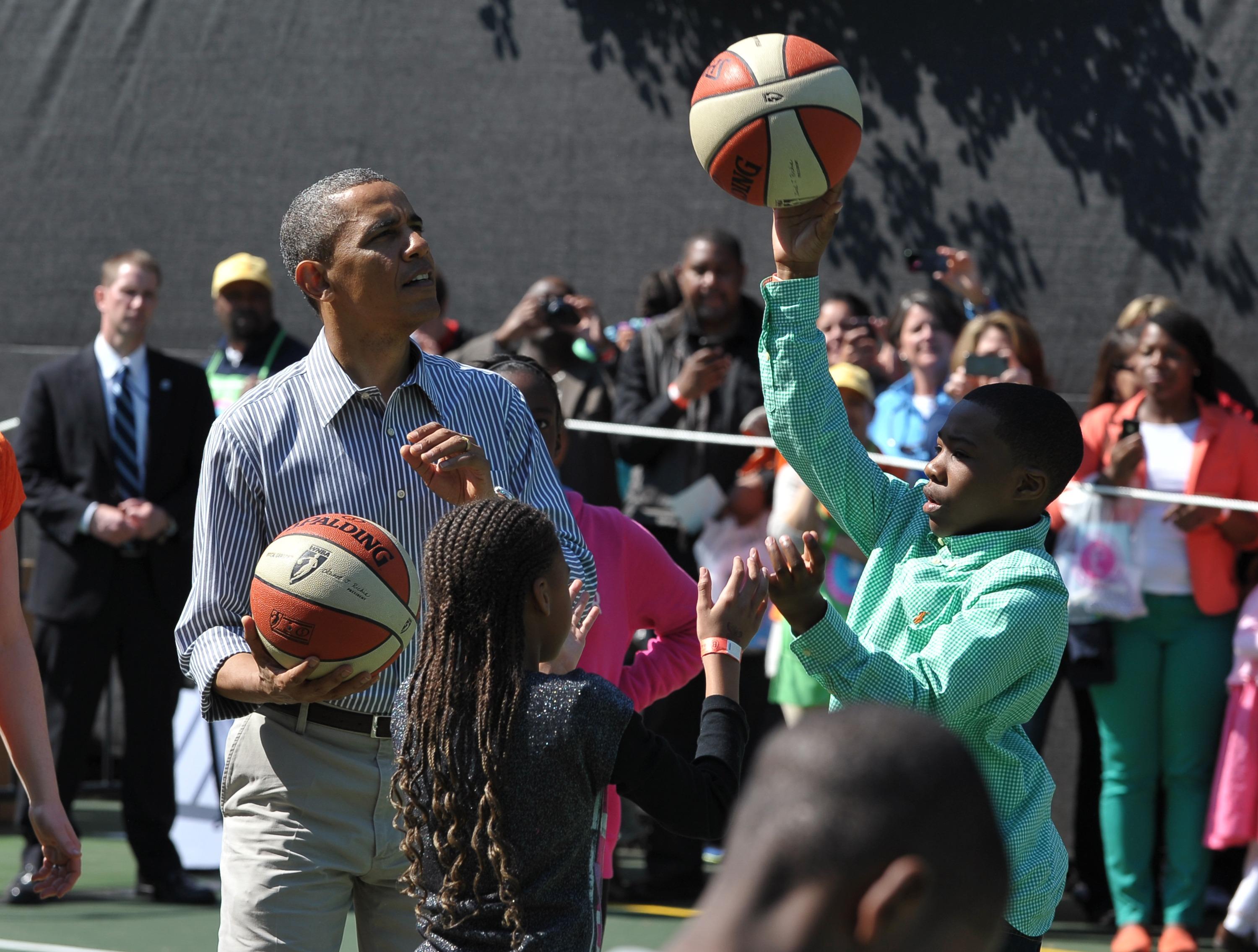 Obama is always willing to play ball. | Mandel Ngan/AFP/Getty Images
Obama played sports with kids regularly when he invited them to the White House. That activity jived well with the first lady's emphasis on staying healthy. In fact, during his presidency, Obama worked on an initiative to help more children access sports teams.
The 2016 Project Play report found that in 2015, only 38% of kids from homes with an income below $25,000 played team sports. That compares to 67% of kids from homes with over $100,000 in household income.
Next: Trump also invited families to the White House to discuss this important issue.
8. Check out this kid's face when he met Trump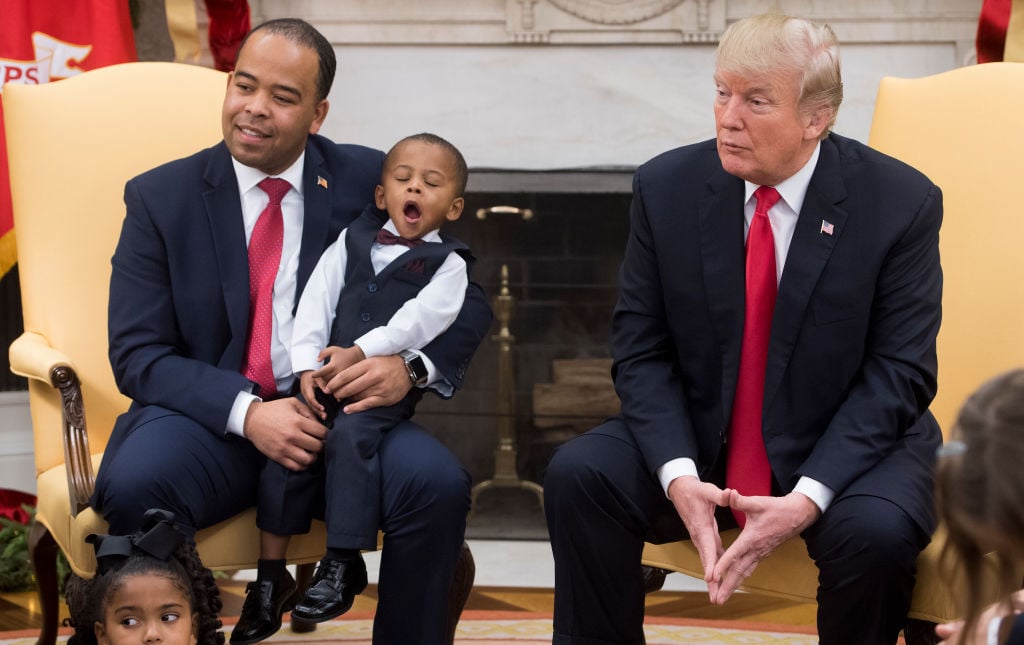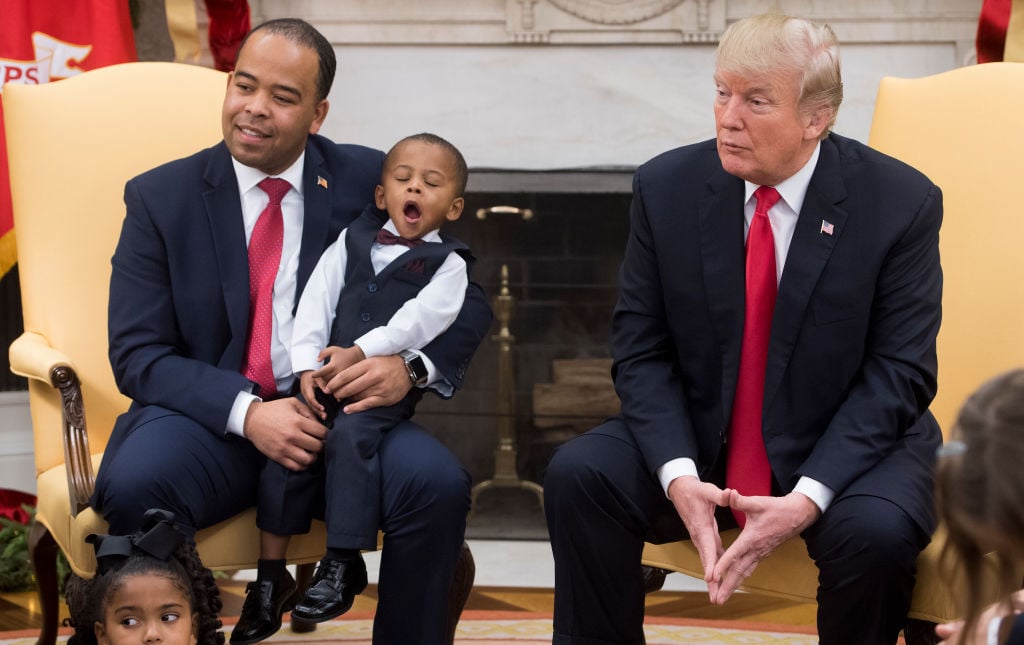 He doesn't seem too impressed. | Saul Loeb/AFP/Getty Images
While Trump certainly comes off more as a grandfatherly figure than Obama did, he tends to talk over children rather than with them. Aaron Williams of Topcoder in Indianapolis, Indiana visited the White House to discuss tax reform in December 2017. As you can see, his son did not enjoy the meeting as much as his dad did.
Next: When Obama ordered pie, he probably did not also expect to share.
9. Obama shared his dessert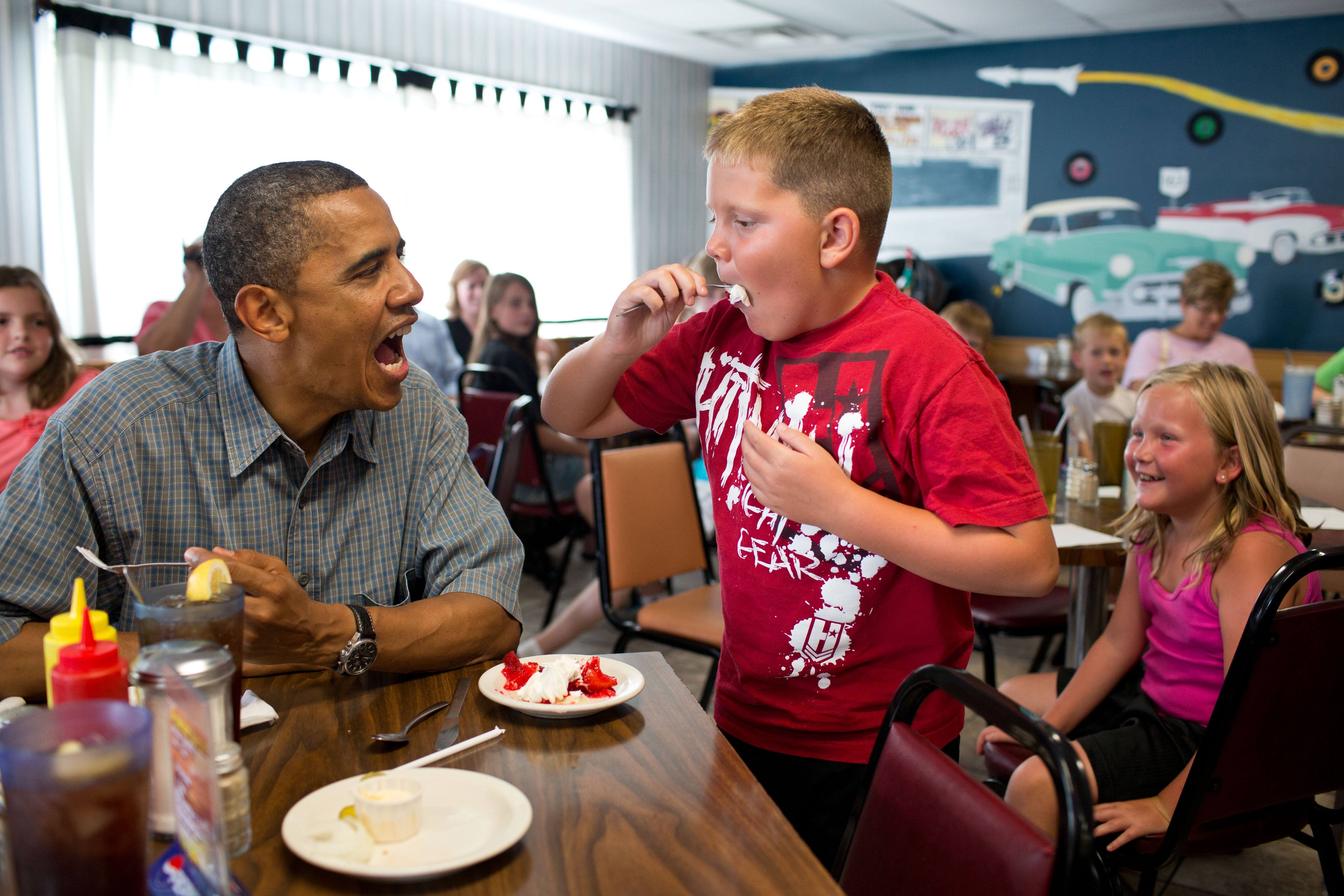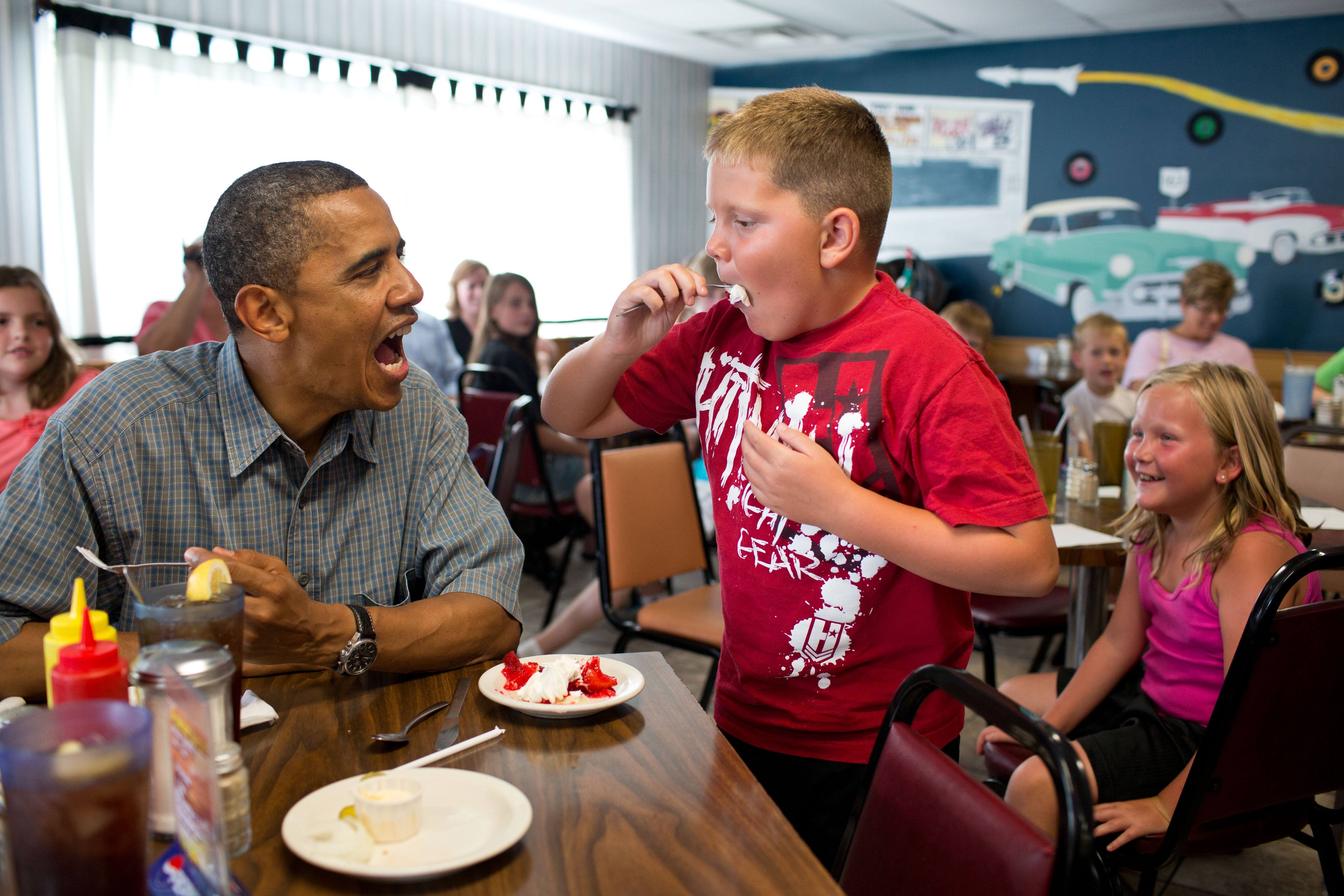 He always came off as down to earth. | Pete Souza/White House Photo via Getty Images
When touring the country, the Obama family made themselves very available to the everyday person. Whether he helped kids find Easter eggs during the annual egg hunt, dropped the mic at the White House correspondents' dinner, or shared his dessert, Obama never came off as pretentious.
Next: Trump took a photo that launched a thousand memes.
10. Trump talked with a kid mowing his lawn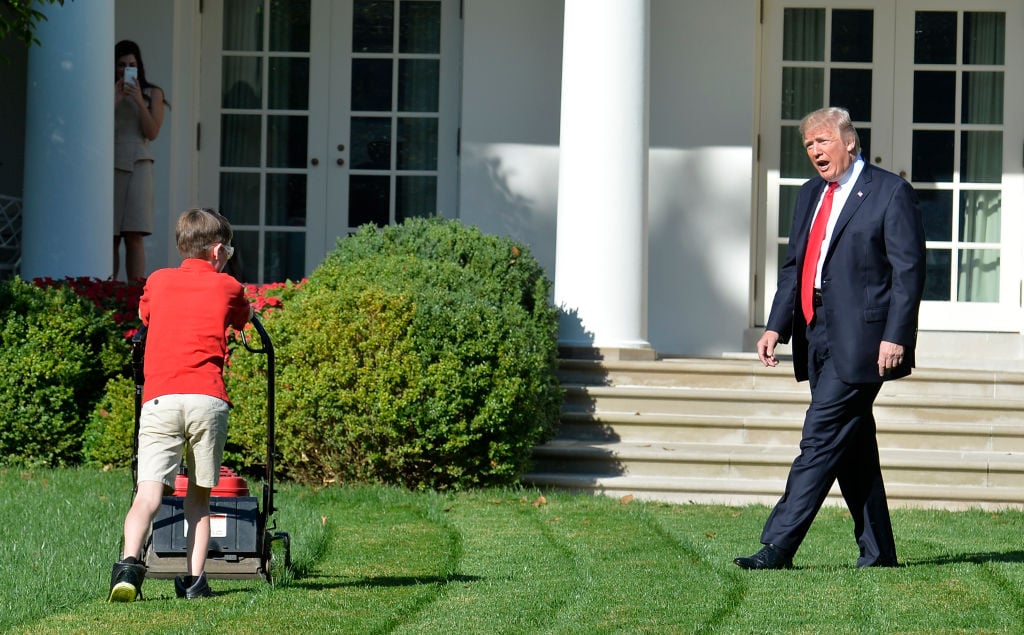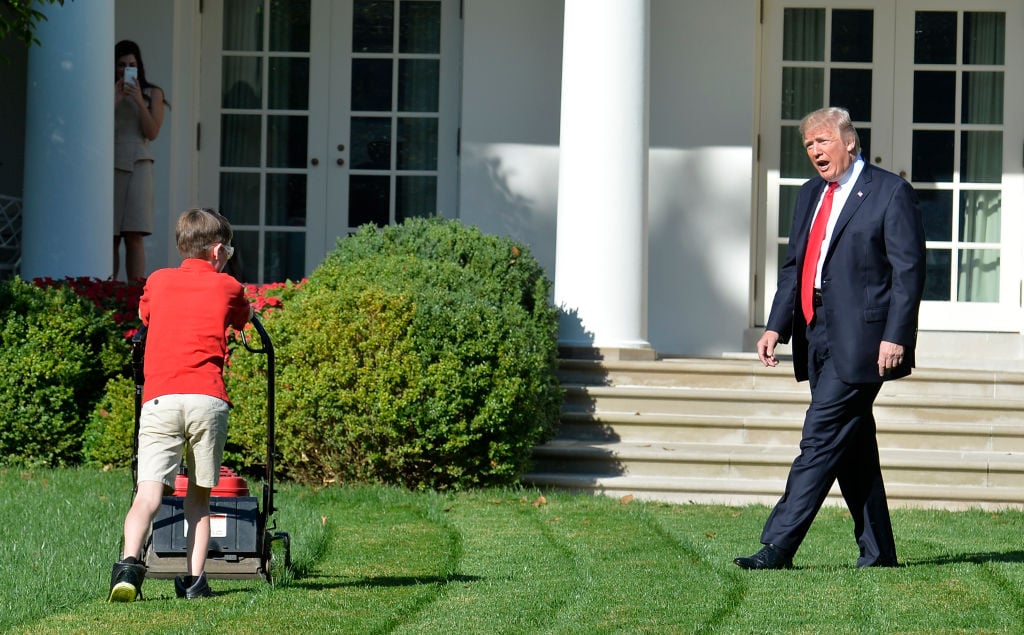 The photo isn't about child labor thankfully. | Mike Theiler/AFP/Getty Images
At least this photo does not show what it looks like. Frank Giaccio, 11, of Falls Church, Virginia, wrote a letter to the president asking if he could mow the lawn. Giaccio runs his own lawncare business. Trump came out to chat with the kid, and the photo went viral.
Next: The former president totally lost it at this costume. 
11. Obama laughed at a kid dressed as the Pope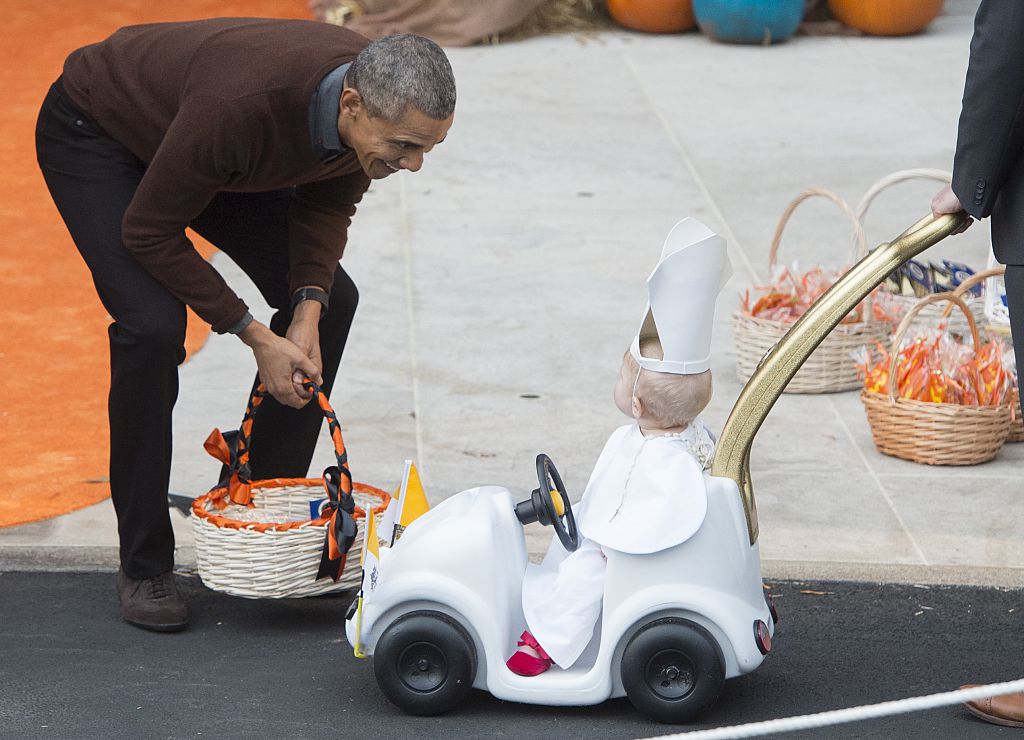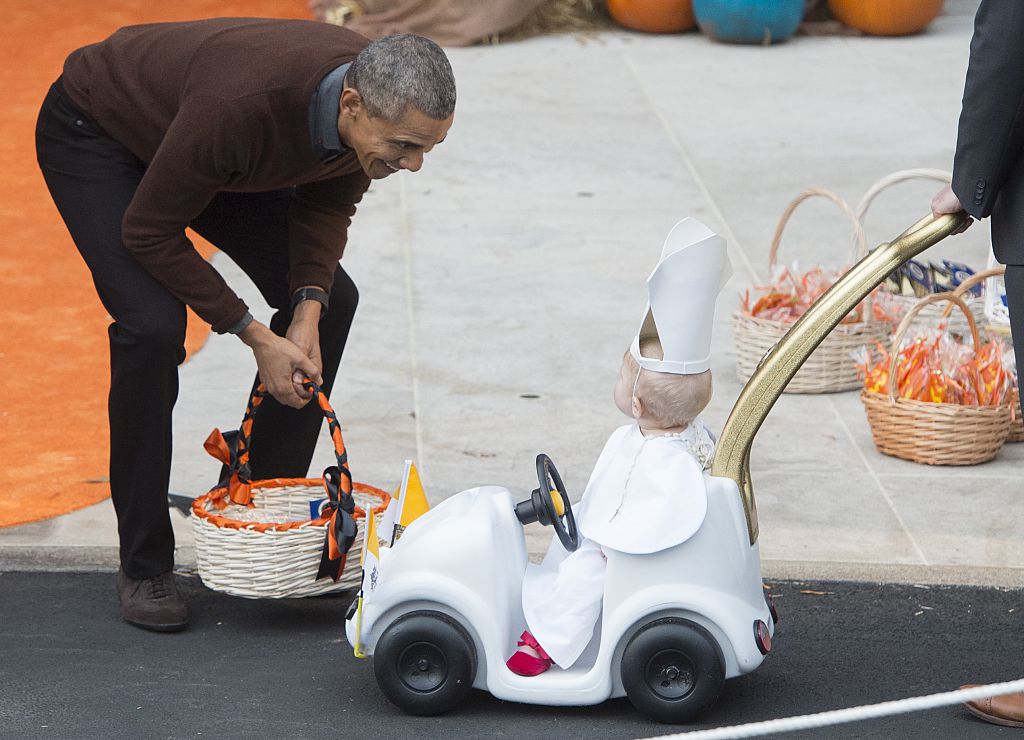 It's hard not to find this hilarious. | Saul Loeb/AFP/Getty Images
If the look on his face means what we think it means, Obama got a real kick out of kids' Halloween costumes. He especially loved the tiny pope in a pope-mobile that visited the White House in 2015, for the annual trick-or-treating event. Kids in costume. What's not to love?
Next: Trump also invited kids to the White House for Halloween.
12. Trump's Halloween joke did not exactly land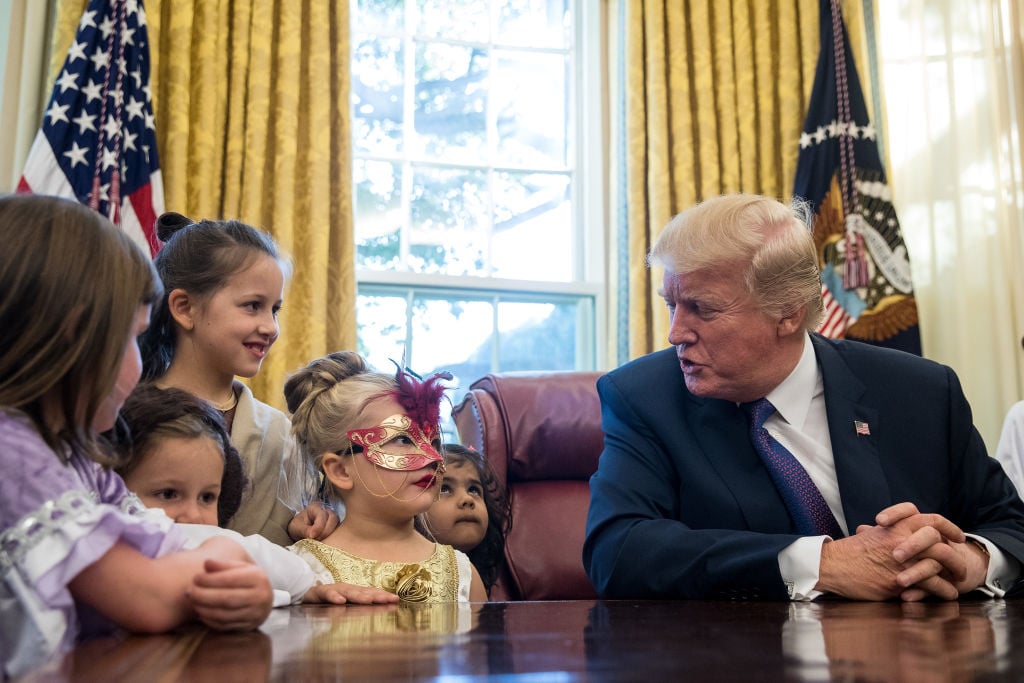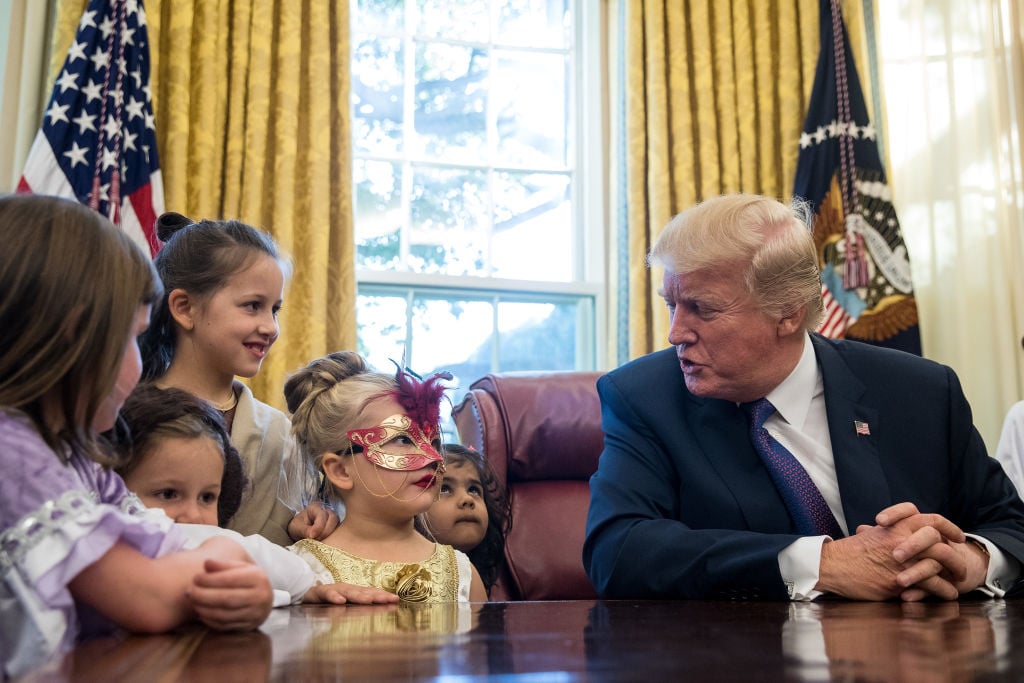 All he got was an awkward smile. | Angerer/Getty Images
When Trump invited a group of the press corps' kids into the Oval Office, he made a crack that went over about as well as his hair. "I cannot believe the media produced such beautiful children," he joked. "How the media did this, I don't know." When that did not work, he continued. "These are beautiful, wonderful children," he said. "You gonna grow up to be like your parents? Mmm, don't answer. That could only get me in trouble, that question."
Next: At Christmas, Obama really got into the event.
13. Obama took a holiday dance break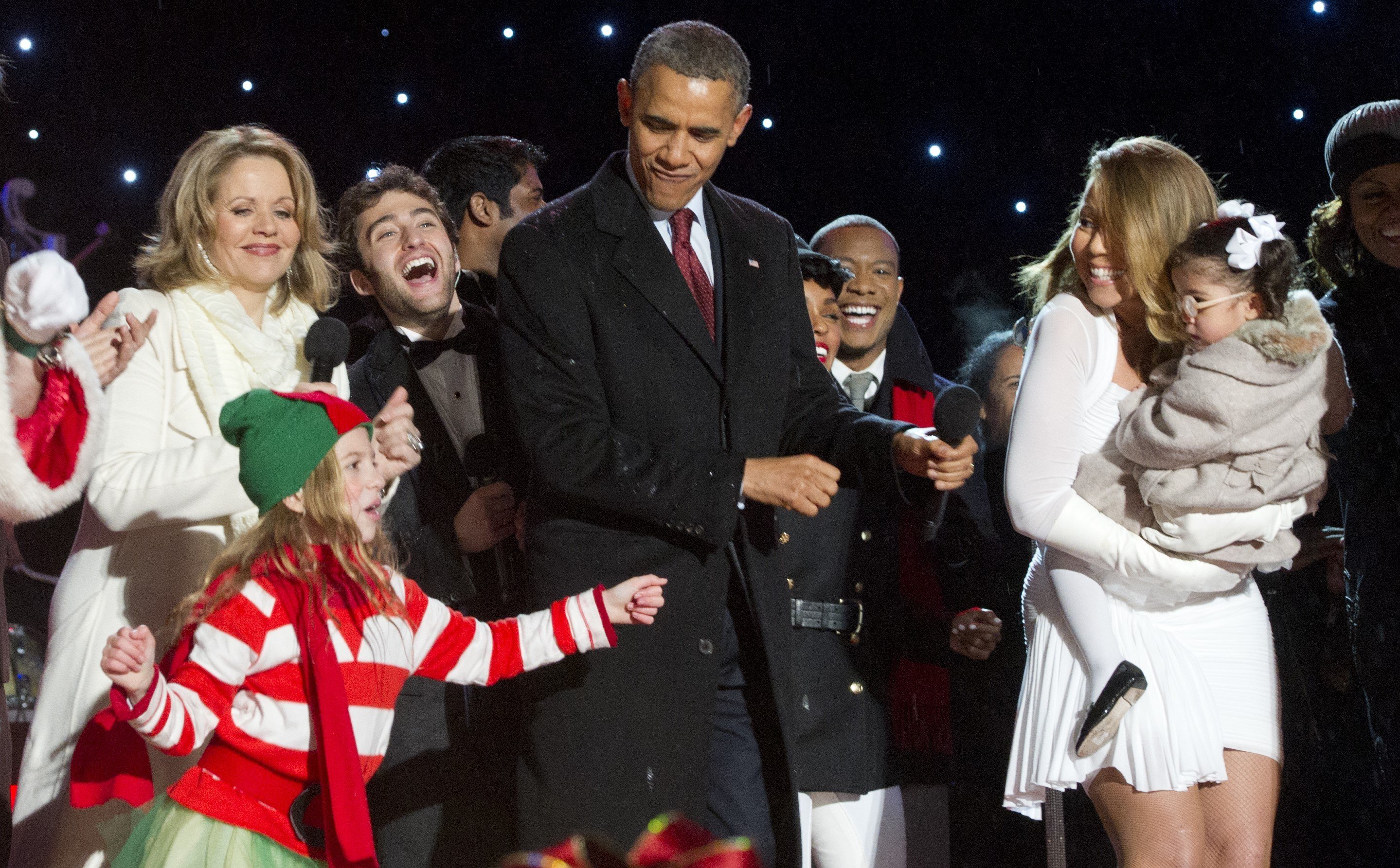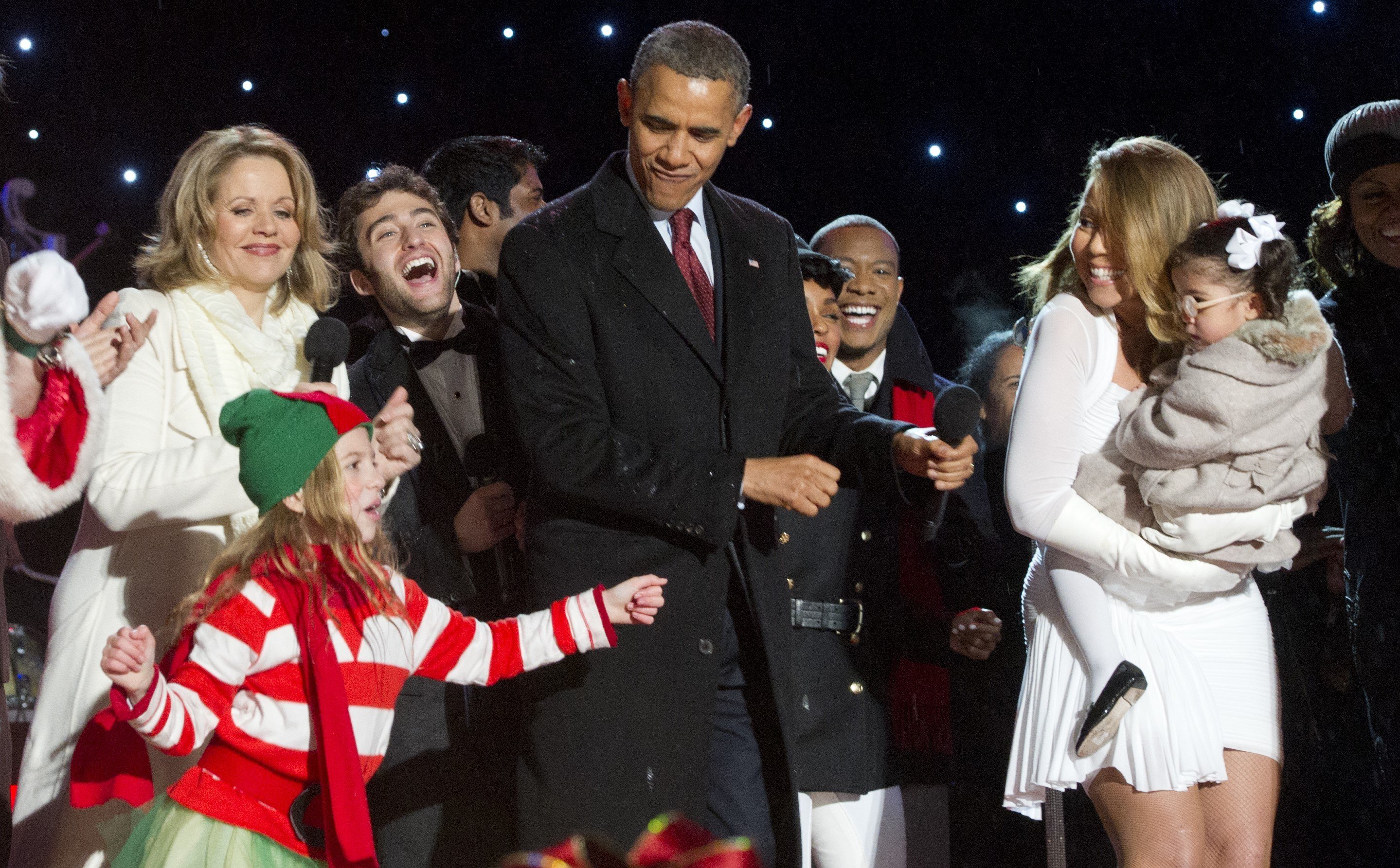 The president could boogie. | Saul Loeb/AFP/Getty Images
Even in front of millions of people, Obama knows how to have fun. He got his groove on at the 2013 Christmas tree lighting at the White House. Not everyone has the confidence to dance in front of Mariah Carey, but the former president did OK.
Next: The following photo shows Trump's holiday spirit.
14. Trump kept it all business, even at Christmas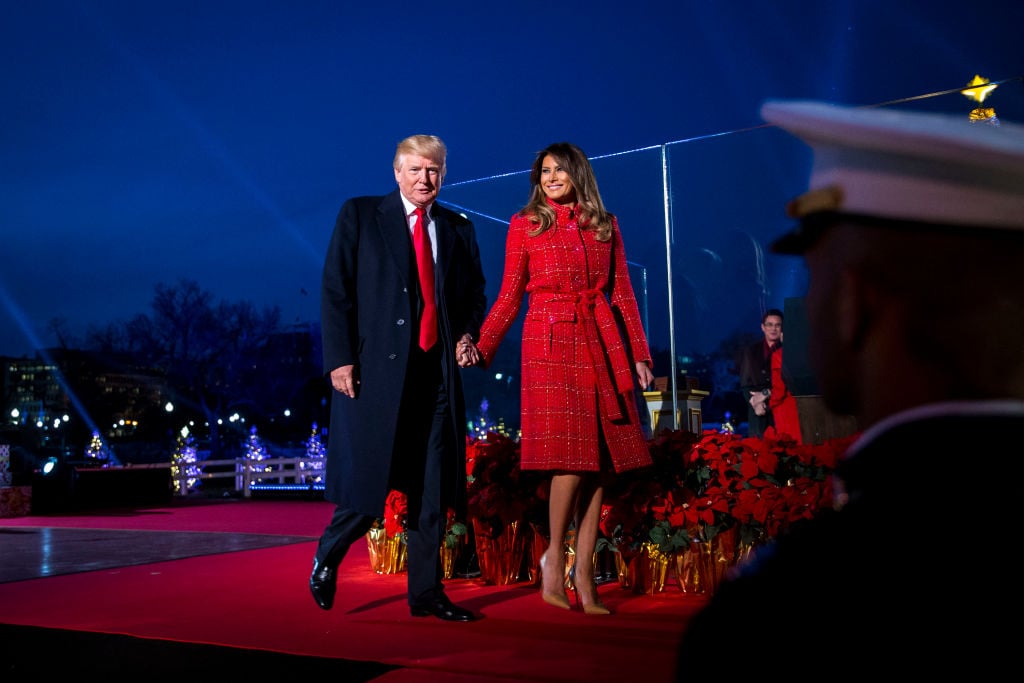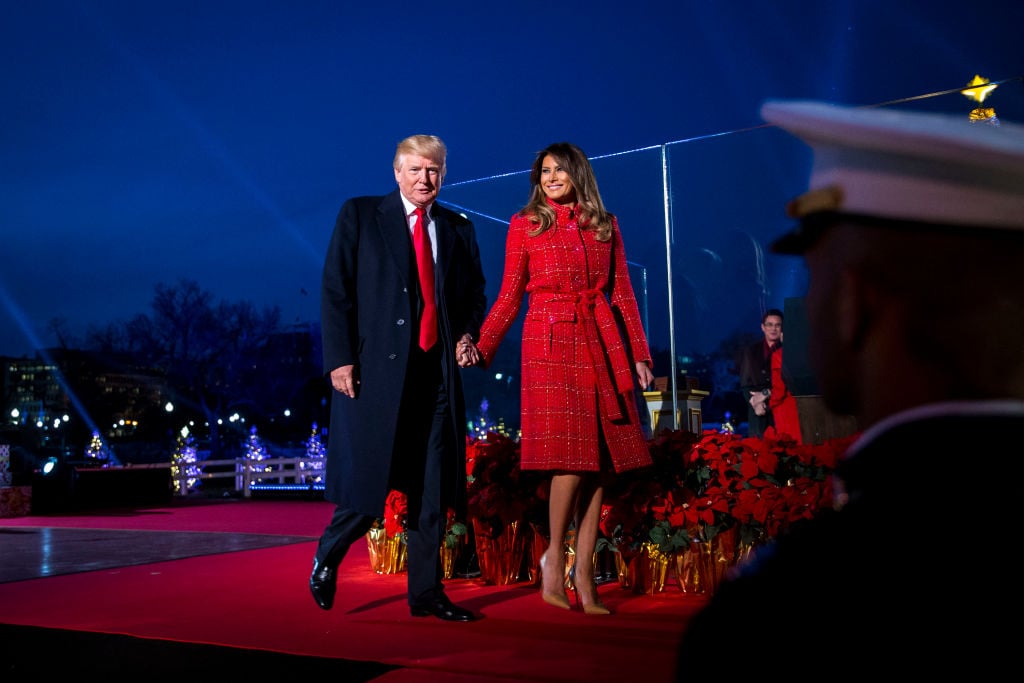 They kept things all business. | Al Drago-Pool/Getty Images
Both Trump and first lady Melania attended the annual Christmas tree lighting as part of the White House holiday celebration. However, they did not bring their children onstage with them. Trump kept it buttoned-up, frowning his way through most of the ceremony. Maybe he just doesn't like carols.
Next: Even with his own family, Trump does not look happy.
15. These White House residents looked miserable together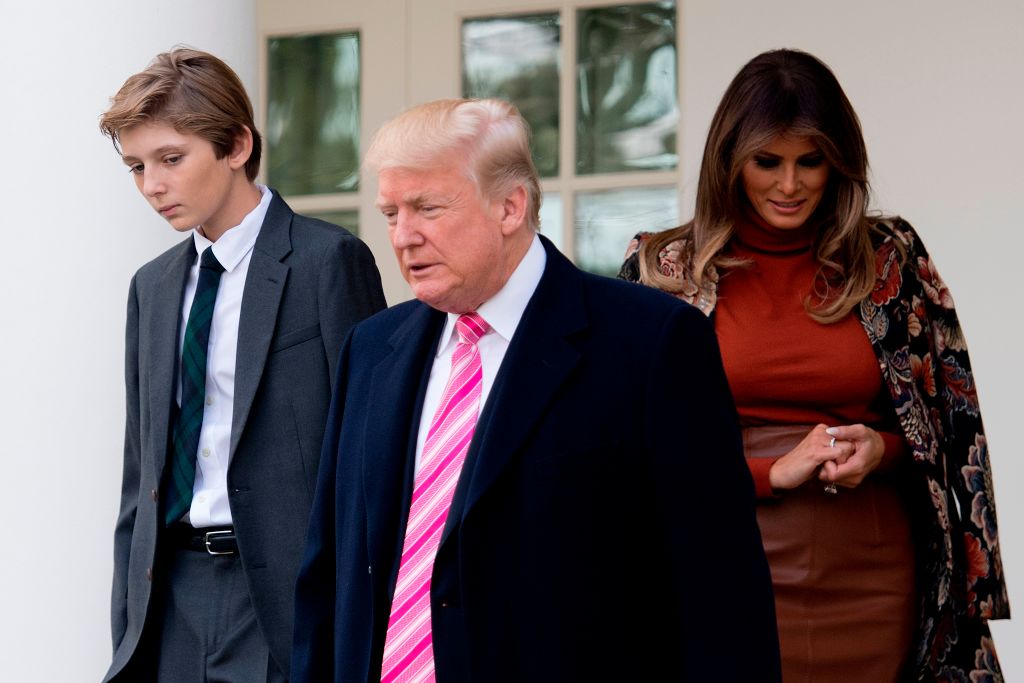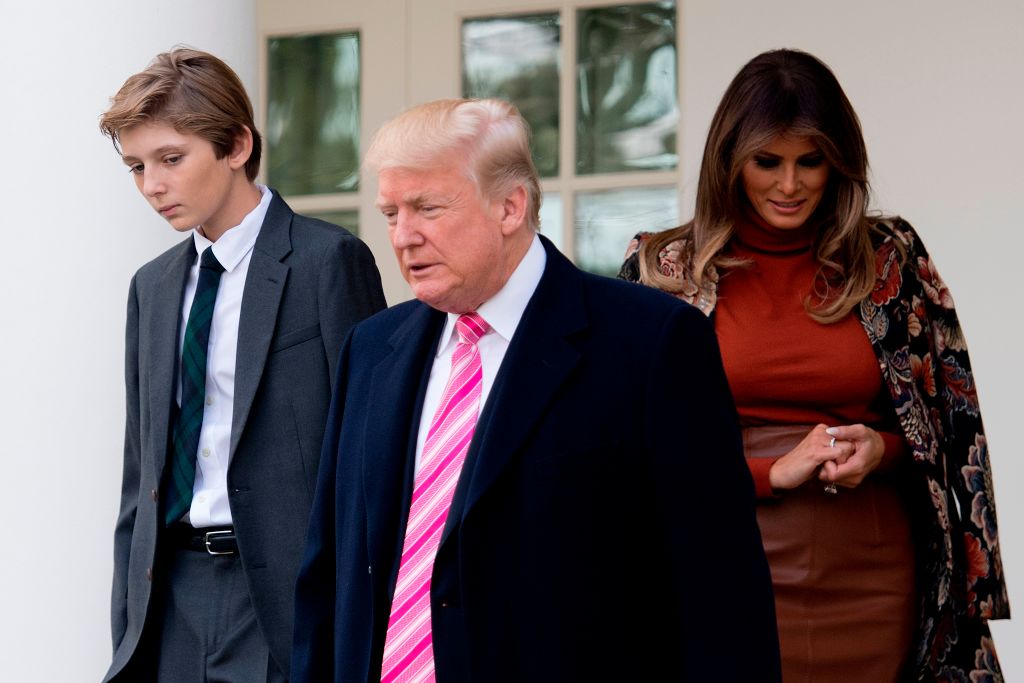 Happy Thanksgiving? | Jim Watson/AFP/Getty Images
Donald, Melania, and Barron Trump got together to pardon the Thanksgiving turkey in November 2017. The usually joyous occasion felt gloomy, in the Trumps' hands. Since their tenure at the White House began, the first lady has received criticism for her consistently sad face. However, in this photo, all three of them look a little down in the dumps.
Next: By contrast, look at the Obamas at the same event.
16. The Obama family pardoned a turkey with a smile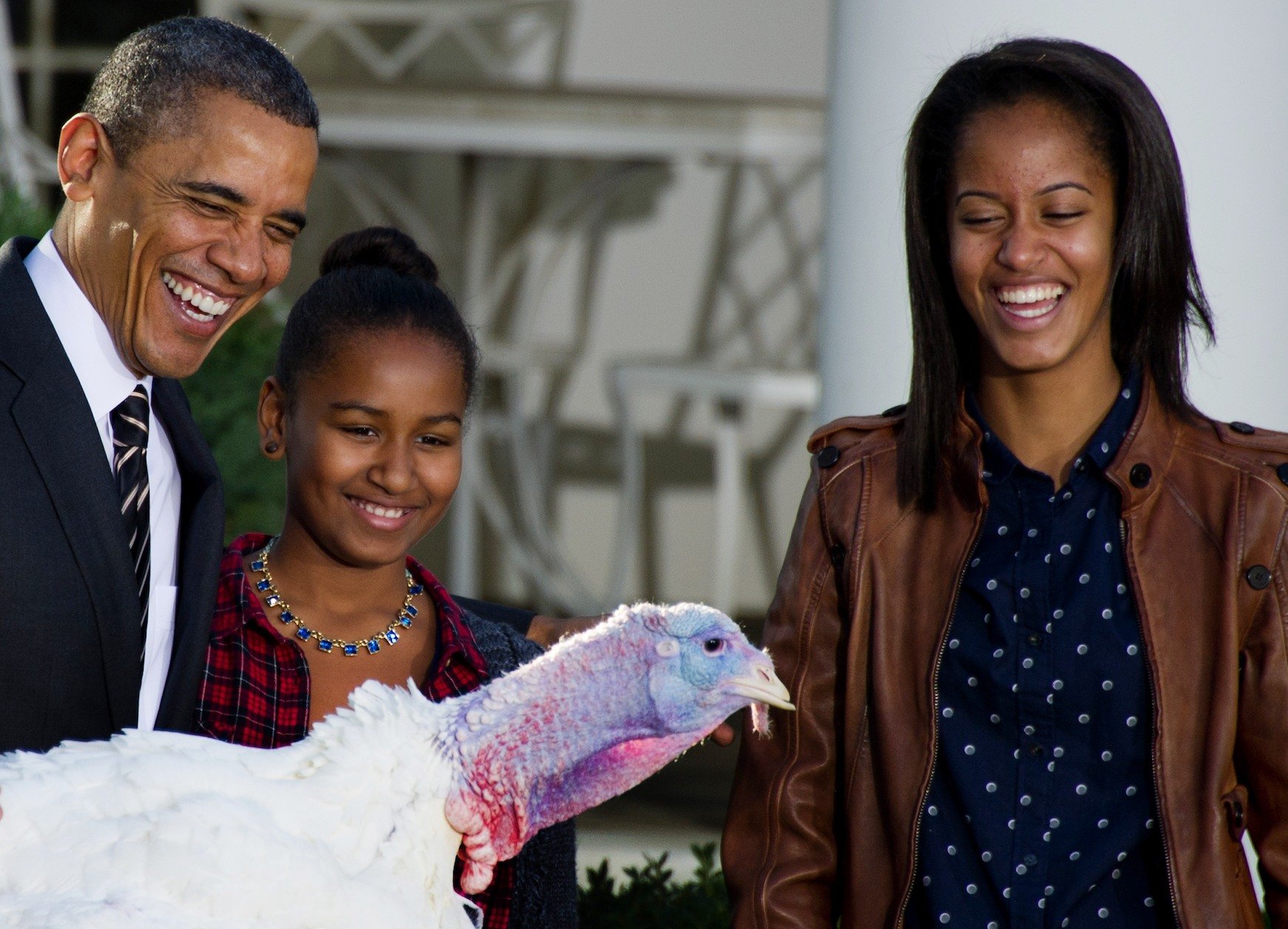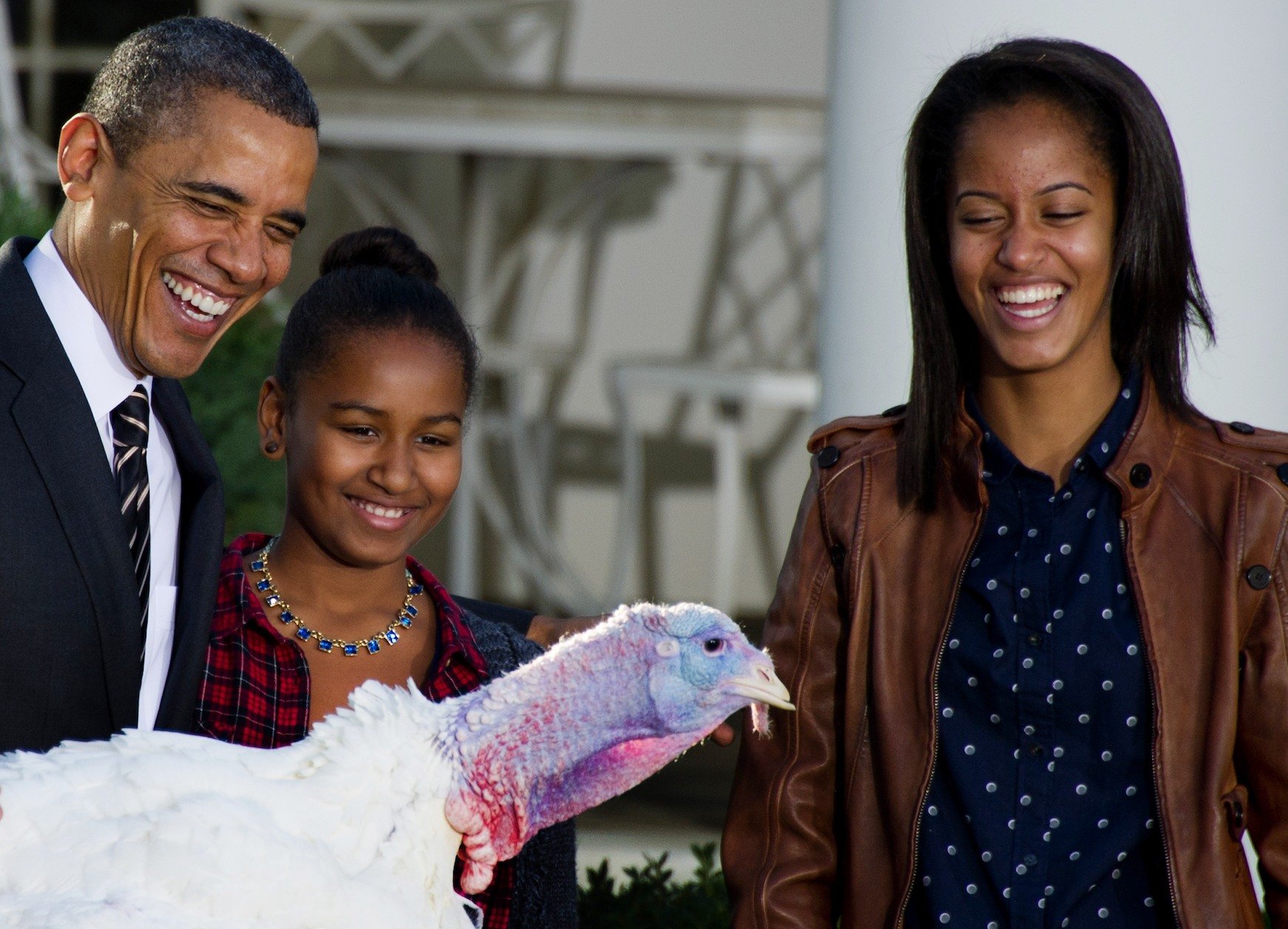 At least someone is having fun. | Jim Watson/AFP/Getty Images
When Barack, Sasha, and Malia Obama got together to pardon the bird, they did it with wide grins. A photo may be worth a thousand words, but we have to remember: Some people just do better in front of a camera than others. Obama might just photograph better than Trump, after all. He also had many more years to practice grinning when the press came around. Maybe Trump could learn a thing or two from his technique.
Follow The Cheat Sheet on Facebook!
Source: Read Full Article