Food lovers, get your passports ready.
Jet-setting foodies in search of Japan's tastiest yakitori and the best bowl of bolognese in Italy will devour this latest news. The travel experts at TripAdvisor just released a list of the world's best cities for foodies, according to travelers who use the site.
Unsurprisingly, three Italian cities snagged primo spots on the list, with Rome the coveted No. 1 destination for food lovers.Florence and Venice also made the list.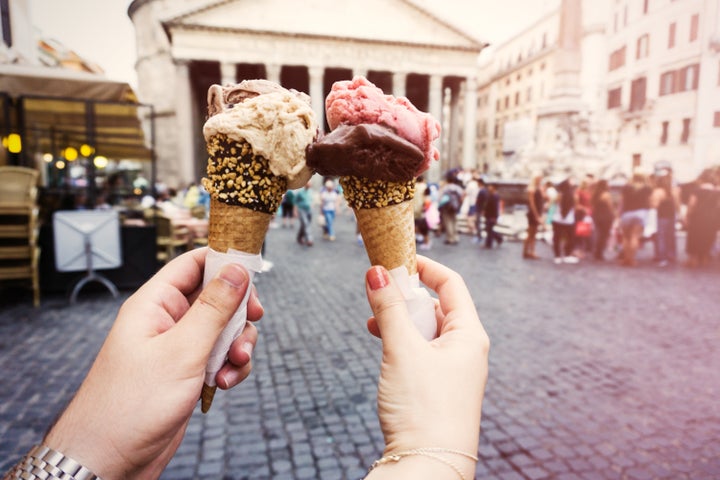 More and more, travelers are planning getaways with their bellies in mind. Bookings for food tours on the travel and reviews site increased a surprising 61 percent last year compared to 2016.
"Travelers are increasingly interested in getting local insight on their destination, and food tours and cooking classes are a great way to do that," said TripAdvisor spokesperson Laurel Greatrix. "Coming home with a local recipe or a new favorite restaurant is the best souvenir."
The top food cities are determined using TripAdvisor's reviews, ratings and booking volume for food experiences booked on the site.
Take a look below at the 10 best cities in the world for foodies:
1
Rome

maroznc via Getty Images

Unsurprisingly, food mecca Rome holds the No. 1 spot for jet-setting foodies. Whether you're hoping to sample the cacio e pepe prepared tableside at Felice a Testaccio, or plan to play it by ear and instead tour the city one gelateria at a time, there's plenty of nibbles to keep you coming back time and time again. TripAdvisor's most-booked food tour in the city is the Rome food tour by sunset around Prati District.

2
Florence

tupungato via Getty Images

Also unsurpringly, another Italian city tops the list of foodie destinations. Mercato Centrale in Florence is an ultimate Italian shopping experience. Opened in 1874, it's an open-air market that showcases a variety of food stalls and restaurants all in one place. It's basically a food lover's dream come true. TripAdvisor's most-booked food tour in the city is the cooking class and lunch at a Tuscan farmhouse with local market tour from Florence.

3
Paris

Leslie Parrott / Aurora Photos via Getty Images

From croissants and espresso at a brasserie to cheese samples from a fromagerie, Paris is a non-negotiable destination for any traveling food lover. Whether you're playing it loose and plan to eat where your adventures take you, or you're a jet-setter with a plan (Crepes at Breizh Cafe, anyone?), there's so much good food in this city you might need to bring a second stomach. TripAdvisor's most-booked food tour in the city is the Paris food tour: taste of Montmartre.

4
Barcelona

anouchka via Getty Images

If you're headed to Barcelona, you'll most definitely be adding the famous Mercat de la Boqueria to your itinerary. Whether you sample helados at Sprimfruit or the red prawns from Ramblero, you won't leave this market disappointed (and certainly not hungry). TripAdvisor's most-booked food tour in the city is the interactive Spanish cooking experience in Barcelona.

5
New Orleans

Bob LaCour / FOAP via Getty Images

Once you step foot in New Orleans, you see what all of the fuss is about. It's a food city, if there ever was one. From chicory coffee and sugar-dusted beignets at Café Du Monde to the buffalo shrimp po'boy at Avery's On Tulane, there's plenty of over-the-top flavors and vibrant energy across this city to impress even the seasoned traveler. TripAdvisor's most-booked food tour in the city is the New Orleans food walking tour of the French Quarter.

6
New York City

Marlene Rounds via Getty Images

What would a foodie's travel guide be without a pit stop in NYC? You'll find mouthwatering bites in every corner of this city, from Michelin-star restaurants to carry-out deli counters. Those with a sweet tooth might end up splitting one of the enormous hibiscus donuts from Dough, while those with a taste for something hot and spicy might cozy up with a bowl of the spicy hot-oil seared hand-ripped noodles from the always-packed Xi'ans Famous Foods. TripAdvisor's most-booked food tour in the city is the best of Brooklyn half-day food and culture tour.

7
Venice

RossHelen via Getty Images

In Venice, there's something tasty for everyone. Wine lovers might want to chow down on the spectacular wine and unique seafood dishes at al Covo, while pasta enthusiasts might prefer tucking into a dish of hearty bolognese at Ristorante Trattoria Cherubino. TripAdvisor's most-booked food tour in the city is the Venice food tour: cicchetti and wine.

8
Madrid

Chalffy via Getty Images

If you're headed to Madrid with dreams of never-ending tapas, one stop on your itinerary should be Mercado de San Miguel. It's one of the oldest markets in Madrid, and has become a gastronomic destination in the city. It's a smart way for travelers to sample many of the city's best-known dishes, like seafood paella at Paella y Ole and wine from one of the venue's many stalls. TripAdvisor's most-booked food tour in the city is the Madrid tapas and wine tasting tour.

9
Tokyo

Koukichi Takahashi / EyeEm via Getty Images

For food lovers, Toyko is the place to be. It's a city where you'll never go hungry, even late into the night. From crowded street markets where you can devour a skewer of steaming ikayaki (grilled squid) to contemporary restaurants like Butagumi that are serving up some some of the city's best tonkatsu (breaded pork cutlets), you'll find yourself planning meals between meals just so you can taste everything. TripAdvisor's most-booked food tour in the city is the Toyko by night: Japanese food tour.

10
Bangkok

Nigel Killeen via Getty Images

Thai street food is perhaps the biggest reason people flock to Bangkok. From hot fried pork at Wang Lang Market to sour and spicy tom yum kway teow noodle soup served up at Damnoen Saduak Floating Market, simply snagging a meal in this energetic city is an experience you won't forget. TripAdvisor's most-booked food tour in the city is the Bangkok food tour.
HuffPost may receive a share from purchases made via links on this page.
Source: Read Full Article