Prom season comes around every spring — and with it more and more creative "promposals." These often elaborate events can involve costumes, props, even skywriters. But some teens have taken it too far. A number of them have gone viral on social media for seriously poor taste.
How would you respond if your kid did a racist promposal? Read on to see what their parents have to say, as well as one kid who really took it too far (page 7).
1. Racist sign gets this kid booted from prom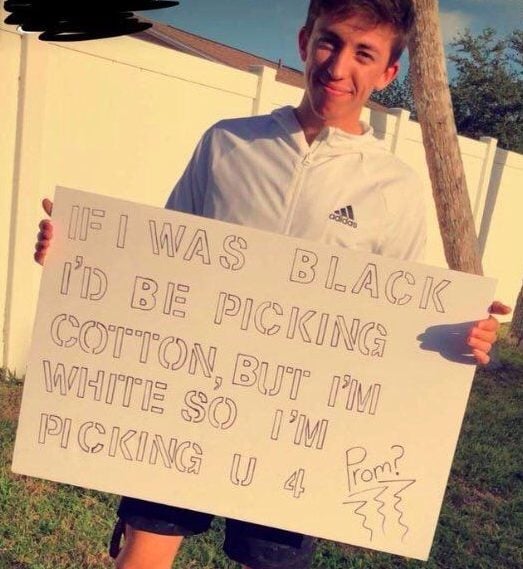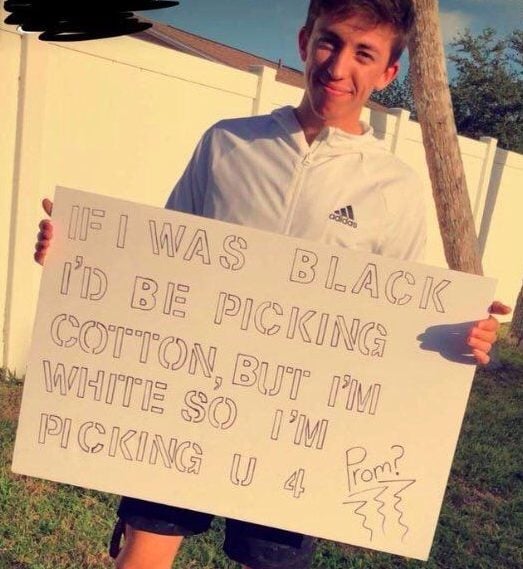 He said it was just a joke. | Nick Laparra via Twitter
Noah Crowley, a senior at Riverview High School in Sarasota, Florida, decided to ask a girl to prom by holding up a sign. His racist promposal sign read, "If I was black I'd be picking cotton, but I'm white so I'm picking u 4 Prom?" After the sign went viral, he and his parents both apologized for what Crowley, 18, called "just a joke." He will not attend prom or graduation.
Acting principal Kathy Wilks sent a letter to parents. It said the school "absolutely does not condone or support the message conveyed in this post," according to CNN affiliate WFLA. The school has also employed counselors to discuss the incident with students.
Next: The following student also showed seriously poor taste.
2. This student donned blackface to ask his date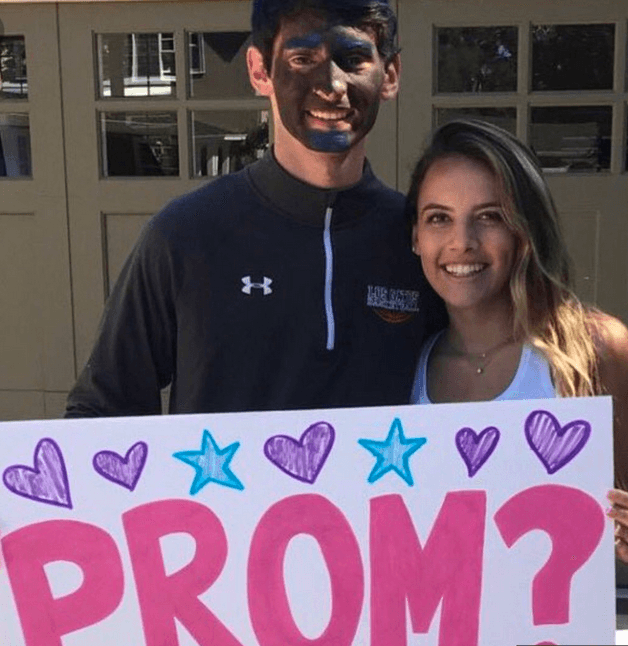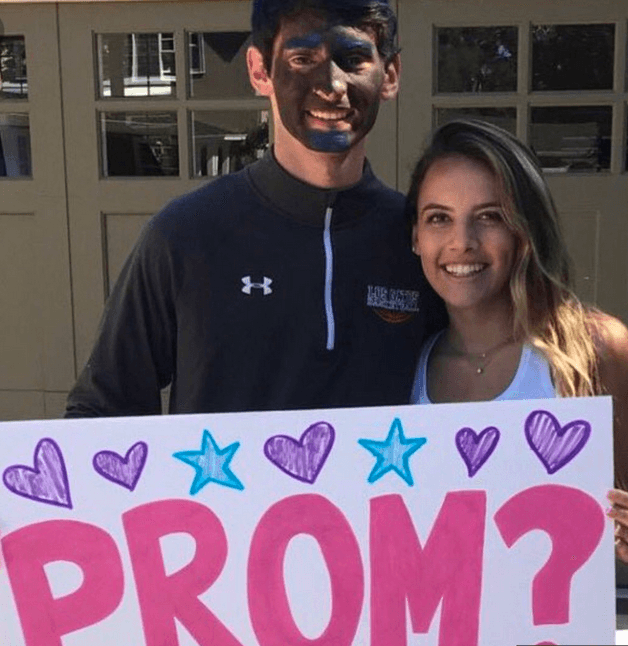 He said he isn't racist. | Pilar Crawford via Twitter
Nick Haidar, of Los Gatos High School, wore blackface depicting an emoji to ask for a date to the prom. At first, he sent a Snapchat with the bitmoji to a girl, who turned him down. When that failed, he then showed up at her house dressed like the bitmoji. "I was shocked; I was horrified," said local parent Pilar Crawford. "But then it also shows me that he doesn't think that's wrong. He doesn't understand, or maybe he does, how black people feel about black face."
"My intentions were to just ask a girl to prom, not to be racist," Haidar later said. "I just want to say I'm sorry if I offended anyone. That wasn't my intention. I'm not a racist kid, and I just want to say this is a big misunderstanding."
Next: You won't believe what the following person drew on their racist promposal sign.
3. This person's racist promposal sign depicted lynching
The school issued a statement. | Pilar Crawford via Twitter
According to a local news station, another Los Gatos High School student asked a girl to prom using a poster that read, "Do u wanna be like a n**** and hang at prom?" It also featured a drawing of a lynching.
The school issued a statement to the school's newspaper saying, "No communication about any school event should denigrate another person or group for any reason. We are aware of two prom asks this spring that have been of [a] racist nature and want this choice never to recur."
Next: When using inside jokes, consider what the Internet might have to say.
4. This supposed 'inside joke' went too far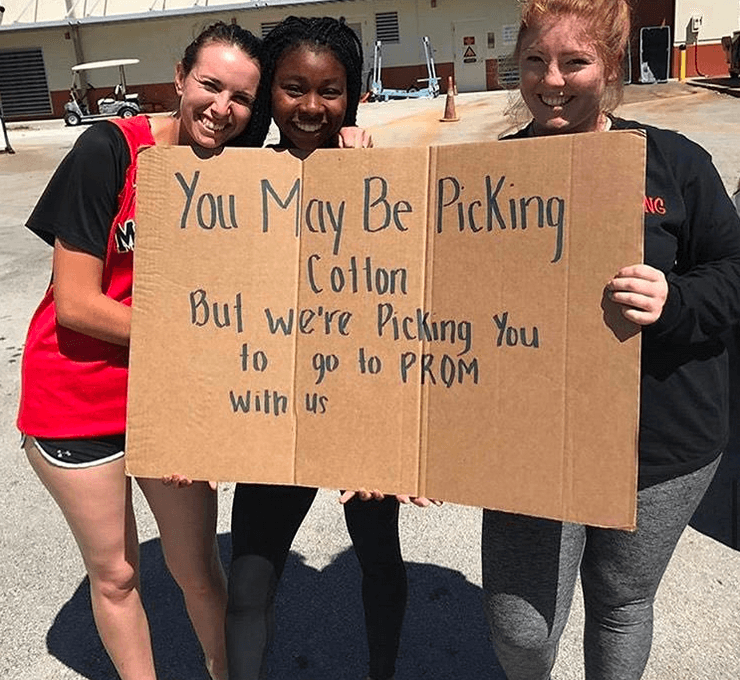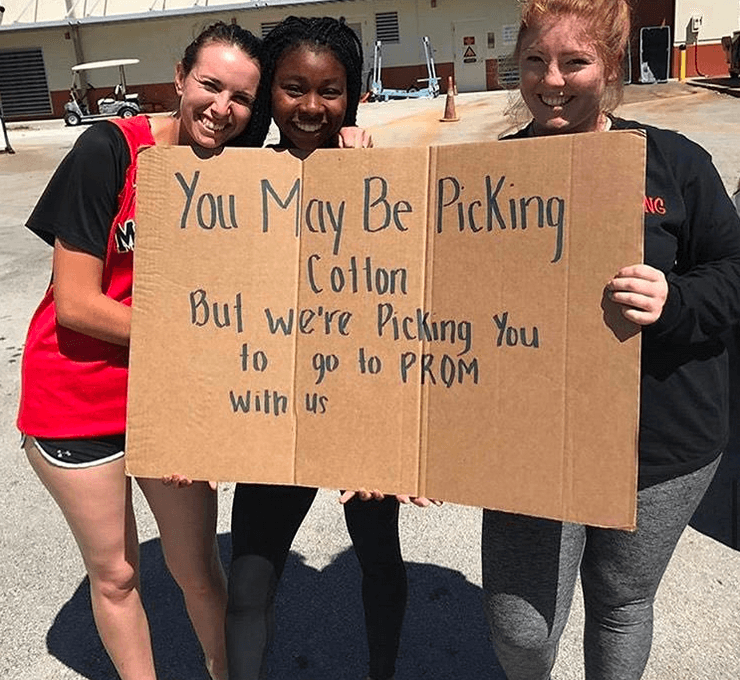 They intended it as an inside joke. | papichombo via Twitter
Two white girls also asked a black friend to prom with a homemade sign. Like Crowley's, it read, "You may be picking cotton, but we're picking you to go to prom with us." The father of the girl on the right of the picture told Local 10 News the girls intended it as an inside joke. The girl in the middle, a homeschooled friend of the others, will someday inherit her grandmother's cotton farm in Alabama.
"They really want to apologize for their extremely poor choice of words in this situation," said the father of another student. "They would like to take it back [and] find a different way to express this invitation to prom."
Next: The following student probably did not think this racist promposal through.
5. This boy called his date 'dark meat'
He referred to a black woman as "dark meat." | theshaderoom via Instagram
This student referred to his date as "dark meat" and then placed a KFC crown on her head, when enacting his racist promposal. His sign that read, "I prefer dark meat. Prom?" Let's break it down. Dark meat serves as a chicken reference, but it also objectifies the young woman. Ladies: Do not let your men call you "meat."
In addition, fried chicken and African-Americans have a long, racist history. While it has become the brunt of jokes over the years, it still harkens back to a dark time. Find a better way to ask your date out. Literally any way.
Next: These stereotypes also make for a racist promposal.
6. Invoking stereotypes does not make a good look
He involved several racist stereotypes. | Son of Baldwin via Twitter
Another student also involved watermelon, Kool-Aid, and fried chicken in his probably unintentionally racist promposal. He wrote, "It would be KOOL if you would be my chick at prom." While we understand the word play, the student probably missed the racist undertones in his poster.
That may come as a lack of education surrounding the plight of African-Americans and the significance of food in culture. He also may have intended it as a joke that fell really, really flat on the internet.
Next: The final student, however, really has no excuse.
7. This kid thought copying racism was funny
He used unoriginal racist language. | Concrete Choppa via Twitter
A student at Francis Howell High School in St. Charles, Missouri, apparently found Crowley's original post funny. He copied the language for his own racist promposal, according to St. Louis station KTVI. The unidentified student attends Francis Howell High School.
"This afternoon building administrators at Francis Howell High School were made aware of an inappropriate student post on social media," said school administrators. "The incident is being investigated, and … any student that uses demeaning speech and language will receive consequences in accordance with the FHSD Code of Student Conduct."
Check out The Cheat Sheet on Facebook!
Source: Read Full Article