Although we'd all love to travel first class all the time, the crazy prices aren't always within reach. Economy saves the most money, but there's no reason to have a terrible flying experience if you don't have to. Follow these tips to make the best of your economy situation, and you might just fool yourself into thinking you're flying first class.
Choose your seat carefully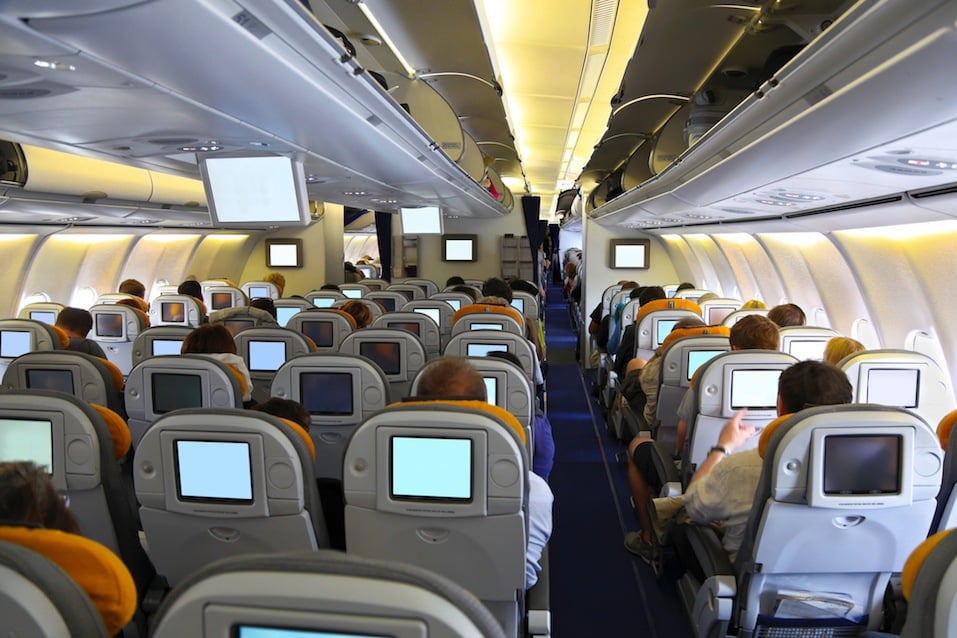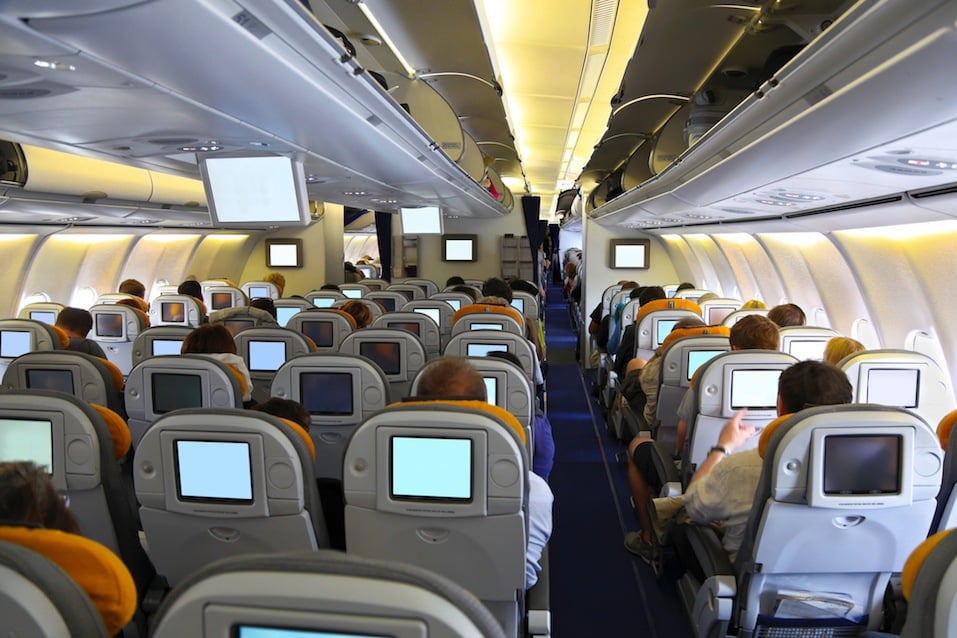 Passengers watching a movie in an airplane | egdigital/iStock/Getty Images
When you purchase your ticket, always make a point to choose your seat of preference. Some would rather have the window seat to gaze at the grounds below, while others prefer the aisle to easily get up and walk around. The choice is yours, but don't settle on a middle seat if you don't have to. By choosing the one you prefer, you've already improved your flight experience before you even take off.
Next: When you look better, you feel better. 
Dress the part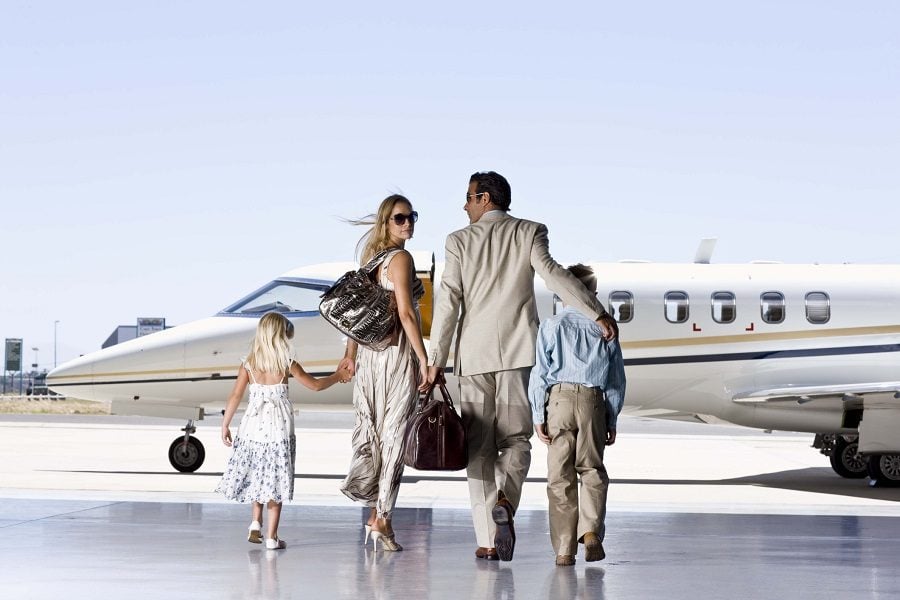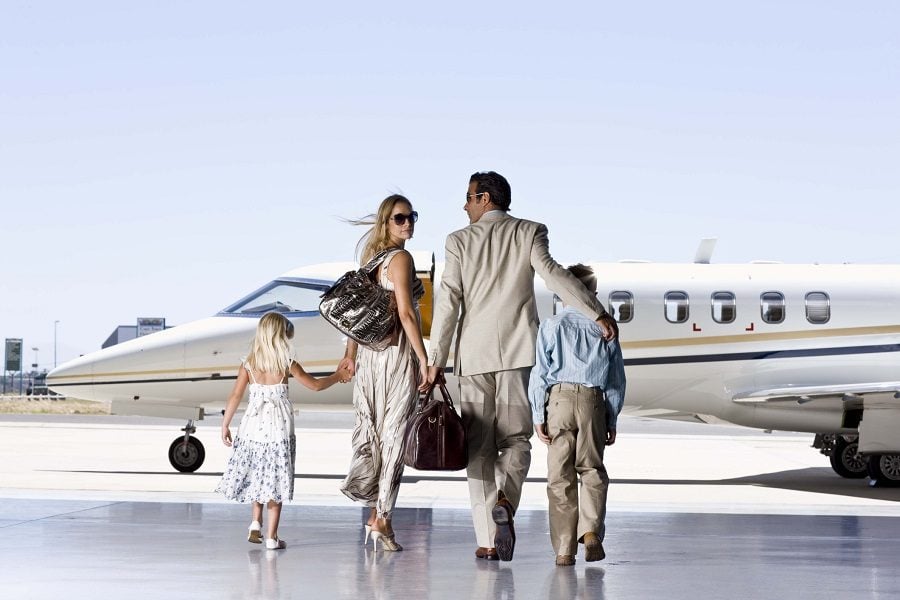 A well-dressed family ready to board a plane | Jupiterimages/istock/Getty Images
When you look better, you feel better. At least that's what psychologists say. To get the best experience on a plane, try dressing the part. You should always dress comfortably, but rather than walking onto the flight in a sweatshirt and sweatpants, try doing your hair and wearing something comfortable but with a little more style, such as joggers or a sweater. If you wear earrings, throw on a small pair of those, too. If you look fancy, you might feel like you're getting a fancier airplane experience than you actually are.
Next: There's a great alternative to terrible airline food.
Buy your meals in the airport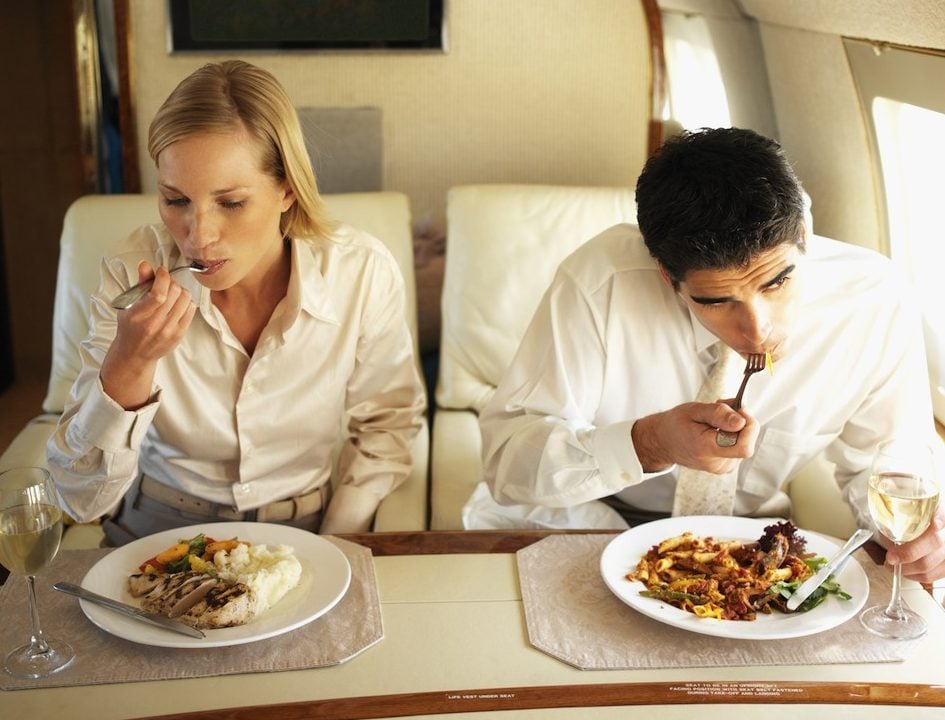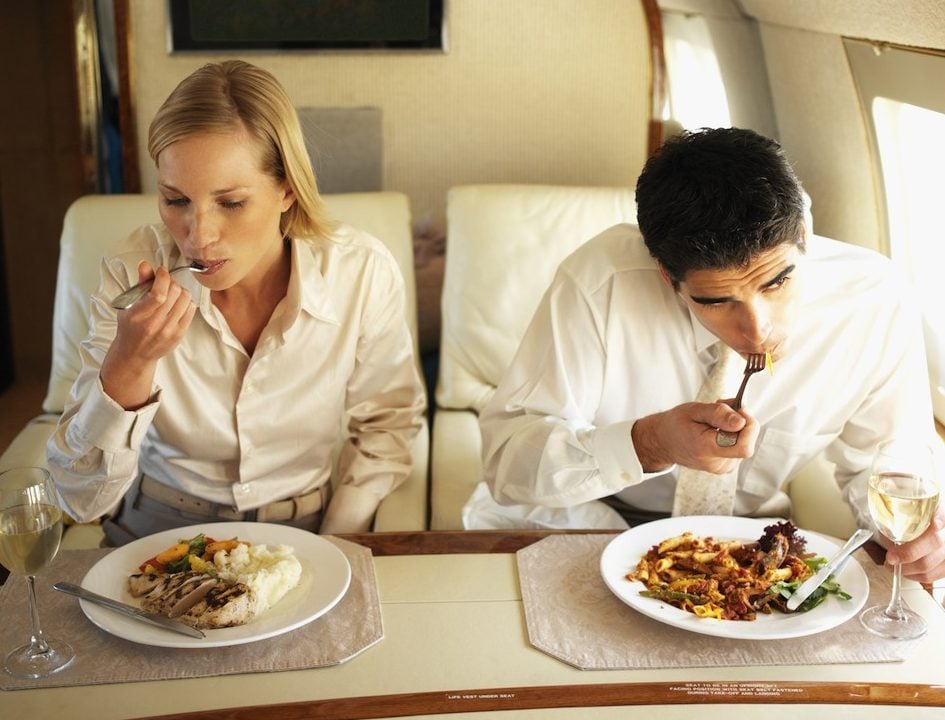 Passengers eating and drinking while on an airplane | Stockbyte/Getty Images
It's safe to say that airplane food is far from desirable. But the good thing is you don't have to eat it. If you know you'll be hungry on the flight, get something to-go from one of the restaurants in the airport, and take it on the flight with you. Surprisingly, airports tend to have good quality food, coffee, smoothies, and other delicious treats that will make your in-flight meal much better. Just try to avoid eating something super pungent so as not to disturb the other passengers around you.
Next: Spoil yourself a little bit with one of these. 
Indulge in a glass of wine or champagne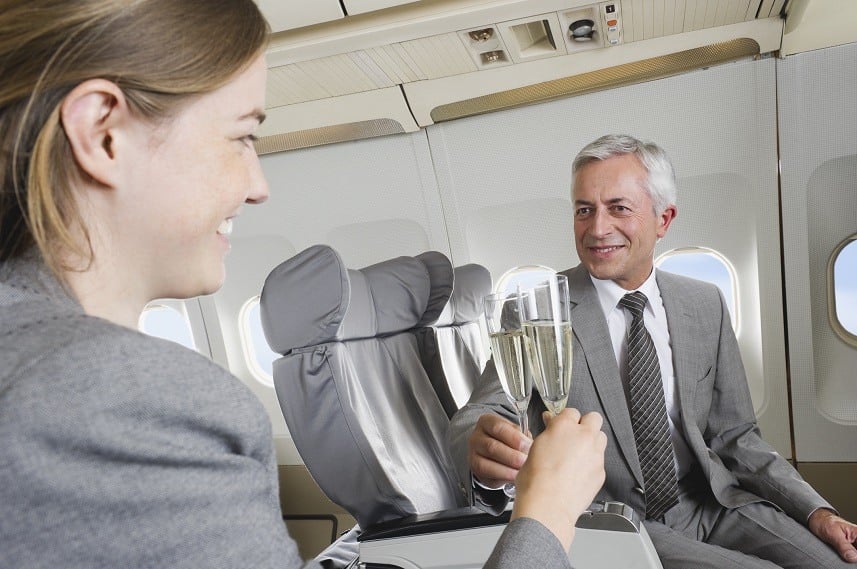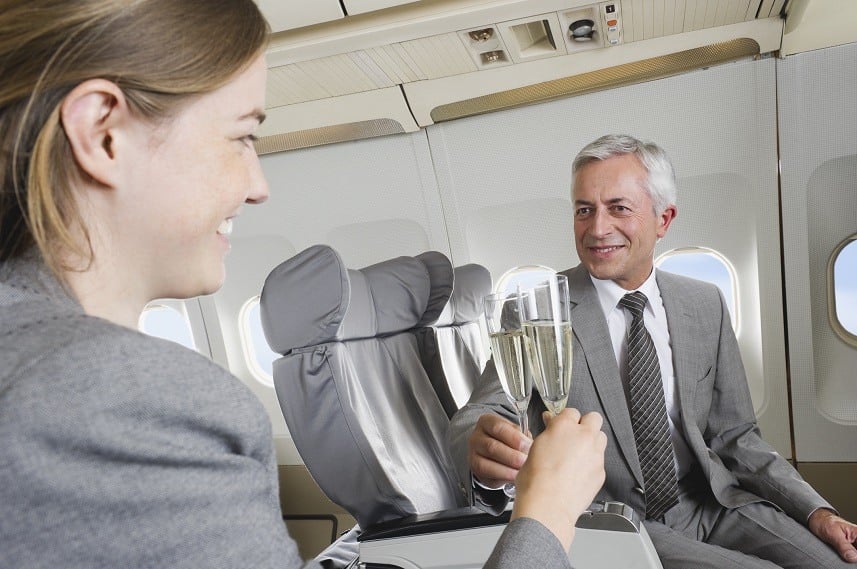 Passengers toasting with champagne on an airplane | Tuned_In/iStock/Getty Images
Although alcohol is not free on airplanes, if you can fork over a few dollars, it's worth it to indulge in a nice glass of wine or champagne while you fly. Plus, if you're feeling anxious about the flight, it can be a good way to let loose a bit. (But don't consume too much, or you might end up making a fool of yourself.) You'll feel much fancier on your flight with a nice outfit, a good-quality meal, and a glass of champagne.
Next: Sleep is important, and this will make it better. 
Wear a high-quality eye mask
Passenger sleeping on an airplane | Genaro_Melendrez/iStock/Getty Images
On longer flights, it can be difficult to fall asleep with so little leg room. But to help you get there, try donning a nice, quality eye mask that cushions your eyes and relaxes your face. Find one that completely blocks out the light to give you the best chance of falling asleep possible. Plus, the more comfortable the eye mask, the more you'll feel like you're living in luxury during the flight.
Next: Bring some of this to pamper yourself. 
Pretend you're at the spa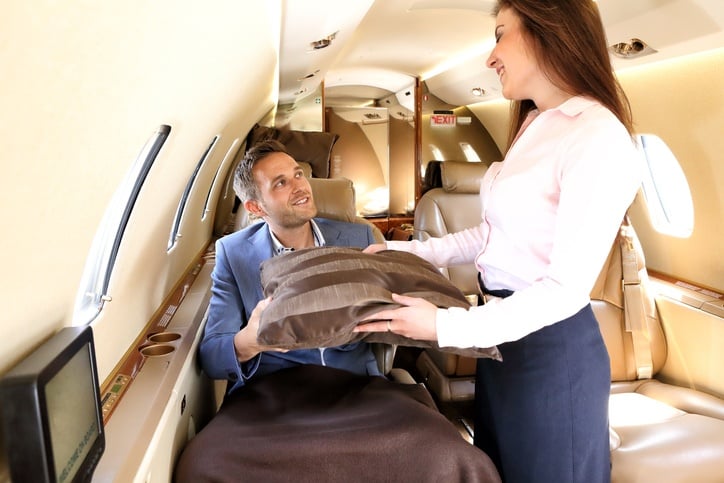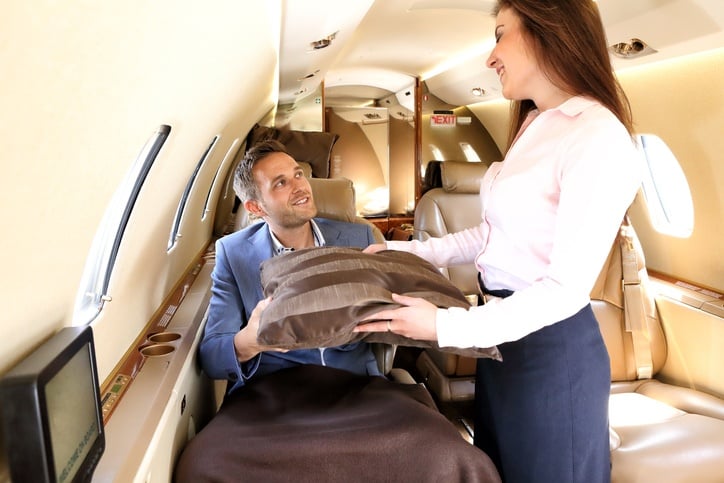 Flight attendant handing a pillow to an airplane passenger | OSchaumann/iStock/Getty Images
Besides a super comfortable eye mask, bring a moisturizer that helps your skin feel its best. Apply it just before you nap, and let it soak into your skin. Give yourself the effect of feeling like you're at the spa. Plus, with that eye mask on, you're in your own world and can pretend you're anywhere besides a stuffy plane.
Next: If you can afford this, splurge. 
Splurge on the extra legroom seats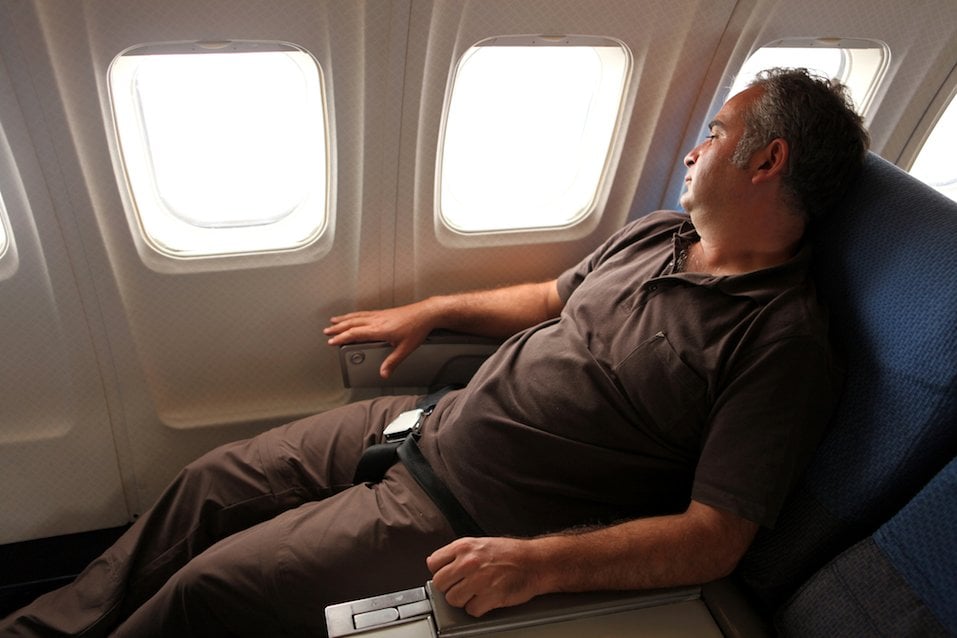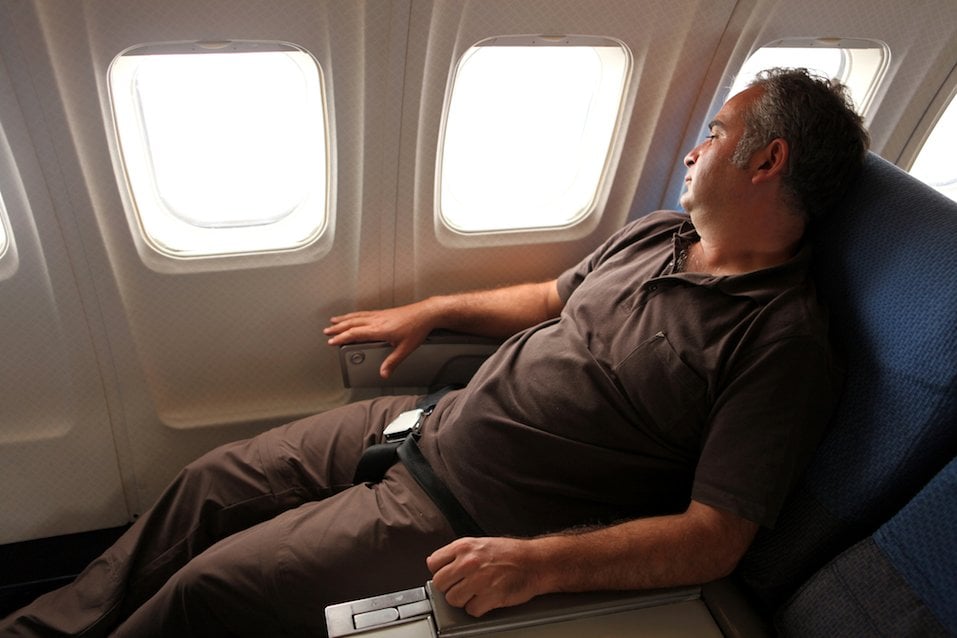 Passenger stretching his legs in an airplane | 1001nights/iStock/Getty Images
If it's in your budget to splurge on those extra legroom seats, go for it. After all, you want to feel as relaxed as possible if you're going on vacation, so it's worth the extra money for the leg room. This is as close as it gets to first class while still in economy, so enjoy it if you can. And sometimes the leg room seats drop in price if nobody books them before the day of the flight, so you might be able to upgrade on the cheap.
Check out The Cheat Sheet on Facebook!
Source: Read Full Article