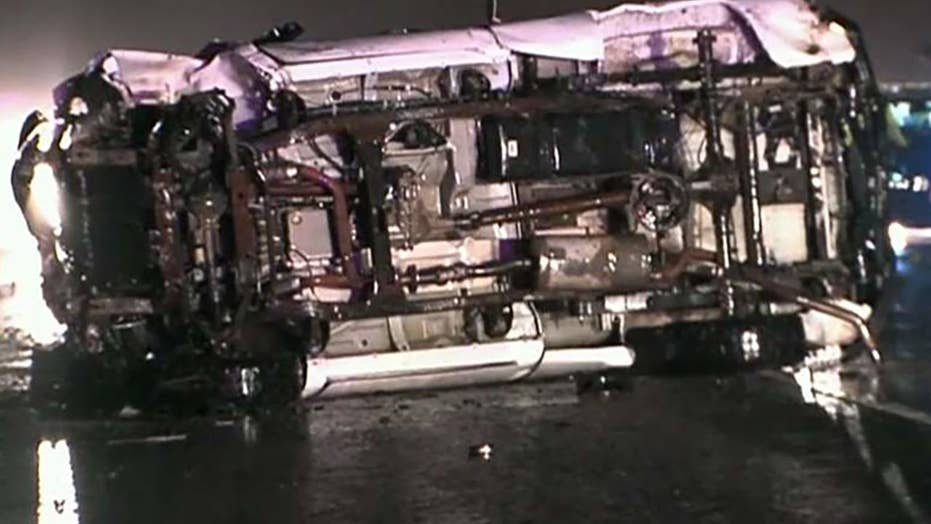 Truck crashes trying to escape border control
Driver sped away from agents going over 100 mph, 3 people were killed in crash.
A high-speed chase near the U.S.-Mexico border in San Diego County ended with three dead and eight injured after a Chevrolet pickup attempted to flee an enforcement stop, hit a spike strip and rolled into an embankment on Interstate 8, authorities said in a statement.
The pickup was carrying 11 people – 9 of whom were lying unrestrained in the bed — while weaving through traffic and traveling at speeds of more than 100 mph, witnesses said. A male driver and a female passenger were believed to be seated in the cab of the truck, CHP spokesman Officer Travis Garrow said.
Border Patrol agents had attempted to conduct an enforcement stop around 4:30 p.m. but the driver reportedly failed to yield to the Border Patrol's marked vehicle and fled, authorities said.
Agents deployed a spike strip as the vehicle traveled westbound and the driver lost control, became airborne and rolled down an embankment into a two-lane interstate east of Crestwood Road, authorities said, according to the San Diego Union-Tribune.
A California Highway Patrol spokesman told Fox News the agency will release a press release Friday with further information. Border Patrol did not immediately return Fox News' request for comment.
Three of the occupants were pronounced dead at the scene, while the other eight suffered "major to minor" injuries, authorities said. The injured parties were transported to several local hospitals.
The driver is believed to be a U.S. citizen and is now in U.S. Border Patrol custody while being treated for his injuries, KFMB-TV reported, citing authorities.
None of the occupants' identities were released. It wasn't immediately clear whether they were part of the migrant caravan currently awaiting entry at San Ysidro Port of Entry in San Diego. Authorities do not suspect alcohol or drugs were involved in the collision.
The CHP is now handling the investigation.
AT LEAST 5 DEAD AFTER SUV CARRYING ILLEGAL IMMIGRANTS CRASHES, SHERIFF SAYS
Thursday's crash is not the first fatal accident involving U.S. Border Patrol. Another high-speed chase with the agency in June ended when an SUV carrying illegal immigrants crashed, ejecting 12 people — five of whom were killed — near the Texas-Mexico border. That chased also topped 100 mph, and the driver was also believed to be an American citizen.
The Associated Press contributed to this report.
Source: Read Full Article