London: Prime Minister Anthony Albanese has described meeting King Charles III as a "great honour" but says now is not the right time to raise the issue of Australia cutting ties with the monarchy.
Albanese and his partner Jodie Haydon filed past the Queen's coffin at Westminster Hall on Saturday and signed a condolence book at Lancaster House, where the hit Netflix series The Crown is filmed, before the Prime Minister sat down for his first audience with the new monarch.
King Charles III and Prime Minister Anthony Albanese at Buckingham Palace.Credit:Getty
Hundreds of thousands of Britons have queued for the lying-in-state and some were granted a surprise visit on Saturday by Charles and Prince William, the Prince of Wales, who thanked them for waiting up to 16 hours.
Albanese said he could feel the "raw emotion" of those mourning the Queen inside the historic hall.
The prime minister wants Australia to revisit the republic question should he win a second term in power but told reporters in London it was not appropriate to raise the topic with the monarch given he is the head of state.
"It was a one-on-one meeting in private, a private audience which was a great privilege for me as the Australian prime minister," Albanese said outside Buckingham Palace.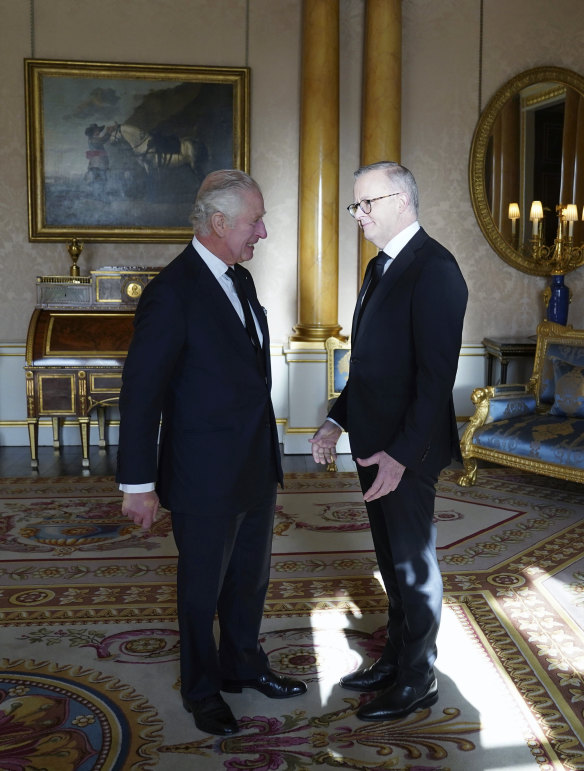 The two men held their first meeting in the 1844 room at Buckingham Palace. Credit:PA
When asked if he raised the issue of a republic with Charles, Albanese said respect was required.
"Now is not the time and it was a warm gathering and I've made my views very clear on that," he said. "This is a time of respect.
"We have such a close connection with Great Britain, and it is one of continuity and that will continue to grow, I believe.
"I just ran into some Australian visitors who are here visiting London and have made the journey because they wanted to be here at this time and it is an important relationship that we have and it is a relationship that goes to our values.
"As democratic nations, our democracy is based upon the Westminster system and that's something I'm very conscious of."
Asked if he had issued an invitation to Charles to visit Australia, he said there was a permanent open invite for the Australian head of state. Any visit to Australia would be Charles' 17th tour.
"As the Australian head of state he is always a welcome visitor as he has been to Australia," he said.
He described his conversation with the 73-year-old Charles as warm and said he expressed his condolences for the loss of his mother, Queen Elizabeth II, personally and on behalf of Australia.
"We had quite a considerable engagement … it was an opportunity to renew our acquaintance and it was a very warm engagement," he said.
He said his earlier meeting with the new British Prime Minister Liz Truss did not go into any great detail and declined to say if he raised the issue of the extradition of Julian Assange from the UK to the United States.
Charles will host realm leaders at a Buckingham Palace reception on Sunday night ahead of Monday's state funeral for the Queen at Westminster Abbey.
Jodie Haydon signs the condolence book as her partner, Prime Minister Anthony Albanese, watches on.Credit:PA
Albanese and Governor-General David Hurley will attend the funeral and a committal service at St George's Chapel in Windsor.
Most Viewed in World
From our partners
Source: Read Full Article