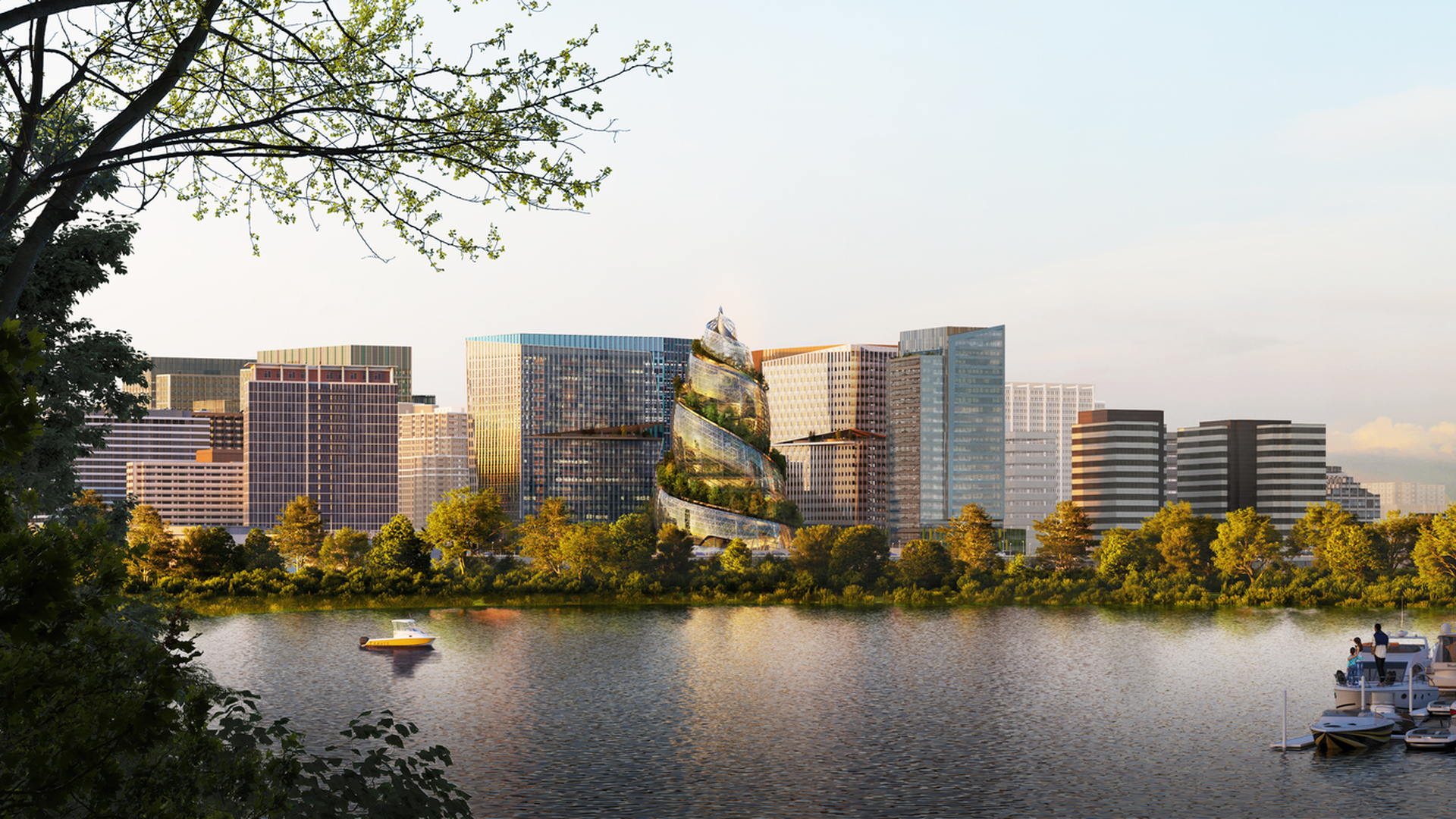 Photo: NBBJ
Amazon is pausing construction on its sprawling second headquarters in Arlington, Virginia, the company confirmed to Axios on Friday.
The big picture: The stoppage comes as the tech giant has announced sweeping job cuts in the wake of slowdowns in consumer and corporate spending.
Bloomberg first reported the news of the construction pause.
Amazon HQ2 plans
The timeline of the pause on construction of the headquarters, which Amazon calls HQ2, is still being determined, per a spokesperson.
The company expects to start pre-construction work later this year and open the first phase of the second headquarters, Met Park, in June, which can accommodate more than 14,000 employees.
The spokesperson said the company's long-term intention and commitment, including its anticipated 25,000 corporate and tech jobs connected to the second HQ, remain unchanged.
It's hired more than 8,000 employees for the Met Park campus, the spokesperson said.
Amazon's first headquarters, the Amazon Spheres, is in Seattle, Washington.
HQ2 is part of Amazon's $2.5 billion investment in Northern Virginia. The campus is expected to include 2.8 million square feet of office space across three 22-story buildings.
The second phase of the headquarters, called PenPlace, is designed to include 2.5 acres of public open space with an amphitheater, dog run, retail pavilions, restaurants and green space. Also slated: "The Helix," a tree-covered office building in the shape of a double helix.
"We've decided to shift the groundbreaking of PenPlace…out a bit," John Schoettler, vice president of GREF at Amazon, said in a statement.
"Our second headquarters has always been a multi-year project, and we remain committed to Arlington, Virginia, and the greater Capital Region," Schoettler continued.
Beyond job cuts, Amazon in November announced a hiring pause for its corporate workforce.
Amazon CEO Andy Jassy said last month the company will require most corporate employees to spend a minimum of three days in the office per week starting in May, updating work-from-home policies enacted because of the coronavirus pandemic.
The company also paused construction on sites in Bellevue, Washington, and Nashville, Tennessee, to redesign plans for office spaces.
Go deeper … Amazon CEO: We're working "really hard" to cut costs
Editor's note: This story has been updated with additional background and details.
Source: Read Full Article