Boarding schools are pushing to establish an AFL-style quarantine hub to boost Australia's international secondary student market, which has been rattled by international and state border closures.
Victorian boarding schools have been particularly hard hit because of their heavy reliance on international students and the state's second lockdown prompting interstate boarders to return home for remote learning.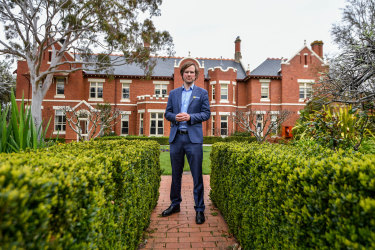 Chris Van Styn, director of boarding at Ballarat Grammar, would like the Victoria-NSW border to reopen. Ballarat is COVID-19 free.Credit:Joe Armao
Victoria's 31 boarding schools have been unable to accept new international students since COVID-19 entered Australia, and many foreign students returned home rather than stay in Australia indefinitely.
The Australian Boarding Schools Association is proposing international students be allowed to quarantine at Queensland schools or hotels in January, before heading off to boarding schools around the country.
"We're thinking about doing it here in Queensland because it's a good place for kids to be at that time and do a bit of a bubble, like, for instance, the AFL has up here, where they've taken over the whole hotel," chief executive Richard Stokes said.
"Kids can do things like go to the pool and enjoy a little bit of outside space."
The idea was raised at a roundtable attended by the association, the National Catholic Education Commission, Independent Schools Council of Australia and the Isolated Children's Parents' Association last week.
Other Victorian boarding schools are exploring quarantining international students in the Northern Territory.
A handful of Victorian boarding schools have stayed open over school holidays rather than lose international students to coronavirus border restrictions.
Toorak College in Mount Eliza will host a summer holiday program for international students across the state who are "not willing to take the 'risk' of exiting Australia without the certainty of being able to return in January."
Hamilton and Alexandra College in western Victoria – which has lost students to international and internal border closures – is also considering hosting international students over the Christmas break.
Principal Andrew Hirst said 27 of the school's 32 international boarders returned to their homes in China, Hong Kong and Cambodia in term two rather than stay apart from their families during the COVID-19 crisis.
Dr Hirst said these students were learning remotely with the school and want to return. In addition, he is hoping, but not expecting, the school's 20 South Australian boarders will return in term four.
The state border closures have been the biggest challenge for Ballarat Grammar, which has 51 NSW boarders plus three from the NT. It hired a bus to take its NSW students home. The NT boarders flew home and two won't return this year.
The school's director of boarding, Chris Van Styn, hopes the Victoria-NSW border will reopen soon, so it can get NSW boarders back for term four.
"I hope we'll see movement there, particularly as the [Victoria] COVID numbers continue to move south," he said. "You look at a region like us and we're COVID-free at the moment."
Victoria enrols more international school students than any other state or territory, with more than 9500 enrolled in 2018, primarily from China, Vietnam and Cambodia.
International students account for about a third of the country's 23,500 boarders.
Sign up to our Coronavirus Update newsletter
Get our Coronavirus Update newsletter for the day's crucial developments at a glance, the numbers you need to know and what our readers are saying. Sign up to The Sydney Morning Herald's newsletter here and The Age's here.
Most Viewed in National
Source: Read Full Article