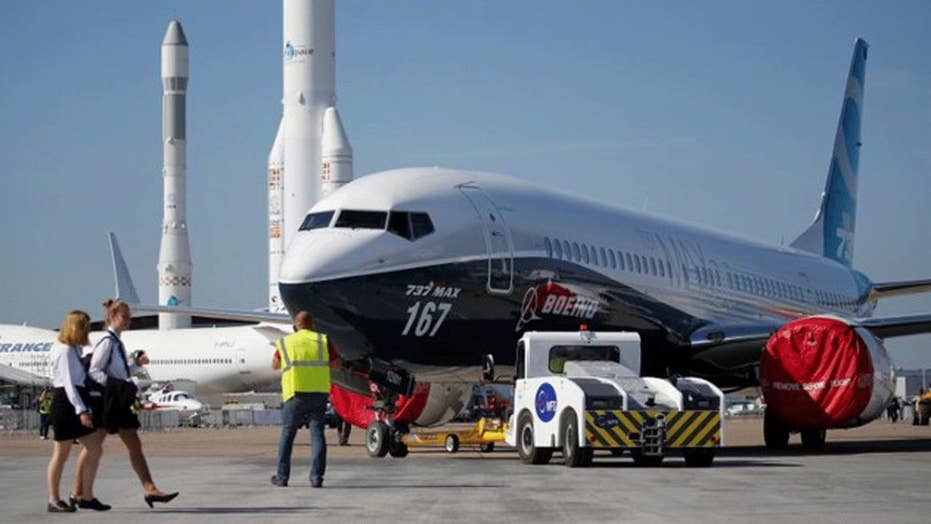 Boeing CEO: The 737 MAX is a very safe airplane
Boeing CEO Dennis Muilenburg addresses concerns over the safety of the Boeing 737 MAX after the Lion Air crash in Indonesia.
Airplane manufacturing giant Boeing is in the hot seat after questions about its protocol were raised during an investigation into a fatal crash involving its new jetliner in Indonesia last month.
It has been alleged that Boeing officials failed to warn pilots about the potential dangers associated with a new flight-control feature on its 737 MAX 8 aircraft, according to a recent article in The Wall Street Journal. The lack of warning is suspected of playing a role in the Lion Air crash, when the plane plunged into the Jakarta Sea shortly after takeoff. It was the first fatal crash involving one of Boeing's newest aircraft and claimed 189 lives.
The Journal also reported on Tuesday that when Boeing decided to install the flight-control feature, the company determined that it was fail-proof because it was impossible for the combination of sensor failure, pilot actions, and automated nose-down commands to cause any serious safety hazards.
The newspaper also reviews a Nov. 10 Memo from Southwest Airlines, one of the U.S. carriers to start using the MAX jets, in which it's claimed that Boeing had omitted information from flight manuals about the new flight control system, because pilots were unlikely to find themselves in any situation that would require them to use the system.
In response to the fatal crash, the Federal Flight Administration (FAA) has launched a comprehensive review of safety analysis completed by Boeing Co. On Tuesday, it released a statement saying that agency officials were reviewing safety data and conclusions that the jet manufacturer previously provided to the federal agency during certification of both the 737 MAX 8 and MAX 9 models.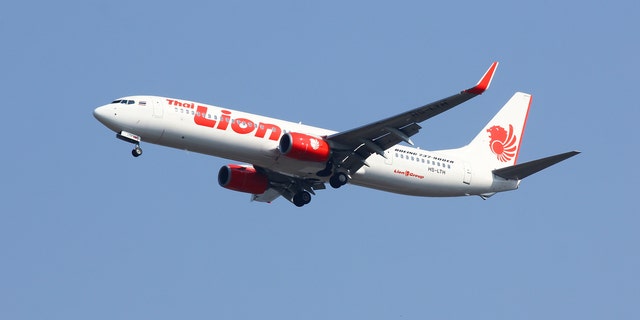 Chiangmai, Thailand – February 26, 2014: HS-LTH Boeing 737-900ER of Thai Lion Air , landing at Chiangmai airport from Bangkok.<br>
(iStock)
"The existing FAA Airworthiness Directive (AD) identifies existing flight crew procedures to be used in those circumstances," reads a statement from administration officials. "The FAA and Boeing continue to evaluate the need for software and/or other design changes to the aircraft including operating procedures and training as we learn more from the ongoing investigation. The FAA is not doing a safety probe separate from the ongoing Lion Air Accident investigation of which we, the NTSB and Indonesian officials are a part."
Both Boeing and the FAA issued a safety alert last week telling flight crews about the system and how to handle malfunctions.
"On November 6, 2018, Boeing issued an Operations Manual Bulletin (OMB) directing operators to existing flight crew procedures to address circumstances where there is erroneous input from an [angle of attack] sensor," a spokesperson for the company said in a statement provided to Fox Business.
Boeing has said it is fully cooperating with any reviews and conducting its own investigation of the Lion Air crash.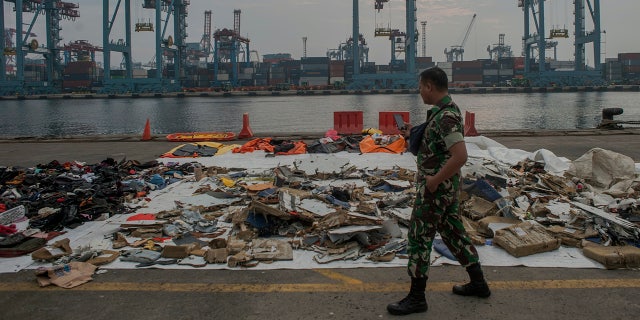 An Indonesian soldiers walk past debris retrieved from the waters where Lion Air flight JT 610 is believed to have crashed at Tanjung Priok Port in Jakarta, Indonesia, Wednesday, Oct. 31, 2018.
(AP Photo/Fauzy Chaniago)
"We have been very engaged with the investigative authorities throughout in providing all of the information necessary to make sure we do a full assessment of the situation," Boeing CEO Dennis Muilenburg said in an exclusive interview with Maria Bartiromo on Fox Business Network on Tuesday. "The bottom line here is the 737 MAX is safe and safety is a core value for us."
According to Muilenburg, the company spends "thousands of hours of testing and evaluating and simulating" to give pilots the information they need to operate airplanes safely and he reiterated that the equipment operates correctly.
The brand new Boeing MAX 8 jet involved in the crash was cleared to fly despite days of inaccurate speed readings. About 15 minutes into the flight, which took off from Jakarta, the plane plunged into the sea.
There are more than 200 Boeing MAX jets around the world, with orders for more than 4,700, according to Boeing's website. U.S. carriers, aside from Southwest, set to use the MAX jets include American and United Airlines.
Fox Business Network's Julia Limitone and Brittany De Lea contributed reporting to this story.
Source: Read Full Article