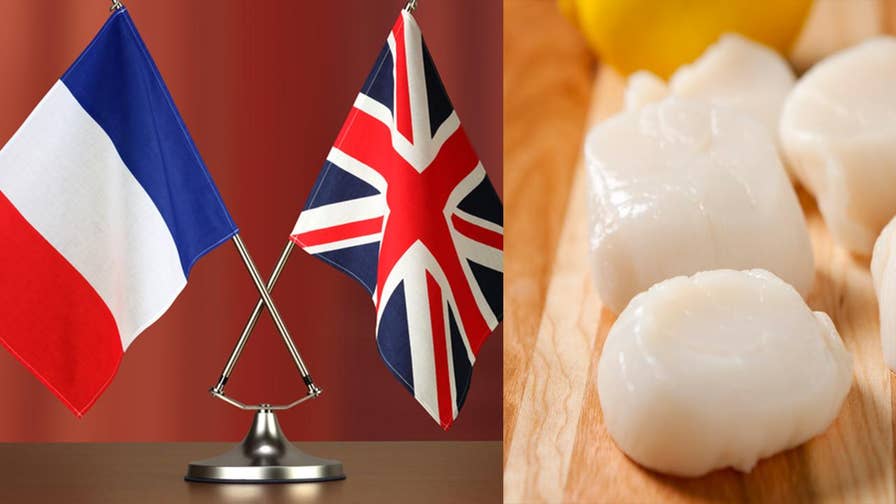 French, British Boats clash over lucrative scallop catches
What happened, where, and why French and British boats are clashing over scallops.
LONDON – British fishermen are calling on the government to send in the Royal Navy to protect them from their French rivals in the bizarre conflict dubbed 'The Scallop Wars'.
On Tuesday a fleet of more than 30 French vessels rammed a group of six British scallop dredgers – an attack one shocked English fisherman described as like "a scene out of Vietnam".
Flares, rocks and even petrol bombs were flung at the British ships and many in the UK have even gone as far as calling for warships to step in and protect the fishing fleet.
Brian Whittington, skipper of the Golden Promise, said: "It was scary – I've never experienced anything like it. Shackles, flares, rocks were being thrown.
"Maybe the Royal Navy could help us next time."
Mike Park, chief executive of the Scottish White Fish Producers Association, told Fox News: "We are disappointed at the reaction of the French and we're disappointed the French were not willing to sit down and agree terms earlier this year.
"It's a dangerous enough profession as it is without this sort of action.
"It's the role of the Royal Navy to sort things out. We don't want them there to act as our protectors but we think it would be valuable to be able to ask for their support.
"The French Navy was there but they didn't get involved.
"We're still trying to set up a meeting with the French industry.
"We need to take the tension out of it, we can't put fishermen in harm's way."
FRENCH, BRITISH BOATS FIGHT OVER ACCESS TO SCALLOP-RICH WATERS, VIDEO SHOWS
Scottish lecturer Dean MacKinnon-Thomson added: "Send in the Royal Navy to protect British fishermen's legal rights. Cannot capitulate to violence and illegality on part of the French."
As extreme as it sounds, the Royal Navy has form for intervening in a fishing dispute.
The 'Cod Wars' were a series of disputes between Britain and Iceland running from the 1950s to the 1970s over the rights to fish in Icelandic waters.
At one point, 37 warships were mobilized in the disputed territory – and even went as far as ramming Icelandic vessels trying to stop British trawlers.
However, Britain conceded after Iceland threatened to leave NATO at the height of the Cold War, a move many saw as a national humiliation and an economic disaster.
A view of the bow of Honeybourne III, a Scottish scallop dredger, in dock at Shoreham, West Sussex, Wednesday, Aug. 29, 2018 following clashes with French fishermen in the early hours of Tuesday morning in the English Channel during a long-running dispute over the scallop-rich area
(Andrew Matthews/PA via AP)
The root of the latest conflict lies in the Baie de la Seine in the English Channel, a stretch of water just north of the Normandy coast famed for scallops, a flavorful shellfish commonly found on sheltered seabeds.
EX SCOTLAND LEADER RESIGNS FROM PARTY AMID SEXUAL HARASSMENT ALLEGATIONS
British boats are allowed to dredge for scallops in the bay under European Union law, but French law bans the practice for locals between May 15 and October 1, when they reproduce.
The French are furious that the British scallop dredgers are allowed to "pillage" while they are forced to miss out on the valuable haul because of fears over conserving stocks.
The last engagement happened 15 miles off the coast of Le Havre in October 2012, when 40 French boats tried to ram the Brits and attempted to tangle their propellers using nets.
Since then, the two nations have observed a tense armistice after the UK agreed to keep larger boats away.
But Britain's plan to leave the EU – Brexit – has muddied the already murky waters.
THERESA MAY BUSTS OUT DANCE MOVES DURING VISIT TO SOUTH AFRICA
Anti-European Union 'Leavers' are furious that the EU-loving French are trying to prevent British fishermen from making a living.
They also point out the French have no such qualms about fishing in British waters under the protection of EU law.
Top Brexit campaigner Nigel Farage said: "How about this – we take back control of our territorial fishing waters, we manage it properly and it's going to be worth £3-5 billion ($4-$6.5billion) every single year to this country.
"As an island nation, in our hearts, this matters."
But 'Remainers' claim Europe-wide regulations are vital to prevent just this sort of territorial dispute, as well as protect fish stocks and the marine environment.
One said: "So British boats go into French waters to scrape the scallop beds clean and the French are at fault apparently.
"No better example of what Brexiters actually want – the right to plunder all planetary resources with no let or hindrance by regulation or reason."
Michael Gove, the British Conservative environment minister, who has been accused by his own party members of being "weak" on the issue, according to leaked WhatsApp messages seen by the Daily Telegraph, told the BBC the UK boats were fishing legally.
"My heart goes out to the British fishermen who were caught up in the terrible scenes that we saw happen earlier this week," he said.
"They were fishing entirely legally, they had every right to be in those waters and we talked to the French authorities in order to ensure that we have a protocol."
The head of Normandy's fishing organization Dimitri Rogoff condemned the violence.
He told Reuters: "There should not be any brawling, that could end badly. Our main UK counterpart has proposed we hold talks quickly in France, we'll receive a UK delegation in the coming days."
Rogoff said a lot of the tension arises from fishing methods.
Normandy fishermen tend to operate from small family-run boats, while some of the British vessels are larger 'floating factories' that process and freeze a massive amount of scallops.
"In the past two years, we feel our British partners do not want to negotiate, maybe because of Brexit," Rogoff added.
"If everybody dredges for scallops all year round, soon there will be none left."
Source: Read Full Article