Summary
Victoria recorded no new cases on Saturday and reached 24 days without a case of local transmission. NSW reported no local cases for the 13th straight day while Queensland has reported its 19th consecutive day of no local transmissions.
Western Australia will allow arrivals from Queensland and Victoria to visit without a 14-day quarantine from this week.
Qantas flights to reconnect Norfolk Island after NZ travel bubble bursts.
The Victorian government has declared the Rod Laver Arena safe for packed Australian Open crowds.
Vietnam approves AstraZeneca vaccine
Vietnam approved its first COVID-19 vaccine and cut short an important ruling Communist Party meeting, state media reported on Saturday, as the country battled its biggest coronavirus outbreak since the pandemic began.
Vietnam, a country of some 98 million people that has so far been highly successful in combatting the virus, has recorded 208 new cases since reporting two locally transmitted cases in the northern province of Hai Duong on Thursday, including 62 cases reported on Saturday.
That is a rapid spread given Vietnam has recorded just 1,767 cases and 35 deaths since the disease was first detected a year ago, including 901 locally transmitted infections, thanks to mass testing and a centralised quarantine programme.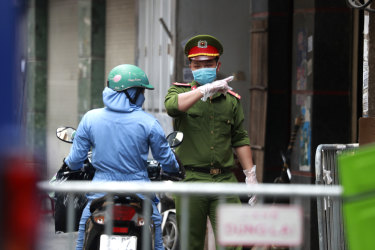 Vietnam, a country of some 98 million people that has so far been highly successful in combatting the virus.Credit:AP
Reuters
Click here to read the story.
A failed freezer forced US hospital to rush to give out vaccines
Seattle hospitals rushed out COVID-19 vaccines to hundreds of people in the middle of the night after a freezer they were being stored in failed.
It's not clear what caused the freezer failure on Thursday night, but the UW Medical Centre's Northwest and Montlake campuses and Swedish Medical Centre received more than 1,300 doses that needed to be used before they expired at 5:30am on Friday, The Seattle Times reported.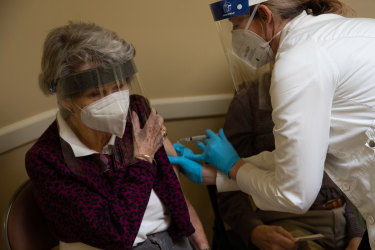 A healthcare worker administers the Pfizer-BioNTech vaccine to an aged care resident in Michigan.Credit:Bloomberg
Word of the unexpected doses spread on social media, and a line of hopeful vaccine recipients snaked out the clinic door and through a parking lot at UW Medical Centre-Northwest. A hundred people lined up at Swedish Medical Centre's clinic at Seattle University. The hospital tweeted at 11:59pm that it had 588 doses to give out, and within 30 minutes, all the appointment slots had been taken.
AP
Click here to read the story.
The northern beaches lockdown is over, but the fear and anxiety remain
Northern beaches residents face ongoing anxiety and fear about pandemic restrictions even as many people attempt to resume their lives following the lockdown over the Christmas-New Year period.
Sadness, frustration and disappointment were some of the emotions felt by Lisa Llewellyn when she discovered she would be forced into lockdown rather than celebrating the festive season with family and friends.
Ms Llewellyn, from North Narrabeen, said she was exhausted after a challenging year of adapting to "COVID normal" and running her own business.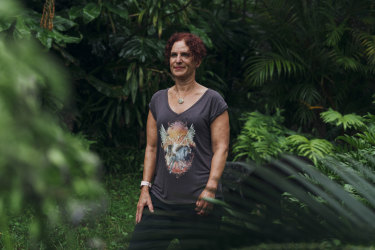 Lisa Llewellyn, from North Narrabeen, said the lockdown made her feel angry. Credit:
"The situation did make me anxious – and I was definitely short-tempered (my poor partner)," she said. "I had hung out for the holiday to just recharge and the lockdown just added to my fatigue. Of my three week break, all but one day was spent in lockdown."
Click here to read the story.
Good morning all!
G'day everyone! It's Roy Ward here and welcome to today's COVID-19 live blog.
We will have all the major developments today from both Australia and overseas, as always please don't hesitate to leave a comment on the blog or shoot me a tweet directly at @rpjward on Twitter.
Before we start here's a quick recap of stories from overnight.
WA relaxes Queensland and Victorian borders, keeps wall up with NSW
Qantas flights to reconnect Norfolk Island after NZ travel bubble bursts
Why Australia still plans to tour COVID-ravaged South Africa
'Finally free': Midnight practice as locked down stars trickle out
'Incredible atmosphere': Government says packed Rod Laver Arena in final rounds is safe
'Dangerous signal': Europe gives itself power to block vaccine shipments to Australia
Please enjoy the day to come.
Most Viewed in National
Source: Read Full Article