It was a week before their wedding, but Charlie Craig and David Mullins still had something pressing to take care of before walking down the aisle.
They should have been enjoying their prewedding vacation in the historically gay-friendly Provincetown, MA. Instead, the couple were embarking on a "crazy goose chase" around the small resort town, trying to find a printing center where they could file a complaint with the Colorado Civil Right's Commission.
"I think there was, like, one fax machine in the entire downtown area," Craig said, recalling the intense pressure he felt to meet a deadline in filing a complaint against Masterpiece Cakeshop, located thousands of miles away in their hometown of Denver. "The actual complaint, they had to send it to us; we had to print it, sign it, and send it back by the same day."
Craig and Mullins eventually found a fax machine and sent in the paperwork, naming the owner of the bakery, Jack Phillips, who denied them a cake for their reception, which would be held back home in Colorado after getting married in Massachusetts in October 2012. Their persistence would trigger a series of events that would ultimately land them at the heart of an upcoming Supreme Court decision with historic consequences for civil rights and the LGBTQ+ community.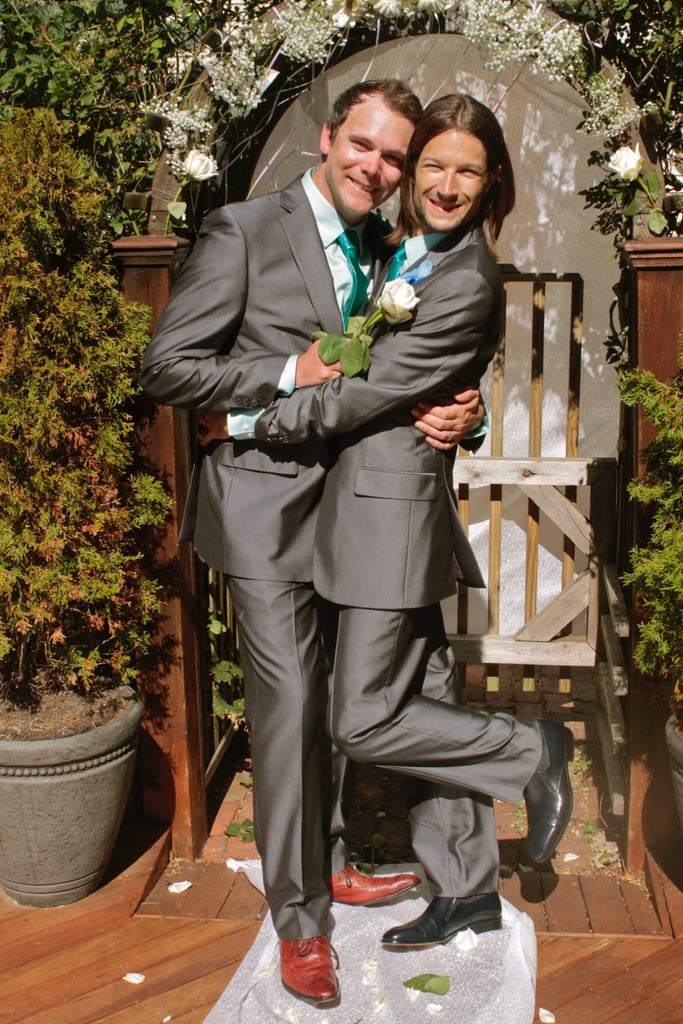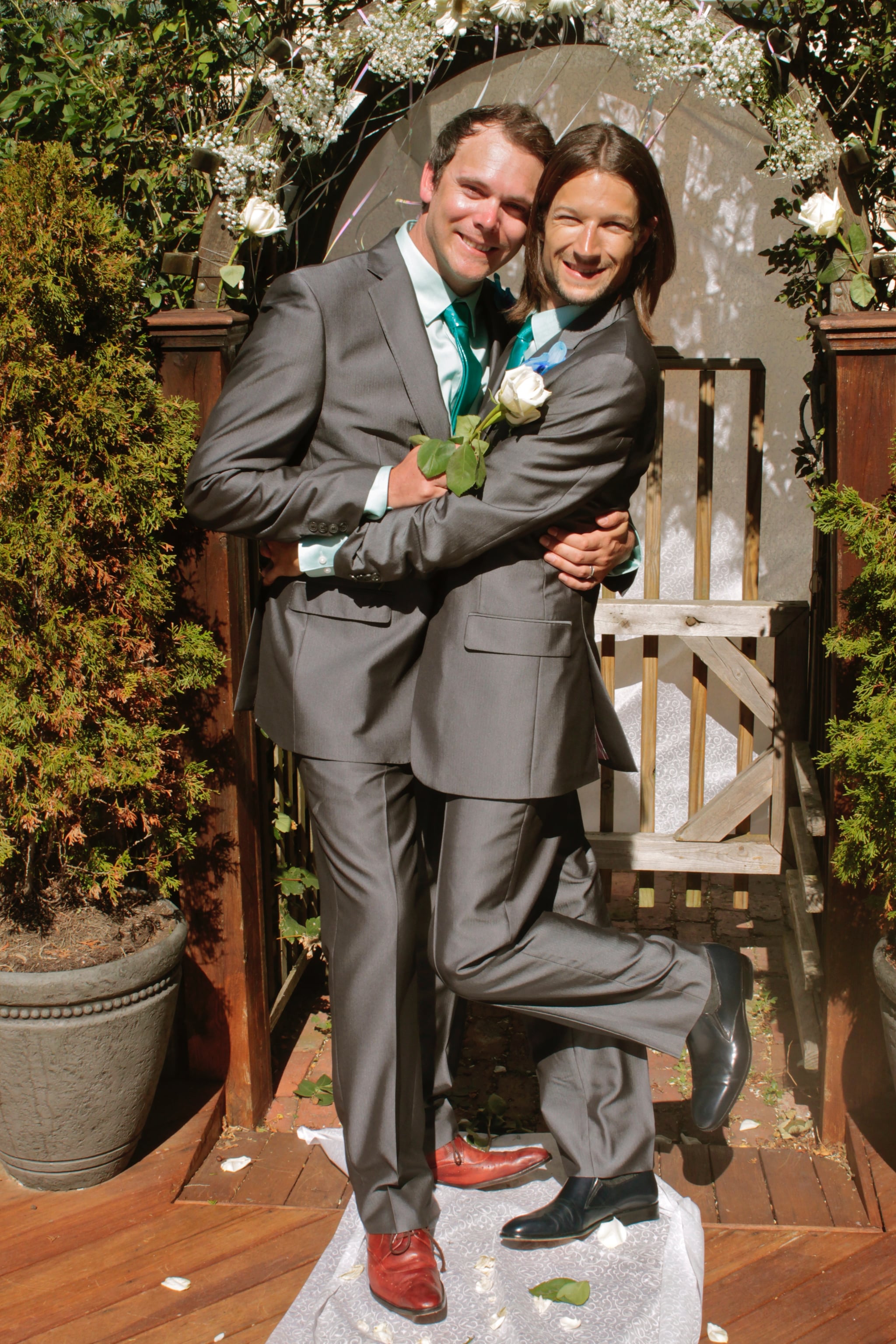 Mullins and Craig on their wedding day. Photo courtesy of Mullins and Craig.
Colorado state law didn't allow same-sex marriage when the couple decided to tie the knot in 2011. So they created a loophole: a destination wedding of sorts the following Summer in Provincetown — where marriage equality had already been legalized — followed by a ceremony in Denver shortly after, complete with family and friends.
Craig invited his mother, Debbie Munn, who was visiting from Wyoming, to accompany him and his fiancé to the Masterpiece Cakeshop in Denver after their reception planner recommended the bakery for creating a five-tier cake for the celebration.
"We sat down with the owner, Jack Phillips, and Charlie was carrying a binder that was full of ideas and concepts that we pulled off the internet," Mullins said. "But we never even got a chance to open it, because as soon as we sat down, the owner asked us who the cake was for, and when we said it was for us, he told us that he would not make a cake for a same-sex wedding."
"There was just this horrible silence that followed," he continued. "We were just mortified, embarrassed, and hurt. And to have Charlie's mom there to see that . . . that's just not what you want your mom to see. Pretty quickly, we collected ourselves, and we left. The actual interaction didn't last more than a couple of minutes."
Craig broke down in the car, weeping in front of his mother. She would go on to describe the experience in an op-ed as a "very disturbing event" that left all three of them "broken." Munn called the bakery the next day to ask Phillips why he denied her son a cake.
"He said he is a Christian and did not believe in same-sex commitment celebrations or marriages," she wrote last year for Time. "I told him I am a Christian, too, and that my God teaches us to love one another, to not judge. I asked him, 'How can you turn away two of God's children?'"
Colorado already had strict discrimination laws in place at the time, which specified sexual orientation as a protected class. The civil rights commission and a Colorado court sided with Craig and Mullins before the owner of Masterpiece Cakeshop appealed to the Supreme Court.
As the couple's fate would have it, the Supreme Court announced it would hear arguments for Masterpiece Cakeshop, Ltd. v. Colorado Civil Rights Commission on the final day it had to say whether or not it would take on the case.
The decision is set to be made by the end of Pride Month, during one of the most critical years in the Supreme Court for LGBTQ+ rights since the passing of marriage equality in June 2015. In February, the justices let stand a decision made by Arizona courts that recognized a woman who conceived a baby with her same-sex partner through assisted reproduction as one of the child's legal parents.
Listen to Charlie Craig and David Mullins discuss their fight for equality in the latest episode of the podcast, Changemakers.
However, President Donald Trump's administration has stepped into Craig and Mullins's court battle, as it has done in several other cases regarding LGBTQ+ rights. The Justice Department sent a lawyer on behalf of the US government to weigh in during the Supreme Court arguments, releasing the following statement: "Forcing Phillips to create expression for and participate in a ceremony that violates his sincerely held religious beliefs invades his First Amendment rights."
When Justice Anthony M. Kennedy — whose vote could ultimately prove to be the deciding factor in the case — asked the Trump administration's lawyer whether a baker could post a sign reading "We do not bake cakes for gay weddings" in their window, The New York Times reported that he "looked troubled" when that lawyer said yes, "so long as the cakes were custom-made."
The couple and their attorneys at the American Civil Liberties Union argue that the case has nothing to do with artistic expression but instead is a matter of equality in public accommodation.
"If a business owner can decide who to serve based on their strongly held beliefs, could a hotel owner refuse to serve an interracial couple because they believe the races are not meant to mix?" Mullins pondered. "Whatever the decision is, we're going to still keep doing what we can to stand up for the rights of our community."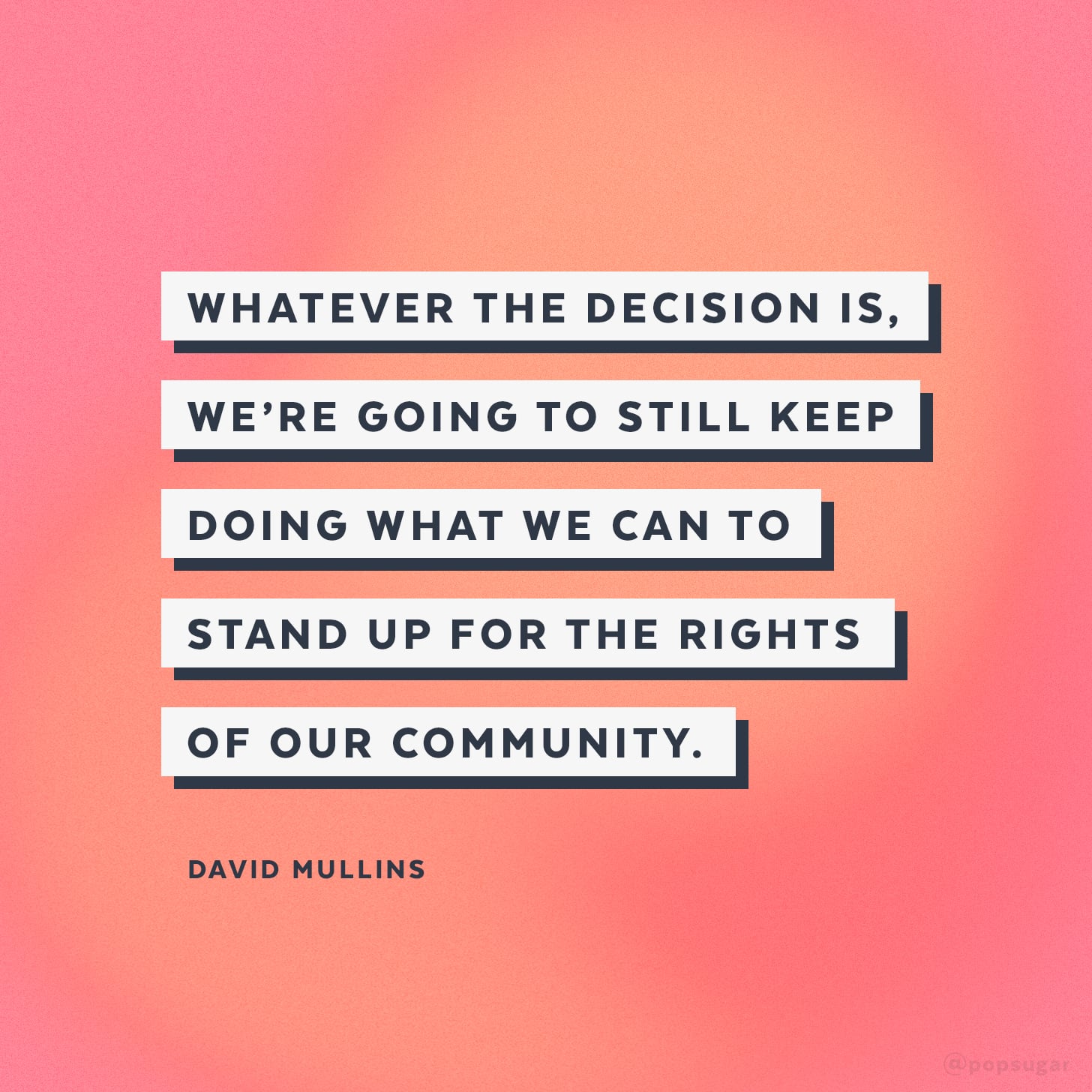 "In the end, what this comes down to is this case is not about freedom of expression, and it's not about freedom of religion," he added. "It's about the right of the LGBT people to be able to hold a job or go into a business open to the public or have their own housing and not have to worry that they're going to be turned away just for being who they are." The couple met two years before their wedding at a benefit party for a mutual friend in Denver. Mullins, 33 years old, an office manager, said he didn't expect his relationship with Craig, a 38-year-old interior designer, to ever become a national news story. Certainly, that was far from the plan when the two decided to become engaged while cuddling on a couch a year after meeting for the first time.
"We've grown as people; we've grown as a couple," Craig said, describing the impact the ongoing court battle has had on his relationship. "We've really had to be there for each other and work on our communication skills and our coping skills."
They did eventually end up with a cake for their reception from a different baker but admit it wasn't perfect. That cake was mostly "nondescript," Craig said, though it did come in the couple's wedding colors of black and turquoise.
Win or lose in the Supreme Court, the battle isn't over for Craig and Mullins. Six years after their wedding, the couple said they're stronger now more than ever before — and they won't stop their fight until everyone can eat cake.

Source: Read Full Article