Washington: Selina Vickers' weekend trip to Rhode Island was as cheap as she could make it. She shelled out $US143.60 for a train ticket from her home in West Virginia to Providence, where the Democratic National Committee's rules and bylaws group was meeting.
She paid just $US68.07 for an Air B&B in Cranston, Rhode Island, a short commute from Providence. Once there, Vickers did what she always did at DNC meetings – she took notes, recorded video, and made sure that the party was committing to reform its primary rules.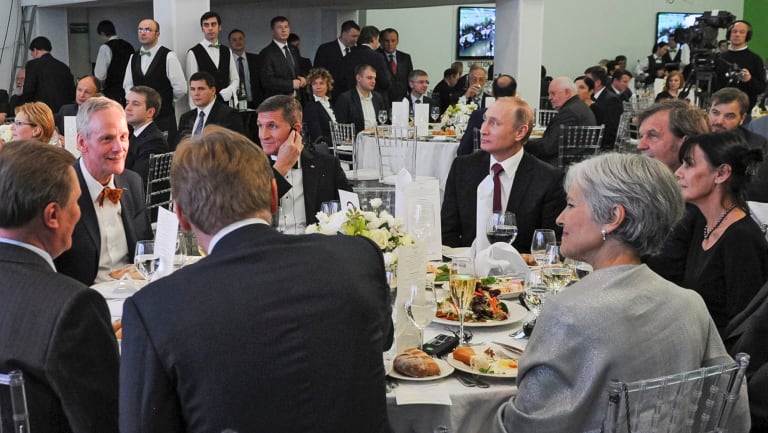 Michael Flynn (centre left) next to President Vladimir Putin at an event celebrating RT in Moscow. Jill Stein, 2016 US Greens candidate, is seen with her back to camera.
A few days later, Vickers was accused of being a Russia-backed agent of chaos, working to destabilise the Democratic Party from within.
The DNC's current argument over how to reform its primaries achieved a special kind of absurdity on Monday when longtime DNC member Bob Mulholland asked whether Vickers' appearances at meetings were paid for by Russians. Mulholland, who often cc's reporters on his memos about the rules debate, speculated over the weekend that "someone is picking up her expenses" and that this was evidence that "the Putin operation is still active."
Contacted first by HuffPost, then by The Washington Post, Mulholland conceded that he had no proof that Vickers was being funded by foreign operatives. (Vickers shared her receipts with The Post.) According to Mulholland, he noticed Vickers, who was neither a journalist nor a party official, and learned from her that she backed Jill Stein's Green Party presidential bid in 2016.
"She was just a symbol, to me, of what has been happening," said Mulholland. "What happened in California, over many years, is that there were stories of the Republican Party meeting with Green Party activists, paying their filing fees, and then these people discovering they were being put up as plants. I don't know what Putin was doing with Jill Stein, but you have to consider that, too."
Mulholland was referring to a 2015 dinner in Moscow that Stein attended, which Senate investigators looked into after beginning a probe of potential foreign involvement in the 2016 presidential election. Vickers, meanwhile, had no idea what Mulholland was talking about. She told him that she had cast a strategic vote for Stein, because she lived in a safely red state, and because she wanted the Mountain Party, a local Green Party affiliate, to keep its ballot access.
"I never told Mr. Mulholland that I was a member of the Green Party," she said. "In fact, I'm a registered Democrat. I, along with millions of other Democrats supported Senator Bernie Sanders for President. I had a choice of voting for Clinton, or writing in Bernie – which wouldn't have done anything – or vote for Jill Stein."
Vickers said that she also supported the Mountain Party's candidate for governor over Jim Justice, the Democratic nominee that year, who would end up switching to the Republican Party after just nine months in office. And Vickers ran as a Democrat this year, coming less than 500 votes away from securing a ballot slot in a state representative election.
At DNC meetings, Vickers represented a vocal and frustrated minority of Democratic activists who remained outraged that the Democratic Party had so many elected superdelegates, and that in 2016 those superdelegates frequently voted en masse for Hillary Clinton in states where voters had backed Sanders.
After the party created a Unity Reform Commission to revisit its primary rules, Vickers attended three of its meetings and all but one Rules and Bylaws meeting. Sometimes, as rows of chairs for "observers" sat empty, she had the committee members to herself.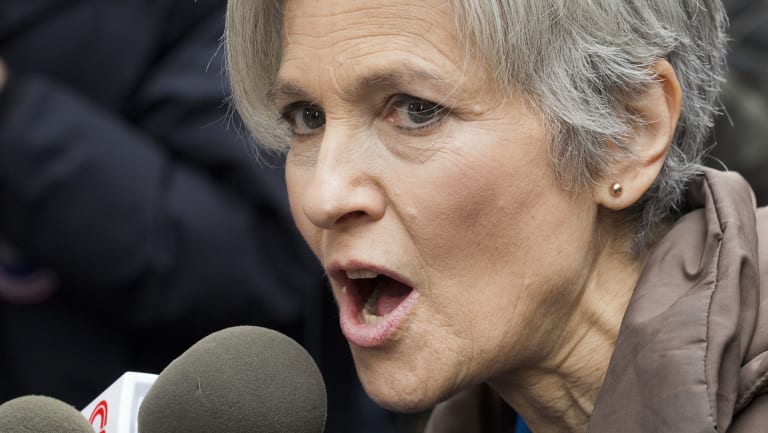 Vickers cast a strategic vote for Greens Party candidate Jill Stein.
"I get frustrated with some DNC members, and sometimes I think they really miss the mark on things, but I appreciate being able to talk to them in person," Vickers said. "It has helped me personally. I was so frustrated with the superdelegate issue after the convention. Being able to go to the meetings, and live-streaming them for others that can't attend, and talking to members about my concerns gives me a way to do something, rather than be at home, disconnected and powerless. I feel that my presence has a positive effect."
Told about Vickers' project, and her budget-conscious effort to go to every meeting, Mulholland had more questions.
"That convinces me that somebody's picking up her tab," he said. "Look: I worked for Tom Hayden and Jane Fonda for 15 years, and in 1977, we got 18,000 pages from the FBI through the Freedom of Information Act. And a lot of people who worked for the antiwar movement were working for the FBI. So I'm always sceptical of these people whose agenda is not in the Democratic Party's interest."
Not many DNC members share Mulholland's concern.
Vickers' appearance at meetings stood out simply because so few people were attending them. Sitting near the few reporters assigned to cover the conference, holding up a camera that was streaming each meeting, Vickers never concealed her identity, and freely shared her contact information.
As media attention moved away from the DNC reform push, Vickers stuck around.
The Providence meeting did not settle the question of superdelegates. The deal crafted in 2016 requires a final decision on superdelegates to be made by June 30; DNC Rules and Bylaws members are likely to make a final recommendation after a conference call, which has yet to be scheduled.
The full reform package will then be adopted and explained in August, when the full DNC meets.
"I'm going to keep showing up as long as I can afford to do so," Vickers said. "I wish Mr. Mulholland the very best and I hope he can find some peace."
Washington Post
Source: Read Full Article