Almost more than they remember the man himself, many people still fondly reminisce over the toys based on stunt motorcyclist Evel Knievel. Simon Fry looks at a slice of childhood nostalgia.
A generation of children remember the Evel Knievel Stunt Cycle.
The Stunt Cycle's rear wheel connected to an "energiser" – a box with a flywheel powered by turning a handle. The occasional scraping of knuckles at this energising stage was compensated for by a joyous surge.
In the few seconds of motion, a small, white, plastic Evel Knievel could be made to overcome various obstacles.
It was promoted by impossibly exciting adverts promising "Gyro power, sending him over 100ft at top speed… up and over that four-foot ditch!"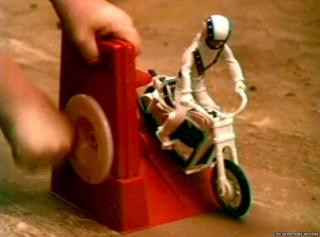 Evel Knievel was a real-life superhero to millions of 1970s children, and the 40th anniversary of his jump over 13 buses at Wembley Stadium on 26 May 1975 will have many British adults reminiscing over their childhood, and, in particular, their treasured toy.
The Stunt Cycle wasn't the only one. There was also the Chopper, the Super Jet Cycle and the Strato-Cycle, enabling wide-eyed children the chance to recreate their idol's exploits.
Forums and auction sites have provided an outlet for nostalgia on both sides of the Atlantic. British forum posters detail fond memories of the cycle "taking off like a bat out of hell", ramps made from Beano annuals, collisions with vases, and riding over people's feet or into drains and fireplaces.
There are varying opinions as to whether the cycles' real life performance matched their advertisement portrayal.
Jackie Robins, 49, from Cornwall, remembers "playing to destruction" her first toys in 1975. She now runs the Evel Knievel Stunt Cycle Toys Facebook page.
Seventeen years ago she set out to merely replace her original cycles, but ended up with a collection of Knievel-related items worth around £7,000. Her most valuable pieces are among the most expensive to be found on eBay – a 1977 Silver Hi-Jumper Stunt Cycle, worth around £1,000, and her 1973 first edition Stunt Cycle.
The Stunt Cycle underwent some cosmetic changes during its production, mainly to reduce manufacturing costs – the first edition having chrome features and painted highlights.
Now it's intensely collectable.
"Used values on the collectors' market have risen annually, the advent of the sites like eBay being godsends for them," says Robins. "Collecting is addictive, and once you start, you find yourself seeking out the obscure and also then having to have every derivative."
Robins uses her Facebook page to alert fans to items appearing on eBay, emphasising "factory sealed" or especially rare credentials where appropriate. She gives price advice and instructions on repairing damaged products.
In the UK, the toys were made at Ideal's Wokingham factory from 1974-1981 and there were several factors that ensured a toy representation of an American motorcycle stuntman would become implanted in British popular culture.
The jump happened in a simpler era. The posters for the Wembley event proclaimed in large letters that it was on Whit Monday. The 80,000 in attendance – the largest for any Evel Knievel jump – got something more exciting than morris dancing and a Whitsun parade.
They got America itself. Knievel's star-spangled leathers and Harley Davidson were a thrilling manifestation of a country usually experienced only through films and television.
Transatlantic flight was still expensive, and Britain had – literally – been in the darkness of the Three-Day Week.
Britons of all ages were dazzled by this daredevil's derring-do. In a time when children played out on bicycles – without parental observation – youngsters pulling wheelies recklessly with unalloyed joy saw themselves in their idol's image. The Raleigh Chopper was already popular and the Raleigh Grifter was launched 12 months after Wembley.
The fact that the stuntman crashed on landing would only enhance the event's legacy. He rode and jumped on instinct – his motorcycles did not have speedometers – and fans discuss to this day whether the wrong sprocket prevented him gaining the necessary speed on take-off.
In the minutes before the jump he took several run-ups – all upping the drama – and changed the motorcycle he would use.
Clipping the safety board above the final bus, he came agonisingly close to remaining in control of his bike before sliding down the landing ramp and across the Wembley turf, exacerbating an existing pelvis injury and suffering a vertebral compression fracture, concussion and a broken hand. He got to his feet to tell his fans he would never jump again (he jumped several more times) before heading off to hospital.
Evel Knievel superfan Bryan Richards had a particularly powerful epiphany on his seventh birthday, in 1974, when he realised he shared his big day with Evel.
Like Robins, he runs a Facebook page – his is devoted primarily to the 1975 Wembley jump. "I believe the true fan number to be around a dozen or so who actively pursue their hobby with around a couple of hundred who are just 'likers' with fond memories."
To date he has spent at least £20,000 on Knievel memorabilia. His girlfriend has entered him for Mastermind with the star as his specialist subject. And he has arranged a coach party for 26 May to visit sites connected with Evel's time in London.
The highlight will undoubtedly be access to the rebuilt Wembley Stadium. Richards is hoping to take the helmet Knievel wore for the jump along with some leathers and possibly a motorcycle.
Other stops include hotels where Knievel stayed and staged a pre-jump press conference, a Clapham riverside photo location and the Royal London Hospital where Knievel was taken after crashing.
Knievel died in 2007, and while Richards never met his idol, three years ago he stayed with his children Kelly and Alicia and met the wider Knievel clan in the hometown, Butte, Montana.
Richard Hammond, another Knievel fan, was more fortunate, interviewing him for an hour-long documentary, filmed four months before Knievel's death.
Fans born decades after the Wembley jump can look like their hero in fancy dress outfits.
As well as producing his own products, such as iPhone and iPad covers, some marking the anniversary, Richards attempts to act as an ambassador to the next generation of young Knievel fans.
Older enthusiasts can look forward to more looking back via another documentary, Being Knievel, coming to London in October. Director Daniel Junge promises a "rich, composite view" of Evel, with one essential ingredient. "We all had the toy and that's why the toy was important to get into the film."
Subscribe to the BBC News Magazine's email newsletter to get articles sent to your inbox
Source: Read Full Article