Honolulu: A fast-moving lava flow from Hawaii's Kilauea volcano led officials to close a highway and to warn that sharp, thin strands of volcanic glass fibres carried on the wind could injure eyes and lungs.
Traffic is stalled along Highway 132 as Leilani Estates residents wait to return to their homes to gather vital belongings and animals this month.
Hawaii County's civil defence agency said lava was quickly approaching Highway 132, prompting the closure from Lava Tree State Park to Four Corners, and warned residents to monitor their radios and phones for updates and evacuation orders.
Earlier on Tuesday, a small explosion of ash erupted from the summit of the volcano in a vertical plume about 4600 metres high, the US Geological Survey said, the latest outburst in a month of volcanic activity.
The agency warned that ash was drifting north-west and was liable to affect anyone in the summit area. Hundreds of people have been ordered to leave the vicinity of one of the world's most active volcanoes.
Kilauea entered its fourth week of what may be an unprecedented, simultaneous eruption at its summit crater and along a 10-kilometre string of fissures 40 kilometres down its east flank.
Lava flows from multiple fissures have blocked roads and damaged dozens of buildings on Hawaii's Big Island.
One fountain of lava rose more than 60 metres at times on Monday, the Geological Survey said.
Officials are on high alert for occasional earthquakes, though most have been small.
Lava has engulfed the heads of two wells that tap into steam and gas deep into the Earth at the 38-megawatt Puna Geothermal Venture electrical plant, which used to produce one-quarter of the Big Island's electricity. Its operator, Israeli-controlled Ormat Technologies, said it had not been able to assess the damage.
So far no deaths have been blamed on the eruption, though a man's leg was shattered when he was hit by a plate-size chunk of lava rock.
Residents fear the electrical plant's deep geothermal wells may be explosive. Officials have said the power plant is safe but lava has never engulfed a geothermal plant anywhere in the world, creating a measure of uncertainty.
Contingency plans have been made for a possible helicopter evacuation of up to 1000 residents in a coastal area south of the fissures should their last exit route, State Highway 130, become blocked by lava or become unsafe due to gaping cracks, County of Hawaii officials said.
At least 82 homes have been destroyed in the south-eastern corner of Big Island and about 2000 people have been ordered to be evacuated since Kilauea began erupting on May 3 in its biggest eruption cycle in a century.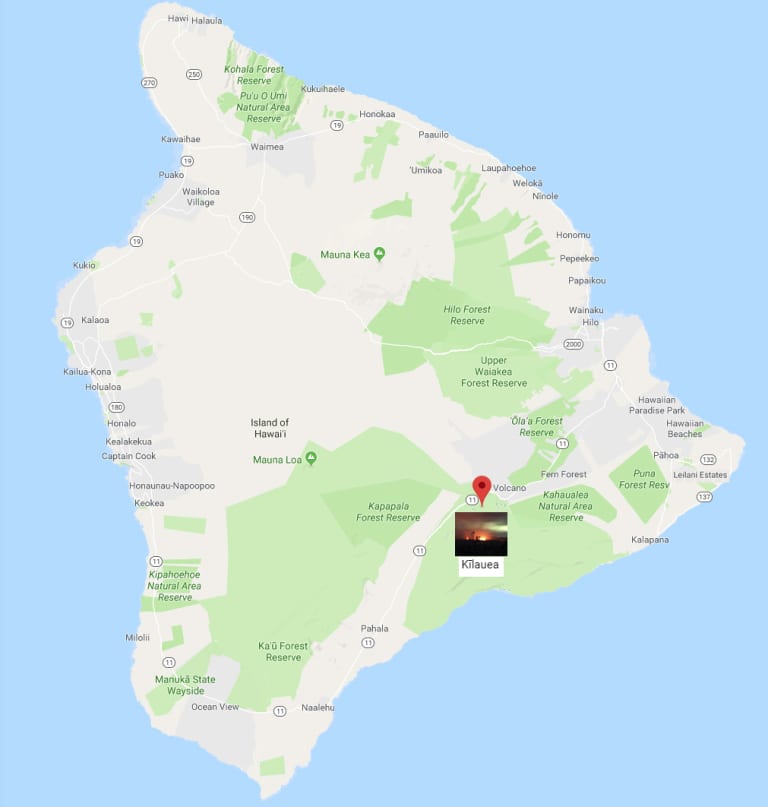 Hawaii's Big Island showing position of Kīlauea volcano and Leilani Estates.
Reuters
Source: Read Full Article