Pahoa: A series of fresh earthquakes, including a powerful magnitude 6.9, hit Hawaii's Big Island, where the Kilauea volcano has been spewing fountains of lava into residential areas for days.
The US Geological Survey said the strongest tremor at 9.32am Saturday (AEST) measured 6.9, a magnitude capable of causing severe damage.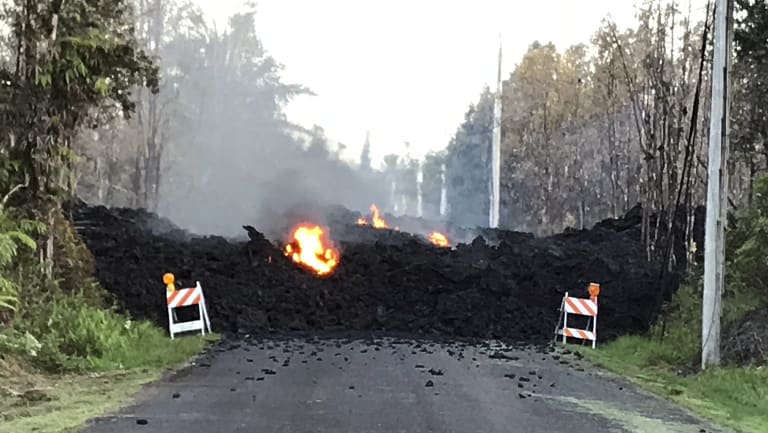 A street in Leiliani Estates near Pahoa on Hawaii's Big Island that is blocked by a lava flow from the eruption of Kilauea volcano on Friday.
The Pacific Tsunami Warning Centre said the quake, whose epicentre was on the south flank of the volcano, was not large enough to cause a tsunami although it generated sea level changes around the island of up 40 centimetres.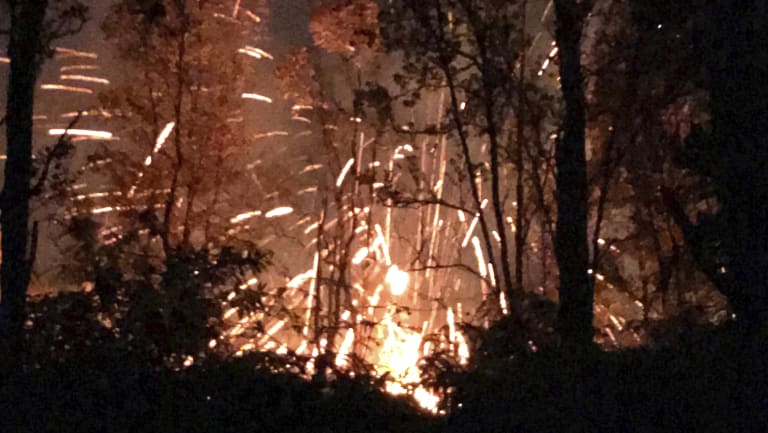 Kilauea Volcano on Hawaii's Big Island puts on a show on Friday.
It caused buildings to shake at the Community Centre in Pahoa town, one of two evacuation centres in the area hastily set up after lava started burbling up through fissures in the ground in neighbourhoods nearby.
A new fissure opened up just before the latest tremor in one of those neighbourhoods about a 19 kilometres from the volcano.
Kilauea, one of the world's most active volcanoes and one of five on the island, has been in constant eruption for 35 years.
Lava flows from the volcano have covered 125 square km, according to the US Geological Survey. Scientists say it is nearly impossible to predict how long the eruption will last.
On Thursday, Kilauea began spewing lava into residential areas after a series of earthquakes over the past week, the USGS reported on its website.
No injuries or deaths were reported, but Hawaii Governor David Ige activated the Hawaii National Guard to provide emergency help.
Keone Kalawe, 58, a native Hawaiian who was volunteering at an evacuation centre in Pahoa, shrugged off the latest quake as "just part of life over here."
Reuters
Source: Read Full Article