California: Outside the Monterey Park dance hall where a gunman opened fire on Saturday night, a makeshift memorial filled with flowers and candles line the pavement in honour of the victims killed in America's latest mass shooting.
Jan Alejandro and his daughter Arlene are here to pay their respects, gently placing a bouquet of red roses at the iron gate that leads to the entrance of the Star Ballroom Dance Studio, where a Lunar New Year celebration turned into tragedy.
Jan Alejandro and his daughter Arlene pay their respects at the site of the Monterey Park mass shooting.Credit:Farrah Tomazin
"We're just so tired of all the senseless violence and shooting," says Alejandro, as Arlene fights back tears and nod in agreement.
"It's hard to put words to how I'm feeling," she adds. "I didn't really think about how this could happen in my backyard because it's too close to home for me. I truly don't feel safe. I don't feel safe walking down the street. There's so much violence."
Two days after 72-year-old gunman Huu Can Tran embarked on a rampage in Monterey Park – a predominantly Asian area 11 kilometres from downtown Los Angeles – a grieving community is struggling to make sense of it all as investigators continue to search for a motive.
The attack took place at around 10.20pm on Saturday when Tran walked into the popular dance studio and opened fire, killing five men and five women and injuring 10 others, all of whom were aged over 50. The death toll has since risen to 11, after one of the victims who was taken to hospital for treatment died on Monday morning (Tuesday AEDT).
After leaving the studio, Tran then attempted to launch another attack at the Lai Lai ballroom in the neighbouring city of Alhambra about 20 minutes later, but was disarmed before fleeing the scene.
Brandon Tsay, the third-generation operator of the family-run dance hall in Alhambra, told ABC's Good Morning America that he lunged at the man after seeing him walk into the venue with a gun, looking for people to shoot.
"He started prepping the weapon and something came over me," the softly spoken Tsay recalled. "We struggled into the lobby, trying to get this gun away from each other. He was hitting me across the face, bashing the back of my head.
"Finally at one point I was able to pull the gun away from him, shove him aside, create some distance, point the gun at him, intimidate him and say: Get the hell out of here! I'll shoot! Get away! Go!"
Authorities released these images of the shooter. He was later found dead.Credit:Los Angeles County Sheriff's Departmen
An hours-long manhunt to find Tran finally ended on Sunday afternoon when tactical teams surrounded a vehicle in Torrence that matched the description of the white cargo van in which he was believed to have fled. There, they discovered him slumped over in his vehicle, dead from a self-inflicted gunshot wound.
The Los Angeles County Medical Examiner-Coroner has now identified the first two of the victims: My Nhan, 65, and Lilian Li, 64.
In a tribute on Twitter, Nhan's family described her as a person whose "smile and kindness was contagious".
"She spent so many years going to the dance studio in Monterey Park on weekends. It's what she loved to do," they wrote. "But unfairly, Saturday was her last dance. We are starting the Lunar New Year broken. We never imagined her life would end so suddenly."
The mass shooting in Monterey Park was the 33rd to take place so far this year, and the worst since last May's Uvalde tragedy, in which 19 children and two teachers were killed when a 21-year-old gun opened fire at the Robb Elementary School in south Texas.
The latest incident happened during the weekend's Lunar New Year celebration, initially raising fears of another hate crime against the Asian-American community, which has experienced an uptick of violence and discrimination since the pandemic.
While Tran's Asian heritage has made the likely motive less clear-cut, authorities say "everything is on the table" in the effort to identify the motive.
As investigators continued to piece details together, it also emerged that Tran had recently visited police in Hemet, where he was living in a caravan park, to say that his family was poisoning him.
Vendor tents for the Lunar New Year festival near where a gunman killed 10 people and injured another 10 in Monterey Park, California.Credit:The Washington Post by Philip Cheun
According to a statement from Hemet police, he attended the local police station January 7 and 9 "alleging past fraud, theft and poisoning allegations involving his family in the Los Angeles area 10 to 20 years ago. Tran stated he would return to the station with documentation but never returned."
In Washington, President Joe Biden ordered American flags on federal government property to be flown at half-mast until Thursday at dawn "as a mark of respect for the victims of the senseless acts of violence".
Back at the dance studio, a tight-knit community continues to grieve and some wonder what it will take to thwart America's gun violence epidemic.
"I don't want to take away guns, but maybe we could take a lesson from other countries, you know?" says Jan Alejandro. "It's so frustrating because it doesn't matter who's in the White House or who is in Congress, they're not getting anything done."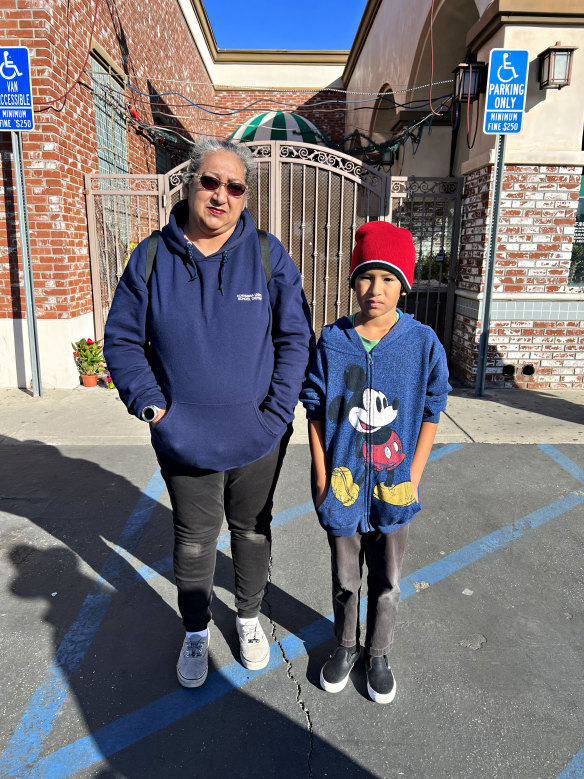 Inez Arakaki with her nine year old-son Zachary.Credit:Farrah Tomazin
School bus driver Inez Arakaki also came to pay tribute to the victims with her nine-year-old son Zachary.
"He's been saying it would be nice to live in a place where they don't have guns," Arakaki tells The Sydney Morning Herald and The Age.
"I drive by here every day in my school bus. I know kids in the area. It's scary. It's scary to think that thousands of people were here at the Lunar New Year festival at 9 o'clock [just before the shooting].
"They came out to celebrate, especially after the pandemic. Everybody's been locked up indoors and didn't want to come out because of what's going on – and then this happened. It's devastating."
Get a note directly from our foreign correspondents on what's making headlines around the world. Sign up for the weekly What in the World newsletter here.
Most Viewed in World
From our partners
Source: Read Full Article