Away from the mouth of Tham Luang Nang Non cave, Chiang Rai governor Narongsak Osotanakorn has fought and lost another battle – to keep his job.
The face of the rescue effort, an appointed bureaucrat who stepped into the breach when leadership was lacking, has been "bounced" sideways to a smaller province despite being assertive and effective where others have bickered and passed the buck. But it was precisely the qualities he has shown as the world has watched the rescue of the 12 boys and their soccer coach that earned him the wrath of the ruling junta.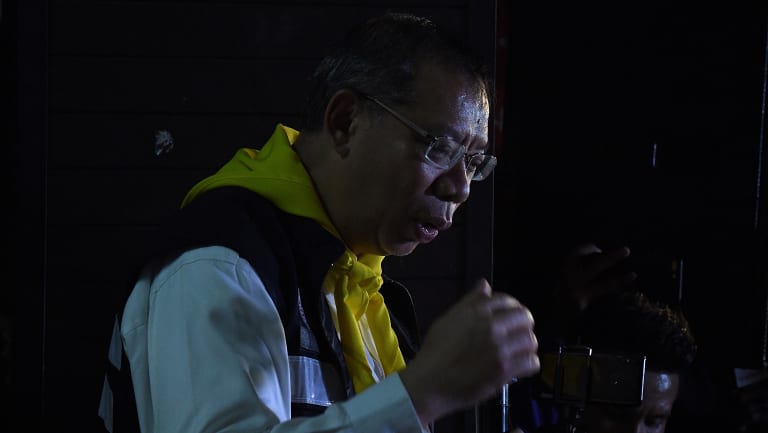 Rescue commander Narongsak Osotanakorn has been shifted from his post as Chiang Rai governor after conflict with the national government.
In a long investigative piece titled "Warlord v Warlord", the weekly news feature magazine Manager Weekend detailed the fight between Narongsak and Interior Minister Anupong Paochinda – a former army chief and powerful member of the ruling junta. In only a year on the job, Narongsak has a spotless record of following regulations, refusing to approve national projects over budgetary irregularities, and querying potential corruption. He said for some projects, as much as 60 per cent of the official budget was not spent in his province. The most politically sensitive was a $12 million waste management centre and incinerator, built without consideration for the nearby residents. The magazine says it may not function.
He also opened "rotten wounds" over statues of culturally significant catfish on a series of islands where ownership is disputed, and artworks that had been purchased at 10 times their actual value. The Weekend Manager piece said Narongsak was effective enough, and annoying enough to powerful interests, for Anupong and close army colleague – Prime Minister Prayuth Chan-ocha – to "bounce" Narongsak sideways at a cabinet meeting three months ago.
A former consultant who worked on local government projects in the province separately confirmed there had been tensions over corruption, saying the Interior Ministry had a decades-long reputation for graft. Anti-corruption campaigner Srisuwan Janya, meanwhile, told Khaosod newspaper there was no doubt Narongsak's move to Phayao was a demotion for asking awkward questions. "It's considered a punishment in the bureaucracy," Srisuwan said.
Thailand's Deputy National Police chief Srivara Ransibrahmanakul was criticised for bowing to animal cruelty suspect and construction tycoon Premchai Karnasuta.
While the decision was made months ago, the transfer was announced publicly only last week as the rescue effort intensified. Many Thais on social media wondered why a man who had clearly been effective at managing a crisis, with overwhelming international attention, could be moved and implored Prayuth to let him stay on as governor. The government says the move was part of the usual annual reshuffle of bureaucrats.
Narongsak, his focus on the rescue, has said little on the matter. In leaving a Line group chat, he told his colleagues he was proud of his work and urged them to continue their efforts. "I love Chiang Rai," he concluded. "I love everyone."
If Narongsak has emerged the hero, there has also been a clear villain. Deputy National Police Chief Srivara Ransibrahmanakul earned scorn for his early appearances at the mountains, where he and his entourage interfered with the efforts of those on the front line. He was seen being unusually fussy about paperwork, and he went viral for asking a drone operator – who was scouting the cave – whether he had a licence. He also asked whether the parents of the missing children had filed an official complaint.
The online fury at Srivara's fastidiousness came because he has form. He last made the headlines for bowing before the suspect in a high-profile animal cruelty case, where the head of a construction conglomerate was accused of shooting an endangered black panther and eating its penis in a soup.
Another figure has been suspicious in his absence – with 13 members of a soccer team trapped underground, the head of the Football Association of Thailand has been neither seen nor heard. While everyone from the Croatian national team at the World Cup to Elon Musk appears to have weighed in and offered support of one kind or another, Somyot Poompanmoung's only contribution appears to have been to write a letter thanking FIFA for its good wishes.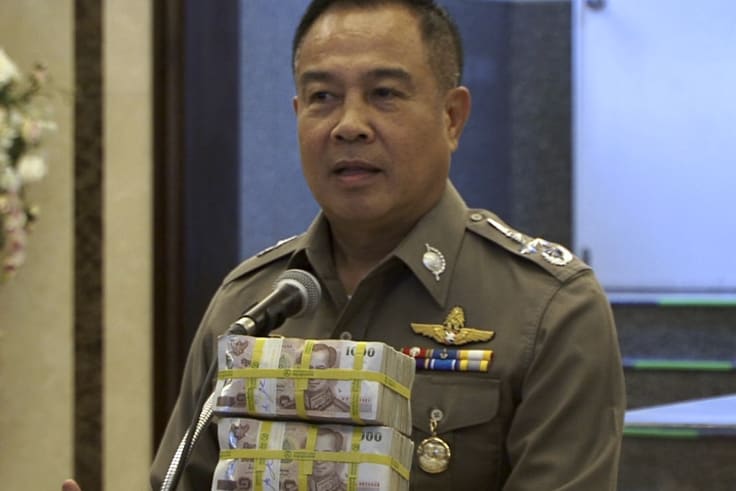 Somyot Poompanmoung, now head of the Football Association of Thailand, offered a reward $120,000 reward for information over a deadly bombing in Bangkok, only to give the money to his team.
Somyot may have been wise to stay out of the limelight – when he was national police chief in 2015 he offered a $120,000 reward over the Erawan Shrine bombing that killed 20 people and injured 125, only to give the money to his team. Earlier this year he came under suspicion for having received about $12 million from the owner of the Victoria's Secret brothel, which had been raided after a 12-year-old was trafficked along with other underage girls. An investigation into the money continues, but before the cave crisis Somyot's last public utterance was that he was thinking about running for office at the next election.
Source: Read Full Article