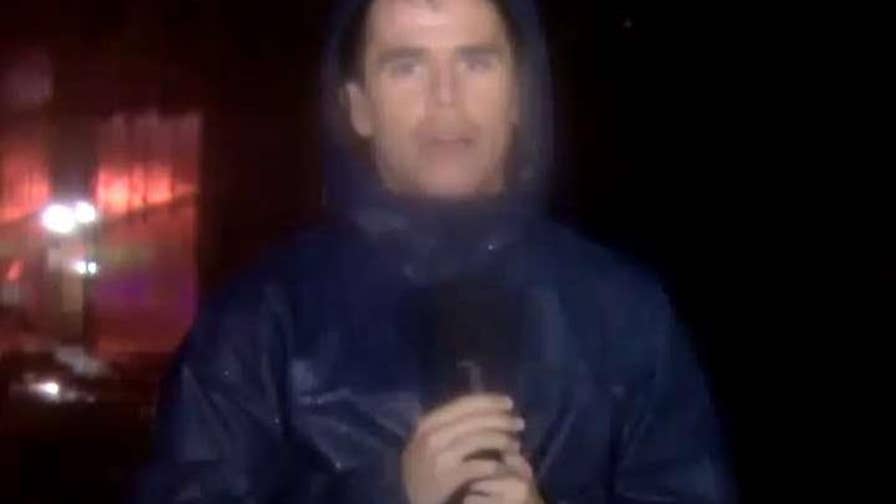 Report: Hurricane Florence causing power outages
Fox News' Ray Bogan reports on Hurricane Florence from Wilmington, North Carolina.
More than 400,000 people were without power in North Carolina as of early Friday morning, as Hurricane Florence pounded the region with strong winds and heavy rains.
As of 7:30 a.m. EST, 402,974 residents were experiencing power outages, according to the North Carolina Department of Safety.
The majority of those affected were in New Hanover, Carteret, Onslow, Pender and Craven counties.
Duke Energy told Fox News 3 million customers, which represents about 75 percent of their customers in the Carolinas, could lose power.
The company has enlisted more than 10,000 employees, including 1,700 workers from the Midwest and 1,200 from Florida to help in the relief efforts to get the power turned back on as quickly as possible.
The storm was downgraded late Thursday to a Category 1, as the North Carolina coast was battered by hurricane-force winds and a life-threatening storm surge.
In addition to the power outages, authorities were working with federal responders to rescue at least 150 residents who reported themselves stranded in Florence's storm surge.
Florence made landfall near Wrightsville Beach at around 7:15 a.m. EST.
Fox News Ray Bogan contributed to this report.
Benjamin Brown is a reporter for Fox News. Follow him on Twitter @bdbrown473.
Source: Read Full Article