Sao Paulo: They just needed 30 seconds more to save a man from a burning building, a firefighter sergeant in the Brazilian city of Sao Paulo says.
He had thrown a rope with an improvised harness to the man hanging from the building in the city's old downtown, and the man managed to secure his leg and shoulders.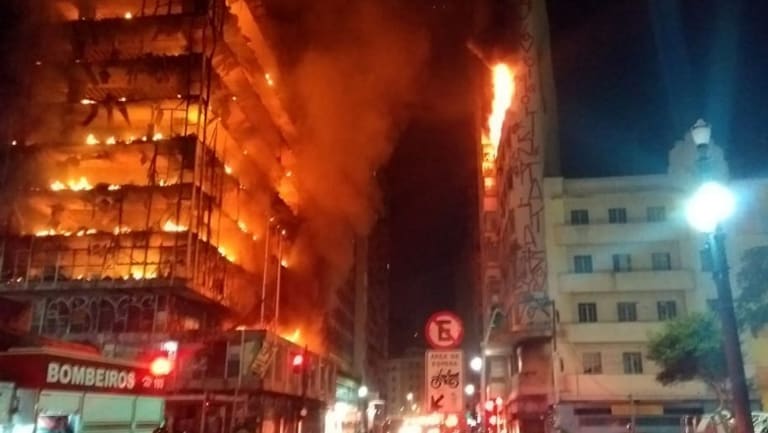 The building in downtown Sao Paulo collapsed as firefighters worked to put out a fire that began in the middle of the night.
But just as the sergeant's team was ready to tug the man away, the building collapsed like a pile of dominoes, pulling the man into a cloud of red-hot debris.
Brazilian TV broadcast Tuesday's dramatic rescue attempt and the collapse of an abandoned government building that had been occupied by squatters.
By the end of the day, only the man whose rescue failed was believed to be dead.
Firefighters and dogs were continuing to search the smoking rubble – some of which was still too hot to walk over – for the man's body and any other victims. No firefighters were hurt.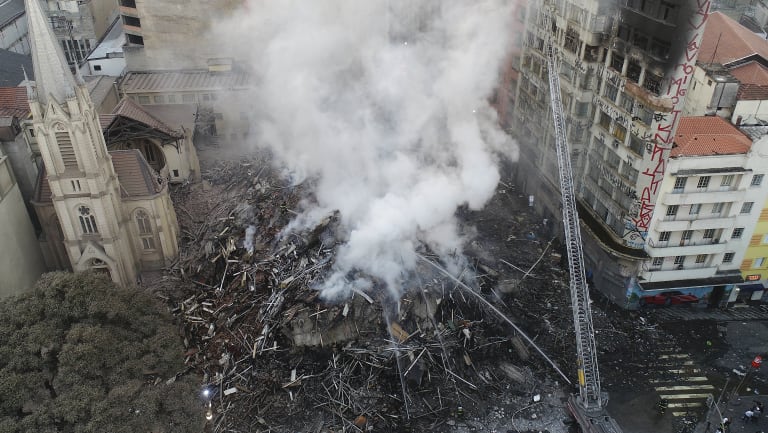 Firefighters work in the the rubble of a building that caught fire and collapsed in Sao Paulo, Brazil.
"Of course, it's impossible to not be emotional," firefighter sergeant Diego Pereira da Silva Santos later told reporters. "It was a victim, it was a person who needed help, who shouted for help."
The sergeant described how he and his team climbed onto the roof of a neighbouring building – using axes to gain entry. He said he urged the man to be calm, to look only at the firefighters, to try to ignore the blazing heat coming from the fire.
"He was secured, he was ready," Santos said. "The problem was the building collapsed and the amount of rubble and hot embers that fell on him."
Replay
The building, a former federal police headquarters, caught fire around 1.30am on Tuesday and firefighters worked to evacuate people. Less than two hours later, the 25-floor building collapsed. The cause of the fire is under investigation.
The fire is sure to put a spotlight on occupations of other abandoned buildings in Brazil's biggest city. The occupations are often led by highly organised fair-housing groups that run the dwellings like regular apartment buildings, with doormen and residents paying monthly fees. Others are less formal and more precarious.
Mayor Bruno Covas ordered civil defence authorities to evaluate the approximately 70 other occupied buildings in the city.
AP
Source: Read Full Article