Cairo: Smiling and looking hale, Libyan strongman General Khalifa Hifter flew home on Thursday to Benghazi and delivered a spirited televised address, seemingly dispelling for now reports that health problems could imperil his grip on power.
Hifter's assured return offered a dramatic counterpoint to the storm of speculation that gripped Libya after he vanished into a Paris hospital for medical treatment more than two weeks ago, setting off rumours that he was gravely ill, incapacitated or even dead.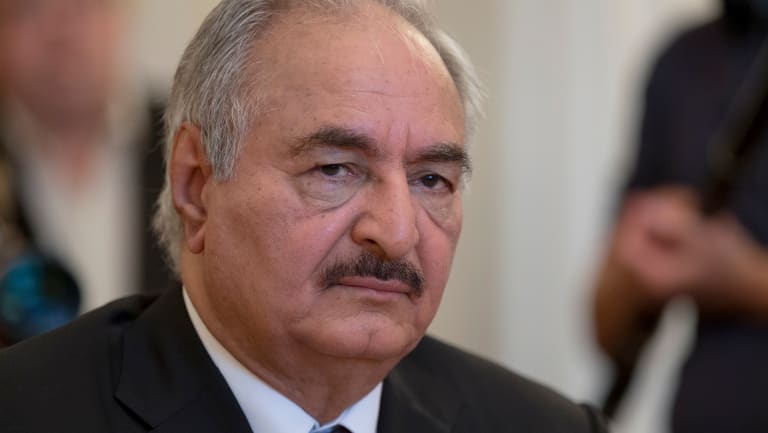 Libyan militia commander General Khalifa Hifter
"I assure you that I am in good health," said Hifter, 75, who saluted and shook hands with well-wishers as he walked unaided from his plane. He declined to give further details about any ailments.
His bullish homecoming offered a soap opera-like twist to Libya's complex power struggle. One of Libya's most powerful if polarising figures, Hifter is a former military officer who served under Moammar Gadhafi and a onetime CIA asset who controls most of eastern Libya as well as the country's largest oil terminals.
He has resisted entreaties to join the UN-backed unity government in western Libya, and he has positioned himself as the only leader with the strength to rule Libya, which plunged into chaos after Gadhafi was ousted in 2011. To achieve that goal, Hifter has wavered between agreeing to elections and threatening to march on Tripoli, the seat of the unity government.
His mysterious absence in recent weeks, which started when he flew from Jordan to France to treat an undisclosed medical condition, was seized upon by critics who speculated on his possible replacement. He has no obvious successor, and there has been speculation about a possible power struggle whenever he gives up power.
Instead, his return seems to have left him still firmly in control. Waiting for him on the tarmac in Benghazi were senior commanders, lined up in a show of unity intended to scotch rumours of division within his top ranks.
In a television speech after he was seen in video footage walking from his plane, Hifter dismissed talk of his ill health as "nonsense." He joked about whether he should stand in order to prove that he did not need a wheelchair.
And he thanked his commanders, saying, "You were unwavering in your steadfastness and determination."
New York Times
Source: Read Full Article