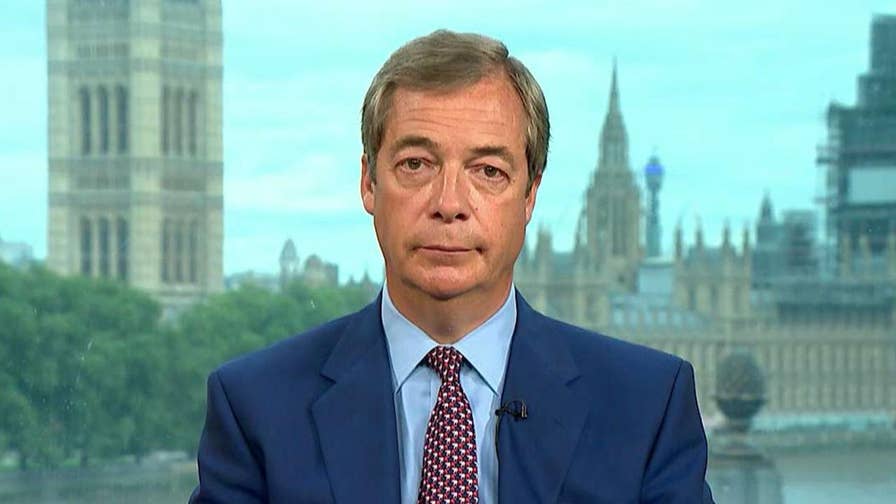 What happens to EU migrants in UK under a 'no-deal' Brexit?
Reaction from Nigel Farage, Fox News contributor and former U.K. Independence Party leader.
London Mayor Sadiq Khan has called for another referendum on Britain's membership in the European Union—saying that Prime Minister Theresa May's handling of Brexit negotiations has become "mired in confusion and deadlock."
Britain is due to the leave the EU on March 29, but with May's Brexit plans still not accepted, some British lawmakers, as well as union and business leaders, are arguing that voters should have one last say on any deal struck with Brussels.
May has ruled out holding a second referendum after the vote two years ago to leave the European Union. But she has said that members of Parliament will get to vote on the final deal.
However, with the clock ticking on striking a new deal, the British government is readying plans for a no-deal Brexit, something that analysts have said could be even more damaging to the country's economy.
Khan said Britain now faces either a bad deal or a no-deal Brexit, both of which are "incredibly risky" for Britain. Khan cites research showing that a no-deal Brexit could result in 500,000 fewer jobs across Britain by 2030.
Writing in the Guardian, Khan blamed the government's handling of the negotiations and said the threat to living standards, the economy and jobs was too great for voters not to have a say.
"The government's abject failure—and the huge risk we face of a bad deal or a no-deal Brexit—means that giving people a fresh say is now the right—and only—approach left for our country," said Khan, a senior member of the Labour Party.
Christopher Carbone is a reporter and news editor covering science and technology for FoxNews.com. He can be reached at [email protected] Follow him on Twitter @christocarbone.
Source: Read Full Article