Washington:  French President Emmanuel Macron has sharply contrasted with US President Donald Trump's world view, laying out a firm vision of global leadership that rejects "the illusion of nationalism" in a counterweight to Trump's appeal to put "America first".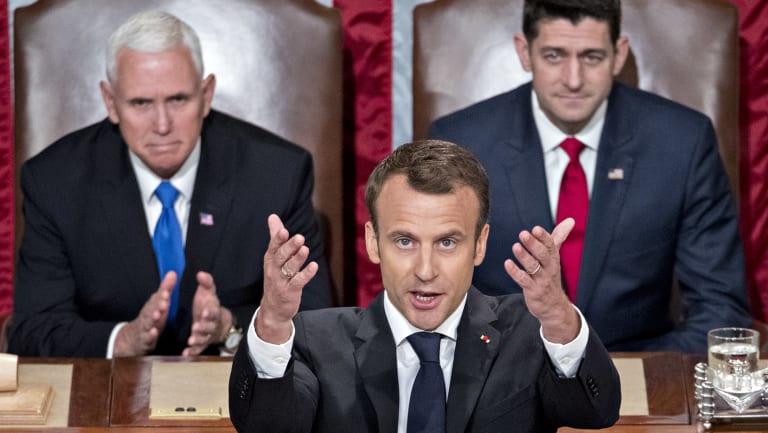 French President Emmanuel Macron speaks to a joint meeting of US Congress.
In the spotlight of a speech to the US Congress on Wednesday, US time, Macron was courteous but firm, deferential but resolute as he traced the lines of profound division between himself and Trump on key world issues: climate change, trade and the Iran nuclear deal.
A day after the French leader had put on a show of warmth and brotherly affection for Trump at the White House, his blunt speech prizing engagement over isolationism reinforced the French leader's emerging role as a top defender of the liberal world order.
"We can choose isolationism, withdrawal and nationalism. This is an option. It can be tempting to us as a temporary remedy to our fears," Macron said.
"But closing the door to the world will not stop the evolution of the world. It will not douse but inflame the fears of our citizens."
Issuing a bleak warning, he urged against letting "the rampaging work of extreme nationalism shake a world full of hopes for greater prosperity."
It was a marked shift from the simpatico Macron of only a day earlier during his state visit at the White House.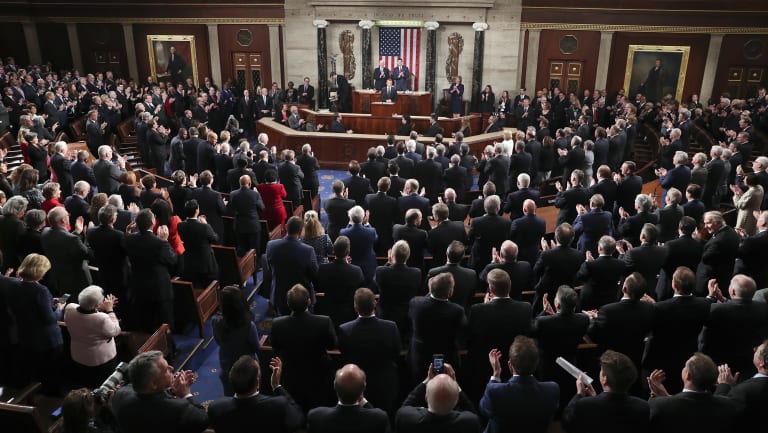 Emmanuel Macron pauses as he receives a standing ovation during his address to a joint meeting of Congress on Capitol Hill in Washington on Wednesday.
In his first year as president, Macron has carefully cultivated as close a relationship to Trump as any world leader can boast. But addressing a joint meeting of Congress – an honour granted only occasionally to leaders of close US allies – Macron confronted his differences with Trump head-on.
US President Donald Trump, right, greets Emmanuel Macron, on Tuesday.
As Trump weighs pulling out of the 2015 Iran accord, Macron made clear that France will not follow his lead.
"We signed it at the initiative of the United States. We signed it, both the United States and France," Macron said. "That is why we cannot say we should get rid of it like that."
Macron later told French reporters he has no "inside information" on Trump's decision on the Iran deal but noted that it was clear the US president "is not very much eager to defend it."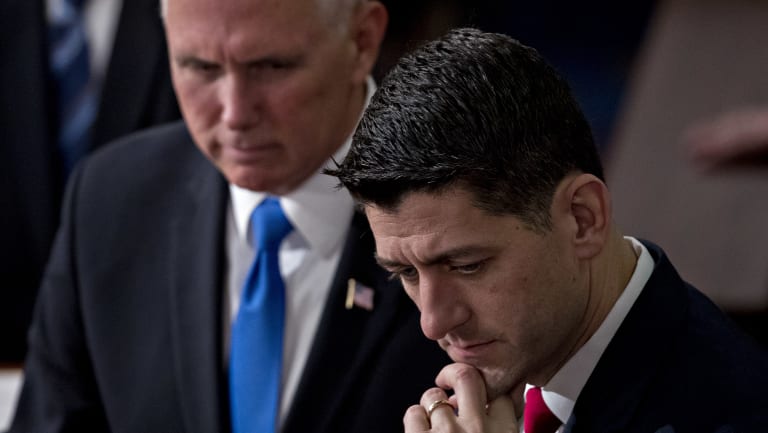 Outgoing US House Speaker Paul Ryan, right, and Vice President Mike Pence talk on the floor of the House after Macron's speech.
Macron saved some of his most pointed comments during the speech on Trump administration policy on climate change, implicitly lamenting the President's moves to withdraw from the global emissions pact reached in Paris. Macron said humans are "killing our planet" and added: "Let us face it: There is no Planet B."
"On this issue, it may happen we have disagreements between the United States and France. It may happen, like in all families," Macron said. "But that's for me a short-term disagreement."
Asked by French reporters about his comments Macron said he didn't expect Trump to rejoin the Paris accord but did expect that America will.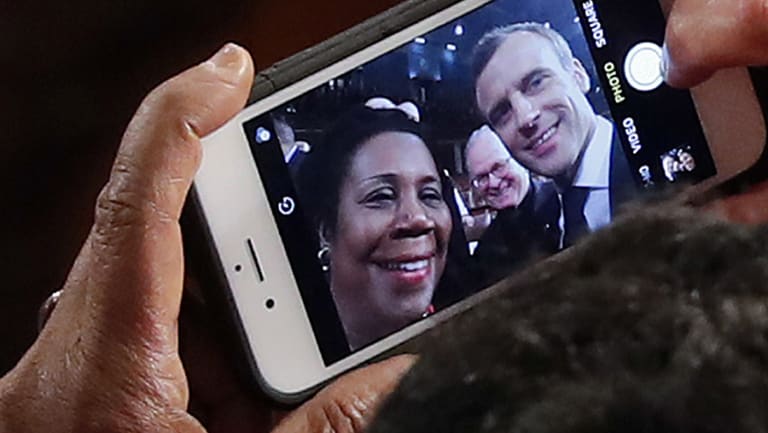 Macron stops to take a selfie with Texas Democrat Sheila Jackson Lee, after addressing the US Congress.
Macron's hour-long speech to Congress, delivered in English, provoked obvious delight from congressional Democrats, who erupted repeatedly in cheers and standing ovations for the visiting Frenchman – a contrast to the mostly silent reaction from Republicans in the House chamber.
Domestically, however, Macron faces a different audience.
A centrist, he's currently criticized more from the left than the right, notably for ending France's famed worker protection, and he's often derided as the president of the rich.
"Mobilised, Paris resists", screams a giant banner painted with a great red clenched fist in Paris.
"Railway workers, students, teachers – together," says another.
For weeks train drivers, airline workers, students and teachers have joined rolling strikes across France, against economic and a myriad other reforms. Millions of commuters have already been affected by the protests, as has freight between France and its European partners.
Replay
The latest to don red flags and loud hailers were lawyers, clerks and magistrates, dressed in their robes for a midweek protest on Wednesday.
The strikes' impact on the economy will be noticeable, say analysts, and the risk of them spreading to more sectors is the first big challenge facing Macron, who marks one year on the top job next month.
"Much freight is moved by rail in France, not road, so it will have an effect on the economy," says economist Jonathan Fenby at TS Lombard.
"Macron will probably have to say to [EU partners] Germany and to Brussels, 'we'll not do as well this year as last year'. But he has been buoyed by the eurozone economy. Also he does not have a coherent political opposition."
So far he has been lucky. Some would say the same in relation to his three-day visit to the US.
AP; Telegraph, London
Source: Read Full Article