New York: Michael Bloomberg, the billionaire former mayor of New York City, has decided to throw his political clout and personal fortune behind the Democratic campaign to take control of the House of Representatives this year.
Bloomberg — a political independent who has championed left-of-centre policies on gun control, immigration and the environment — has approved a plan to pour at least US$80 million into the 2018 election, with the bulk of that money going to support Democratic congressional candidates, advisers to Bloomberg said.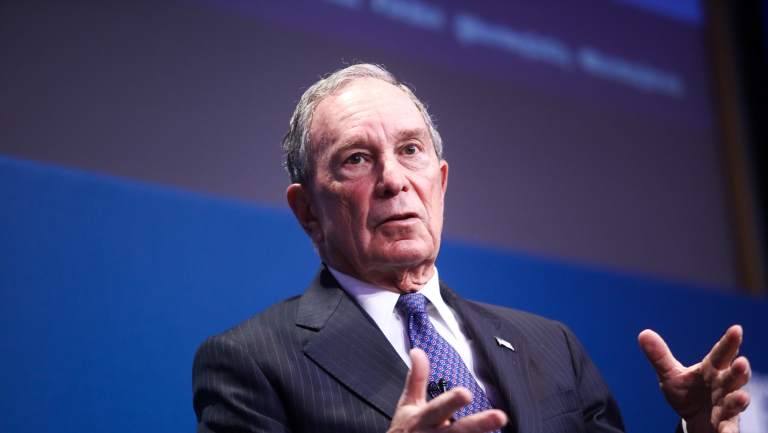 Michael Bloomberg
By siding so emphatically with one party, Bloomberg has the potential to upend the financial dynamics of the midterm campaign, which have appeared to favour Republicans up to this point.
Facing intense opposition to President Donald Trump and conservative policies, Republicans have been counting on a strong economy and heavily funded outside groups to give them a political advantage in key races, especially in affluent suburbs where it is expensive to run television ads.
Bloomberg's intervention is likely to undermine that financial advantage by bankrolling advertising on television, online and in the mail for Democratic candidates in a dozen or more congressional districts, chiefly in moderate suburban areas where Trump is unpopular.
Democrats need to gain 23 congressional seats to win a majority.
While Bloomberg has not chosen his list of targeted races yet, he is unlikely to get involved in rural, conservative-leaning districts where his views on guns and other issues could stir an uproar, according to people briefed on his plans, some of whom spoke on condition of anonymity to discuss private deliberations.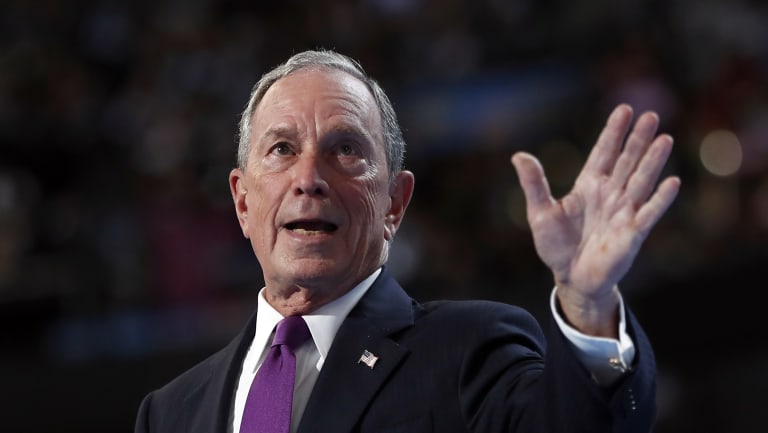 Former New York City Mayor Michael
The new alliance between Bloomberg, 76, and congressional Democrats marks a fresh stage in the former mayor's political evolution. And it promises to put New York and its political leaders even more squarely at the centre of a midterm campaign already stocked with prominent characters from the city, including a president who made his fortune in Manhattan real estate; the top Democrat in the Senate, Chuck Schumer; and Bloomberg's predecessor in Gracie Mansion, Rudy Giuliani, who serves as a lawyer for Trump.
After moving freely between elite circles in both parties for years, Bloomberg is now poised to become one of the Democrats' most important benefactors: His spending on House campaigns appears likely to exceed the involvement of donors like Sheldon Adelson, the Republican casino billionaire who recently donated $US30 million to a super PAC aligned with House Speaker Paul Ryan, and Tom Steyer, the liberal hedge-fund investor spending tens of millions of dollars on voter-turnout programs and television ads demanding Trump's impeachment.
Bloomberg outlined his plans in a statement, denouncing the Republican Congress and urging a return to divided control of the federal government. His 2018 effort is to be overseen by Howard Wolfson, a close adviser who is a former executive director of the Democratic Congressional Campaign Committee; Wolfson confirmed the scale of the spending envisioned.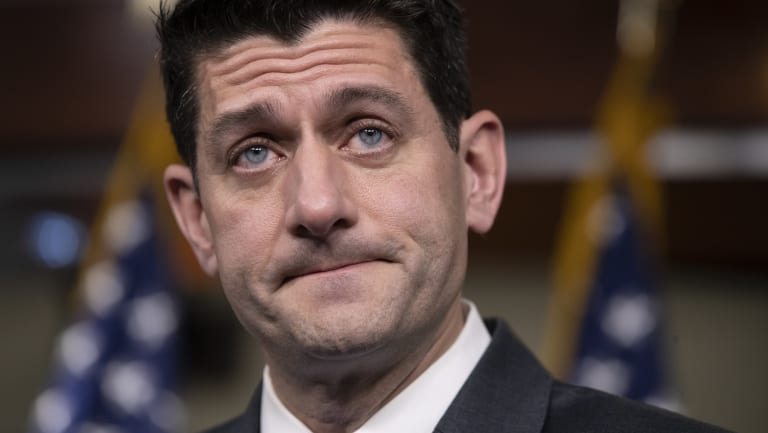 Bloomberg is disappointed in Republicans' ability to constrain Trump. Speaker of the House Paul Ryan,.
Calling Republican leaders in the House "absolutely feckless," Bloomberg criticised them for failing to check Trump or to exercise rigorous oversight of his presidential administration.
"I've never thought that the public is well-served when one party is entirely out of power, and I think the past year and half has been evidence of that," Bloomberg said, lamenting that Republicans "have done little to reach across the aisle to craft bipartisan solutions — not only on guns and climate change, but also on jobs, immigration, health care and infrastructure."
Bloomberg continued: "Republicans in Congress have had almost two years to prove they could govern responsibly. They failed."
Bloomberg's political team is in frequent contact with Democratic leaders, including some he has relationships from his time as mayor, and with liberal-leaning advocacy groups like Emily's List that he is likely to collaborate with in the 2018 campaign. He has conferred regularly with Representative Joseph Crowley, of New York City, who is the fourth-ranking Democrat in the House, as well as Representative Seth Moulton, a 39-year-old military veteran who has emerged as a leading critic of Nancy Pelosi, the minority leader.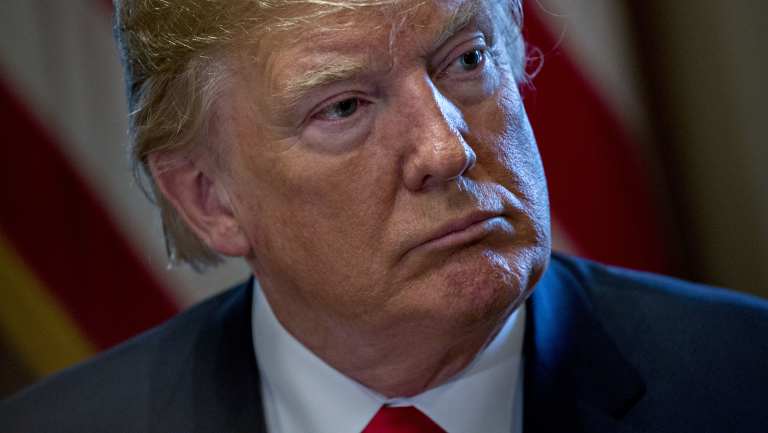 Michael Bloomberg is worried about Republicans' inability to constrain Trump.
Bloomberg is said to be intrigued by a list of candidates Moulton has endorsed, many of them also veterans.
"Especially in these marginal suburban districts, he's someone whose resources and credibility can help candidates in tough races," Moulton said, adding that Bloomberg would likely be cautious about where to deploy his operation: "There are places where you want to go in very obviously, and other places where you want to do work behind the scenes."
Crowley said in an interview that Bloomberg had expressed dismay to him about Republican lawmakers' refusal to challenge Trump.
"He recognizes the threat of this presidency," Crowley said.
Bloomberg will likely support Republicans in a few races for governor this year, and he donated $US5400 in April to Representative Dan Donovan, a Republican battling a primary challenge in the New York City borough of Staten Island from Michael Grimm, a former congressman who was jailed for tax evasion. Beyond that, Bloomberg is expected to spend little or nothing on Republicans at the federal level, his advisers said.
Bloomberg's partisan loyalties have shifted repeatedly over the years: He was a registered Democrat before switching parties to be elected mayor in 2001, and hosted the Republican convention in New York in 2004 before leaving that party to become an independent three years later. He twice made serious preparations to run for president as an independent, in 2008 and 2016, but both times ultimately decided against it.
In a sign of Bloomberg's deep alienation from the Republican Party, he has recently told associates that if he were to run for president in 2020, he would likely do so as a Democrat, according to people who have spoken with him directly.
It is unclear whether Bloomberg, who would be 78 on Election Day in 2020, is actively contemplating another presidential campaign or simply leaving the door open to the possibility.
While his money could be an enormous help to Democrats, Bloomberg is imperfectly matched with the party on important matters of policy and his involvement in the midterms has the potential to stir unease on the left. He has defended Wall Street banks over the years from liberal criticism, and as mayor he championed an aggressive approach to policing that is now anathema to much of the Democratic coalition.
And Bloomberg, despite his antipathy for the GOP, has not shed some of his reservations about the Democrats. He has indicated to aides that he only wants to support candidates who share his relatively moderate political orientation, avoiding nominees hailing from the populist left. In his statement, Bloomberg also took strong issue with any Democrats campaigning on impeachment, declaring: "Nothing could be more irresponsible."
Bloomberg
Source: Read Full Article