Multiple people were killed on Friday in a shooting at a high school in Santa Fe, Texas, in the latest gun violence in a country still shaken by the massacre at a Florida high school in February.
There are between eight and 10 fatalities, and the majority are students, Harris County Sheriff Ed Gonzalez said.
He said one male is in custody and a second 'person of interest' had been detained. Both are students at Santa Fe High School, about 48 kms southeast of Houston.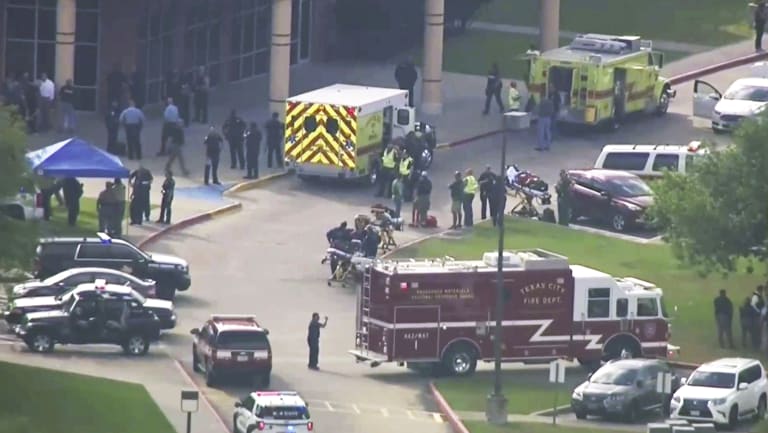 Emergency personnel and law enforcement officers respond to reports of gunfire at Santa Fe High School.
The gunman opened fire inside the school at about 7.45am, around the time school was about to start for the day, according to Joe Giusti, a Galveston County commissioner.
A student, Angelica, said she heard a fire alarm go off and, about two minutes after students began evacuating, she heard gunshots ring out.
"[Some students] were, like, 'run, run, there's gunshots!' Nobody believed them until the gunshots got closer and then we all started running," she told MSNBC. "Everybody ran to the nearest gas station and waited for their parents there."
Santa Fe High School junior Guadalupe Sanchez, 16, cries in the arms of her mother as they are reunited.
Her mother, Angie Martinez, told MSNBC that he daughter called her during the fire alarm as the chaos broke out.
"I said, 'calm down', I said, 'find a hiding place'. She told me they were outdoors and a lot of students were running. I said, 'well, run to the bushes'. I said, 'don't get off the phone'."
Giusti said one police officer who worked for the Santa Fe school district as a school resource officer was injured in the shooting. The gunman was uninjured, he said.
The sheriff's office for nearby Harris County said its deputies were assisting with a "multiple-casualty incident" that was "no longer an active situation".
Aerial video outside the school broadcast on local television showed police escorting lines of students out of the building and then searching them for weapons as many police cars and at least two ambulances with lights flashing stood by.
Sophomore Leila Butler told the local ABC affiliate that fire alarms went off at about 7.45am local time and students left their classrooms. She said some students believe they heard shots fired, and that she was sheltering with other students and teachers near campus.
Another sophomore, named only as Nikki, told ABC13 that: "Someone had walked in with a shotgun and a girl got shot in her leg".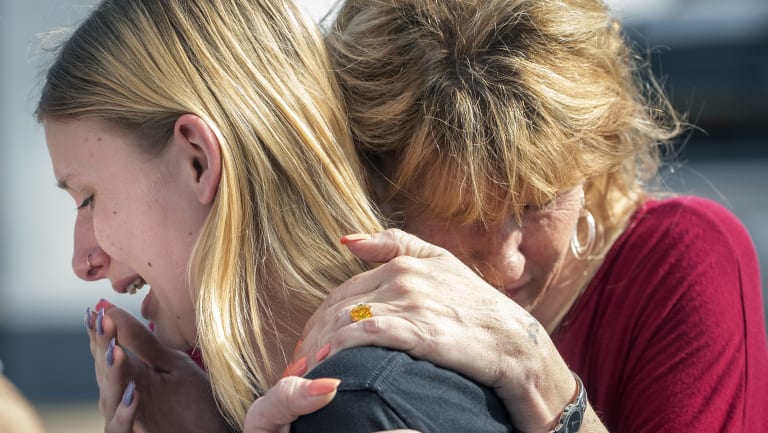 Santa Fe High School student Dakota Shrader is comforted by her mother.
US President Donald Trump wrote of the shooting on Twitter: "Early reports not looking good. God bless all!"
The latest such incident at a US school underscored a national debate over gun control and gun rights that has intensified after an assailant killed 17 students and staff on February 14 at Marjory Stoneman Douglas High School in Parkland, Florida.
Reuters
Source: Read Full Article