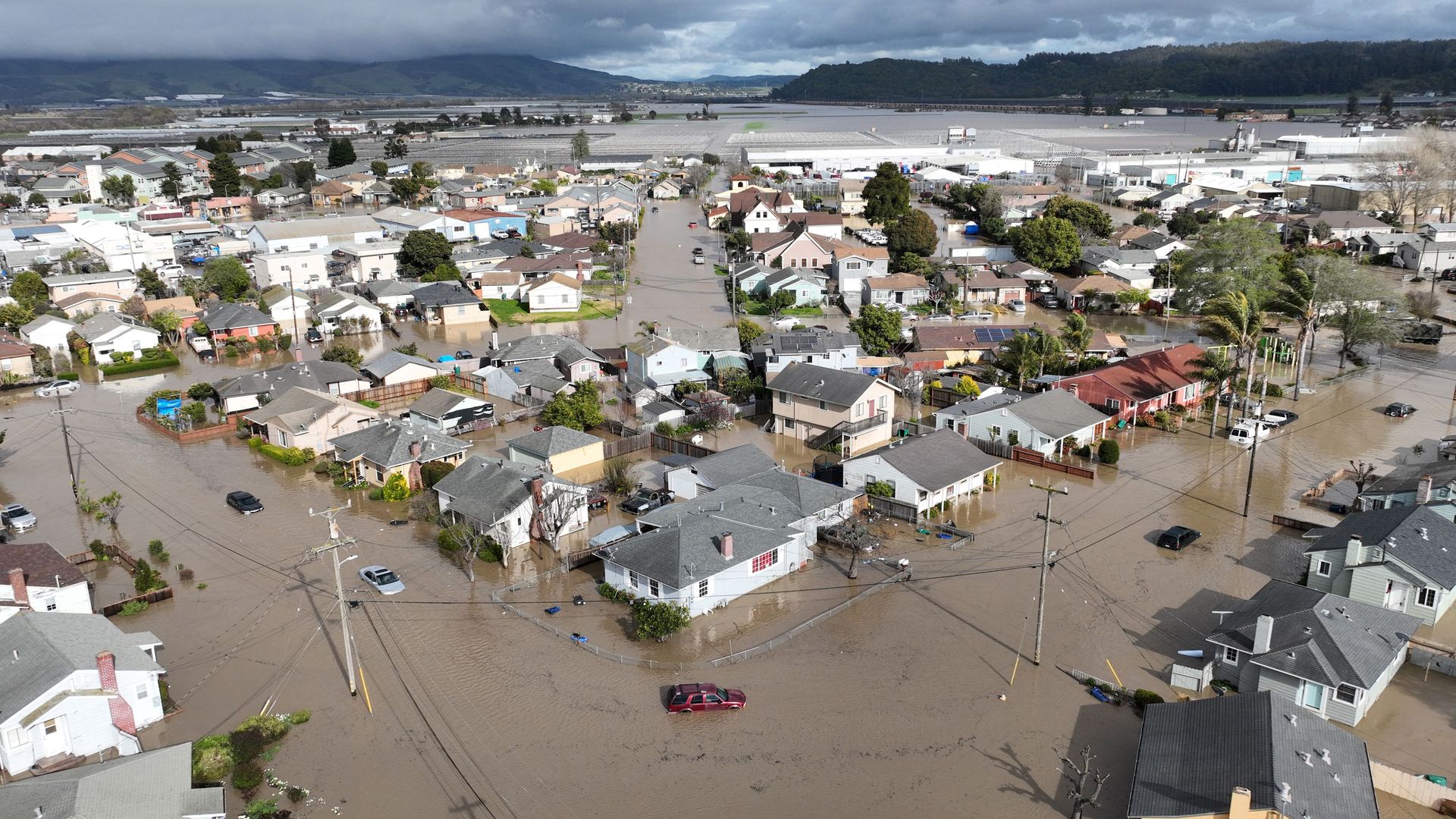 An aerial photograph showing vehicles and homes on Saturday engulfed by floodwaters in Pajaro, California, where residents were forced to evacuate in the middle of the night after an atmospheric river surge broke the the Pajaro Levee and sent floodwaters into the community. Photo: Josh Edelson/AFP via Getty Images
California faces another atmospheric river event Monday that forecasters warn will bring heavy rains and mountain snow to some areas, potentially resulting in "considerable flooding" — as officials continued to respond to the last deadly storm.
Threat level: As rain fell over parts of Northern and Central California over Sunday night, officials warned the next atmospheric river could hit areas inundated by flooding in the earlier storm — notably in Monterey County, where the California National Guard helped rescue 56 people after the Pajaro River's levee breached early Saturday.
Patrick Ayd, a meteorologist with the National Weather Service, told the Los Angeles Times "we have very saturated soils, which will make us even more prone to flooding."
More power outages were likely, particularly in and around Monterey, and rock and mudslides could also occur, Ayd added.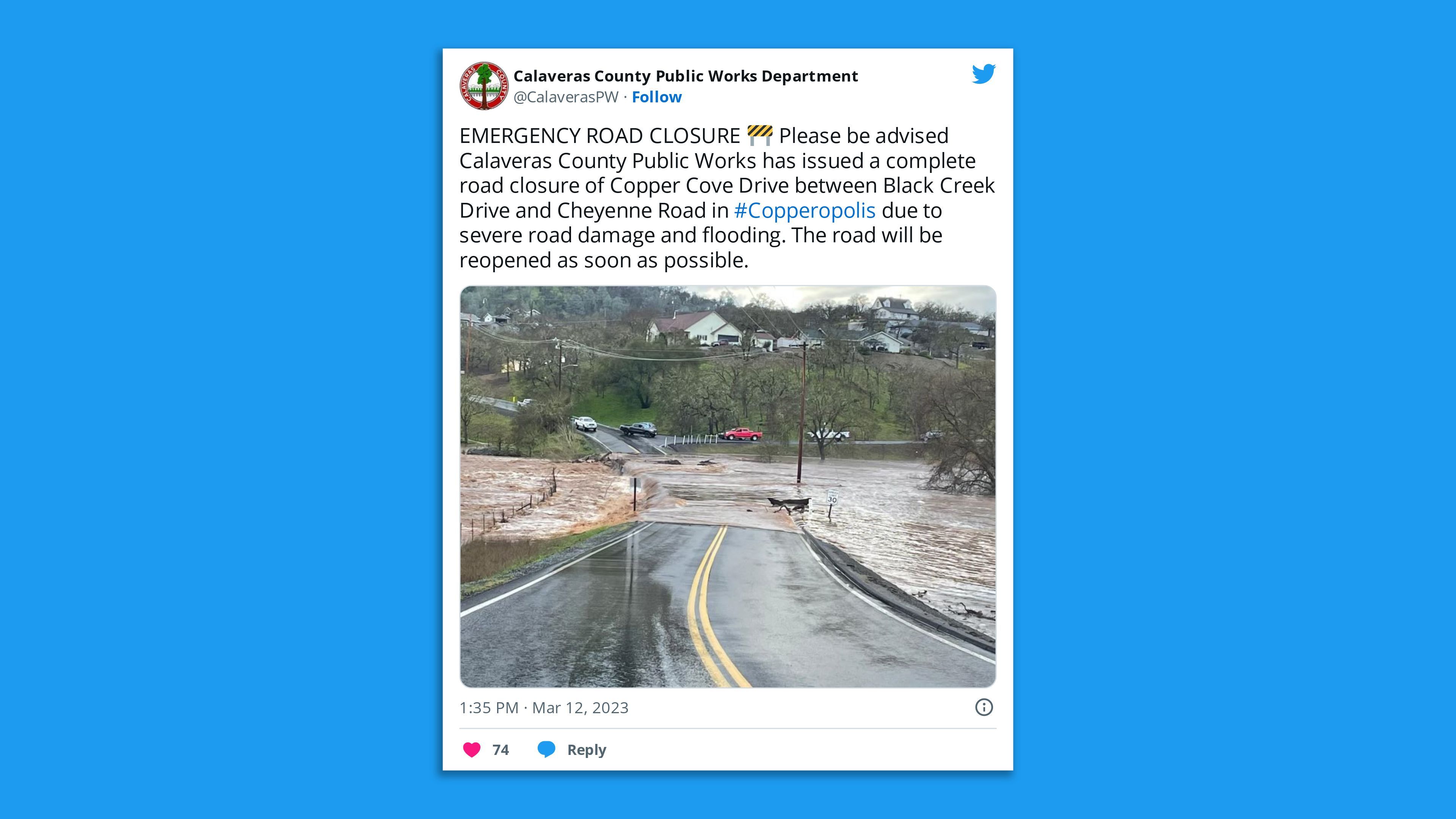 State of play: Local schools and roads were closed and evacuation orders and warnings were in effect Monday for communities along Pajaro and other rivers due to rising floodwaters and the threat of further inundation.
"Floodwaters continue to rise in Pajaro as crews begin levee repairs," Luis Alejo, chair of the Monterey County Board of Supervisors, tweeted Sunday evening.
Steady rain along the Sacramento River saw water levels continue to rise Sunday ahead of more forecast rain, as officials in Calaveras County, southeast of Sacramento, issued an emergency road closure due to flooding.
In the Bay Area, parts ofInterstate 880 in Fremont remained closed, as crews continued to clear debris and mud from flooding from the earlier atmospheric river that struck California from Friday through the weekend as showers continued across the region Sunday evening.
Meanwhile, the southern Sierra Nevada appears to have recorded its largest-ever snowpack — more than 250% above its seasonal average, according to the California Department of Water Resources.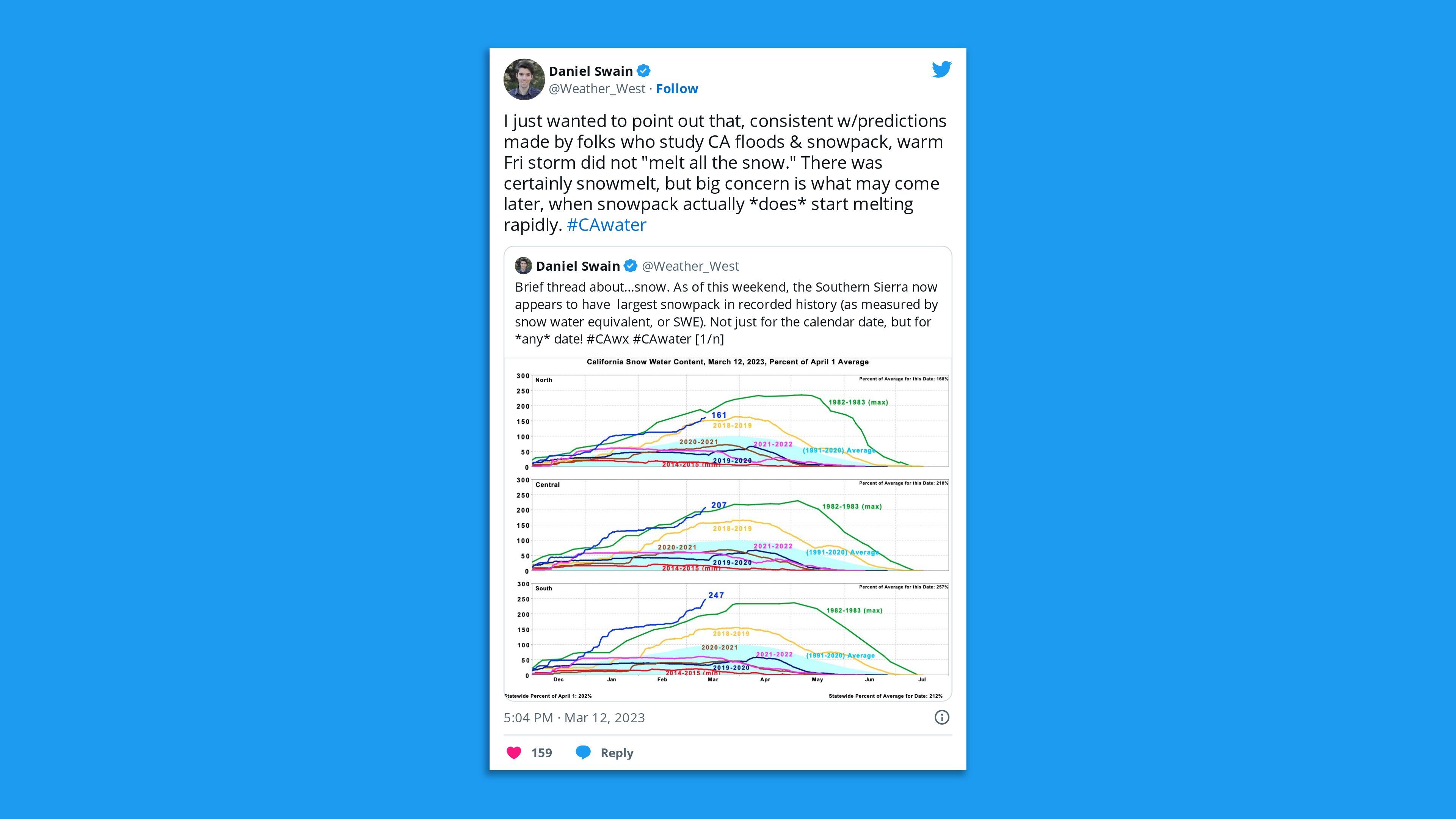 What we're watching: This next "potent storm system is expected to bring a moderate risk of flash flooding and heavy mountain snow over parts of California," per a National Weather Service forecast discussion Monday morning.
As the atmospheric river is set to hit Monday night, "strong dynamics and ample moisture" are forecast to bring "yet another heavy precipitation event" through the next few days.
"Additional heavy snow, to be measured in feet, is again forecast for the higher elevations of the Sierra Nevada," while "considerable flooding impacts are expected below 5000-foot elevation along the central California coast, San Joaquin Valley, Sacramento Valley, and southern Sierra Nevada foothills into Tuesday."
"In addition, heavy rain and snowmelt may lead to renewed (more widespread) flooding from Monday to Tuesday, particularly in low elevations and shallow and warming snowpack areas.Creeks and streams will continue to be vulnerable to flooding from additional rain and snowmelt."
Context: Atmospheric rivers are potent because narrow currents in the air can carry vast amounts of water vapor thousands of miles, from the tropics to mid-and-northern latitudes — and they've lashed California on several occasions this year.
Climate change is adding even more moisture to atmospheric rivers, which enables them to cause higher rain and snow totals, per Axios' Andrew Freedman.
Source: Read Full Article