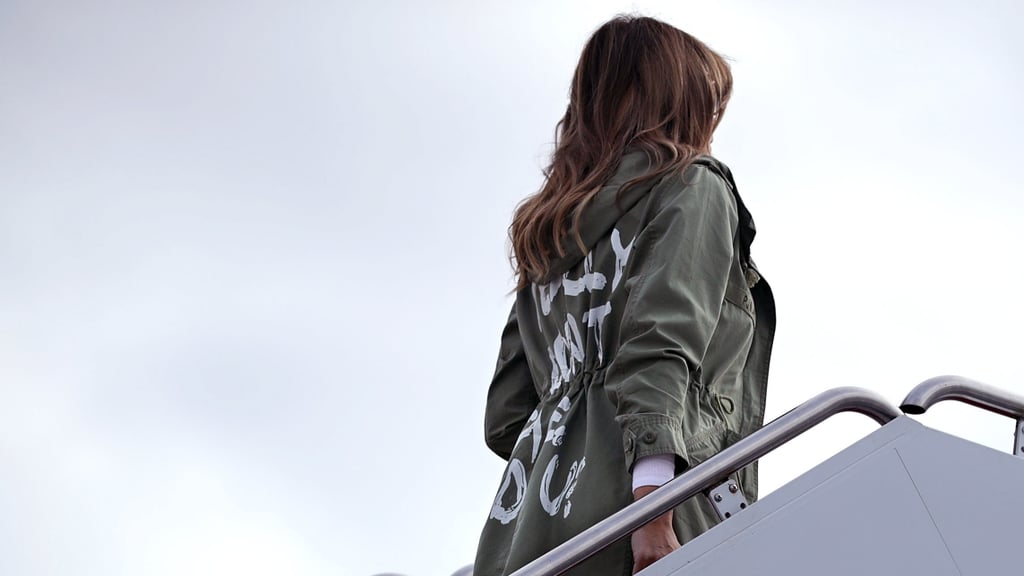 Processing the Utter Disrespect of Melania Trump's "I Really Don't Care" Jacket

The day after the president signed an executive order promising to stop the separation of families at the border, Melania Trump traveled to the Upbring New Hope Children's Shelter in McAllen, TX, to visit facilities where children affected by the zero-tolerance immigration policy are being held. But the first lady managed to make headlines before even arriving at the border. While boarding her plane, Trump was photographed wearing a green Zara jacket that read — we kid you not — "I Really Don't Care, Do U?"
Upon arrival, Trump swapped out the jacket for a cream-colored jacket with no writing on it. Meanwhile, her spokeswoman insisted there was nothing to read into when it came to the first lady's attire in a statement to Newsweek. "It's a jacket. There was no hidden message," said Stephanie Grisham. "After today's important visit to Texas, I hope the media isn't going to choose to focus on her wardrobe." After the visit, Grisham sent out a tweet urging the media to not "focus on her wardrobe" and added the hashtag #ItsJustAJacket.
There's some truth in the fact that these inconceivably tone-deaf decisions and "did that really happen?" moments are ultimately a distraction from the larger and far scarier decisions being made by the current administration. At the same time, a jacket is sometimes more than just a jacket.
In the past six weeks, the government has separated an estimated 2,000 children from their families. In addition to the several political leaders and public figures who have spoken out against the policy, former First Lady Laura Bush compared the shelters to the Japanese-American internment camps of World War II. Pope Francis also criticized the policy, agreeing with bishops who deemed it "immoral" and "contrast to our Catholic values." The executive order President Donald Trump signed earlier this week putting an end to his own policy does nothing to address reuniting families who have already been ripped apart. So some people actually really do care. And the ones who don't certainly should.
The $39 Zara jacket in question no longer appears on the retailer's website, and the internet has of course begun making memes out of the unimaginable gaffe. As outrage, astonishment, and downright disbelief over Trump's wardrobe choice continue to swirl, let's also remember that simpler time just four years ago when then-President Barack Obama was widely criticized for wearing a tan suit.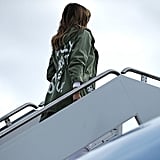 Source: Read Full Article