Baltimore: The moment the shooter smashed through the glass door of the Capital Gazette offices and opened fire, its journalists began covering their own tragedy.
An intern at the Annapolis publication tweeted at 2.43pm on Thursday, local time, that there was an active shooter in the building.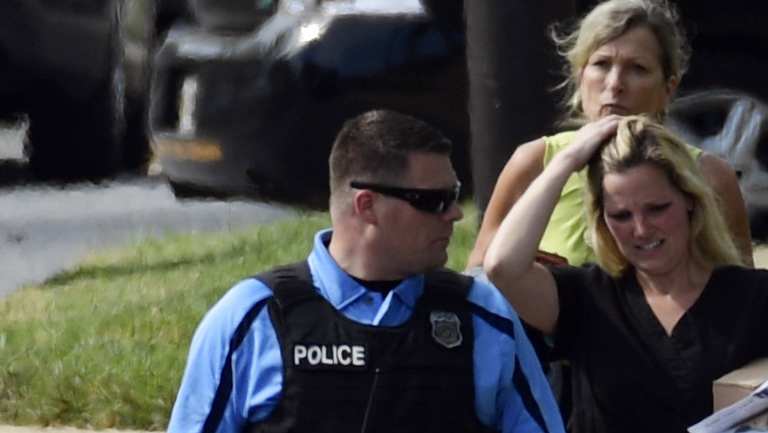 Police surround the Capital Gazette building after the shooting.
"Please help us," Anthony Messenger wrote.
Armed with smoke grenades and a shotgun, a man who reportedly had a long-running feud with the paper, attacked journalists at its office in Maryland's capital, killing five people before police quickly stormed the building and arrested him.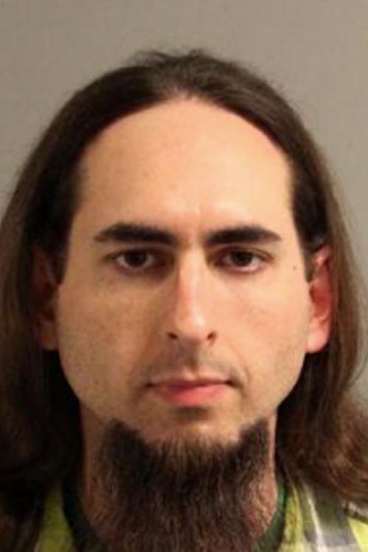 Jarrod Ramos
Capital Gazette photographer Joshua McKerrow took photos of the massive police presence that enveloped the building. "Police response for shooting in my newsroom," he posted as a photo caption on Twitter.
"There is nothing more terrifying than hearing multiple people get shot while you're under your desk and then hear the gunman reload," reporter Phil Davis tweeted after the gunman shot through the glass door of the Capital Gazette's office before opening fire on multiple employees.
"I'm a police reporter," Davis said later.
"I write about this stuff – not necessarily to this extent, but shootings and death – all the time," he said. "But as much as I'm going to try to articulate how traumatising it is to be hiding under your desk, you don't know until you're there and you feel helpless."
Davis said he and others were still on the floor when the gunman stopped firing. "I don't know why. I don't know why he stopped," he said.
Police said the suspect was a white man in his late 30s whose shotgun rampage followed social media threats directed at the newspaper.
A law enforcement official said the suspect has been identified as Jarrod W Ramos.
Authorities said the gunman entered the building in a targeted attack and "looked for his victims." He had smoke grenades and fired a shotgun at his victims, according to Anne Arundel County acting Police Chief William Krampf.
"This person was prepared today to come in, this person was prepared to shoot people. His intent was to cause harm," Krampf said.
Among the victims was veteran journalist and columnist Rob Hiaasen, 59, brother of novelist Carl Hiaasen. Carl Hiaasen said he was "devastated and heartsick" at the loss of his brother, "one of the most gentle and funny people I've ever known."
Staff members killed in Annapolis. Columnist Rob Hiaasen, sales assistant Rebecca Smith, editorial page editor Gerald Fischman, special publications editor Wendi Winters and writer John McNamara.
Four other members of staff were killed: sales assistant Rebecca Smith, editorial page editor Gerald Fischman; special publications editor Wendi Winters and writer John McNamara.
Krampf said the gunman was a Maryland resident and search warrants were being sought for his home.
The attacker had mutilated his fingers in an apparent attempt to make it harder to identify him, one law enforcement official said.
Authorities said the suspect was undergoing questioning by detectives.
"The shooter has not been very forthcoming, so we don't have any information yet on motive," Anne Arundel County executive Steve Schuh said.
"To my knowledge, there was no verbal aspect to the incident where he declared his motives or anything else, so at this point we just don't know."
In 2012, Ramos brought a defamation lawsuit against Eric Hartley, formerly a staff writer and columnist with the Capital Gazette, and Thomas Marquardt, who was editor and publisher of the paper, The Capital, according to a court filing.
In 2015, Maryland's second-highest court upheld a ruling in favour of the paper.
Replay
According to a legal document, the article contended that Ramos had harassed a woman on Facebook and that he had pleaded guilty to criminal harassment. The court agreed that the contents of the article were accurate and based on public records, the document showed.
Ramos said on Twitter that he had set up an account to defend himself, and wrote in his bio that he was suing people in Anne Arundel County and "making corpses of corrupt careers and corporate entities".
A Twitter account in his name regularly commented on Anne Arundel County news and referred to a deadly shooting at a French newspaper in 2015.
The account had been dormant since January 2016. Then at 2.37pm on Thursday – moments before the Capital Gazette shooting – the account posted a message that read: "F— you, leave me alone."
Maryland police officers at the scene.
The shooting – which came amid months of verbal and online attacks on the "fake news media" from politicians and others from President Donald Trump on down – prompted New York City police to immediately tighten security at news organisations in the nation's media capital.
At the White House, spokeswoman Lindsay Walters said: "There is no room for violence, and we stick by that. Violence is never tolerated in any form, no matter whom it is against."
President Donald Trump tweeted that his thoughts and prayers were with the victims and their families.
Annapolis Mayor Gavin Buckley – an Australian – said the community was grieving after the attack on their community's paper.
"These are the guys that come to city council meetings, have to listen to boring politicians and sit there," Buckley said.
Maryland police officers patrol the area after multiple people were shot at a newspaper in Annapolis, Maryland.
"They don't make a lot of money. It's just immoral that their lives should be in danger."
Hours after the shooting, Capital reporters promised to continue covering their story.
"I can tell you this," reporter Chase Cook tweeted. "We are putting out a damn paper tomorrow."
And they did.
The Capital's front page on Friday carried the story and photos of the slain staff, while multiple stories were published in the edition as well as by the paper's sister publication capitalgazette.com
Baltimore Sun, AAP
Source: Read Full Article