London: Even before Meghan met Harry, hers was a fractured and distant family, says biographer Andrew Morton.
And now her family dysfunction is on public display with the intense focus that accompanies a royal wedding. As one royal observer put it this week, most weddings do this, but not quite so publicly.
Meghan Markle and Prince Harry.
After Christmas, Harry said of his fiancee that the royals were "the family that I suppose she's never had". Morton says Harry was speaking "from what he'd been told by Meghan".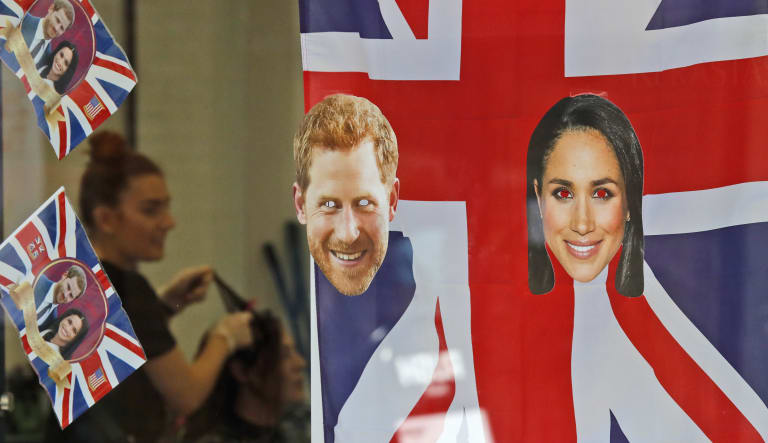 A woman gets a haircut as the Windsor shop window is decorated with flags and pictures of Prince Harry and Meghan Markle.
That comment angered her half-sister Samantha Markle, who tweeted that Meghan "has a large family who were always there with her and for her … Meg's family is complete with sister, brother, aunts, uncles, cousins and the glue of our family, our amazing completely self-sacrificing father".
And her half-brother Tom Markle said their father "dedicated the majority of his time and everything to her".
But neither of Meghan's half-siblings – let alone aunts, uncles or cousins – got wedding invitations. And now her father is caught in a scandal and health scare that means he is unlikely to walk her down the aisle as planned.
Of all of them, only her mother is still (fairly) certain to attend. She's been in the UK for almost a week already, helping with wedding prep, and will stay with Meghan at Cliveden House the night before the wedding. (Apparently they are staying in the hotel's Spring Cottage, which is infamous as the temporary home of 19-year-old Christine Keeler when she met Conservative MP John Profumo and sparked one of the country's biggest political scandals).
Morton wrote that Meghan's fractured family background "caused Meghan a great deal of heartache as she grew up," but also gave her drive and ambition.
Though she has kept in touch with some of her relatives, she has had little contact with most of them for many years.
Says Morton: "Meghan's been very self-supporting. She's not seen her father very often, she sees her mother occasionally, though she speaks to her a lot on the telephone. She doesn't have a relationship with her half-brother or half-sister".
Nevertheless, a bunch of relatives will be in Windsor on the day of the wedding.
Meghan's sister-in-law, Tracy Dooley was spotted at Heathrow this week with sons Tyler and Thomas (and Tyler's girlfriend).
Dooley, who has not seen Meghan for 20 years, and her sons are reportedly to be "special correspondents" for Good Morning Britain's wedding day special.
Samantha Markle is reportedly also going to be in Windsor as a guest of a TV program.
Meghan may not be impressed. According to Morton, "former friends [say] once she's done with you she's done with you, and she moves on".
"Let's face it her parents split up when she was a toddler, just two, and they went their separate ways. The history of divorce is quite pronounced in her family."
But Meghan's family history has come back to haunt her in the lead-up to her wedding. Here's a guide to who's who, as outlined in Morton's biography, A Hollywood Princess.
Mum – Doria Ragland, 61
Meghan Markle, right, watches the closing ceremony of the Invictus Games with her mother Ragland in Toronto, Canada, last year.
Doria is a yoga instructor and social worker. Meghan has described her as the biggest influence on her life.
Doria and Meghan's father Tom Markle met on the set of ABC drama General Hospital, where she was training as a make-up artist and he was the show's lighting director. They married in 1979. They lived in a predominantly white neighbourhood and Doria was often mistaken for a family nanny.
The couple split when Meghan was two years old and divorced five years later. Meghan lived mostly with Doria.
Doria encouraged 13-year-old Meghan to work at the Hippie Kitchen charity in downtown Los Angeles, and by the age of 16, Meghan was a regular, sparking her lifelong interest in humanitarian and charity work.
Meghan has described her mother as "free-spirited". Harry asked Doria for permission to marry Meghan, and she joined the couple at the Invictus Games in Toronto last September.
Doria has a half-brother, Joseph, and a half-sister, Saundra.
Dad – Thomas Markle, 73
Thomas Markle, pictured here with baby Meghan Markle, may or may not attend his daughter's wedding.
Thomas married his university girlfriend, Roslyn, in 1964 and they had two children, Yvonne and Tom jnr. The couple divorced in 1975.
He then married Meghan's mother Doria. After their split, Thomas shared custody of the young Meghan and paid for private schooling, partly thanks to winning $US750,000 ($1 million) in a state lottery.
In the 1990s he lost most of his money in a failed jewellery business and declared bankruptcy, though he still paid for Meghan to go to a private all-girls Catholic school. During that time she lived with him on weekdays.
Morton wrote that Thomas was "always around" helping with school drama productions and advising on acting technique. He has a storage unit in Los Angeles full of pictures of the young Meghan.
However, after school they began to have trouble getting along, Morton wrote. They have not been close since – though when she got her first screen role he sent her a loving note of congratulations that she kept in a box beside her bed.
When reporters tracked the shy, reclusive man to his Mexican hideaway after the engagement was announced, he gave few comments. His son Tom said he would be proud but terrified to walk Meghan down the aisle.
Half-sister – Samantha, formerly Yvonne Markle, 53
Meghan Markle's half-sister Samantha appeared on Good Morning Britain to defend her family.
Thomas' daughter Yvonne is 17 years older than Meghan and they have not seen each other for more than five years.
Now known as Samantha, she is wheelchair-bound having contracted multiple sclerosis in 2008, and has emerged as a regular commentator on Meghan's relationship with Harry.
She described her half-sister as "narcissistic and selfish" and a "shallow social climber" who had shunned her family after finding fame. She announced she would write a book titled "The Diary of Princess Pushy's Sister".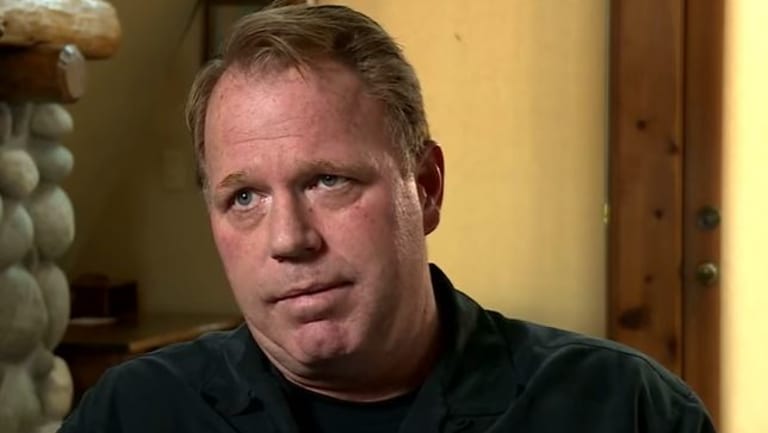 Meghan Markle's half-brother Thomas Markle jnr.
He works as a window fitter in Oregon and was married for 11 years to Tracy Dooley, with whom he has two sons now aged 25 and 26.
He was arrested in January 2017 for the "unlawful use of a weapon and menacing", though the charges were dropped. He had allegedly pointed a gun at his girlfriend. He later apologised and said he was seeking help.
In May he wrote an open letter to Harry for In Touch magazine saying Harry's marriage to Meghan would be "the biggest mistake in royal wedding history. Meghan Markle is obviously not the right woman for you."
He called her a "jaded, shallow, conceited woman that will make a joke of you and the royal family heritage" and complained she had neglected her father and invited strangers instead of family to the wedding.
"I guess we're all distant family to Meg," he wrote.
He is not invited to the wedding.
Other relatives
None of Meghan's grandparents are still alive.
Meghan has two uncles on her father's side and an uncle and aunt on her mother's. None are believed to be invited to the wedding.
Ex-husband – Trevor Engelson, 41
"Me and my lady in London," Trevor Engelson wrote of this photo in 2010.
Movie producer Trevor Engelson married Meghan in 2011. Meghan moved to Toronto to film Suits and in 2013 told him she wanted to separate.
Engelson has sold a pilot comedy drama to Fox TV, which he was to produce, about a recently divorced man whose wife married into a royal family.
He is not invited to the wedding.
Source: Read Full Article