Beijing: North Korean leader Kim Jong-un has arrived in Beijing, where he is expected to brief Chinese President Xi Jinping on his summit with Donald Trump last week.
Unusually, Kim's surprise visit was announced by Chinese state media within an hour of his plane touching down at Beijing airport on Tuesday morning, and as major roads saw increased security ahead of the arrival of his motorcade.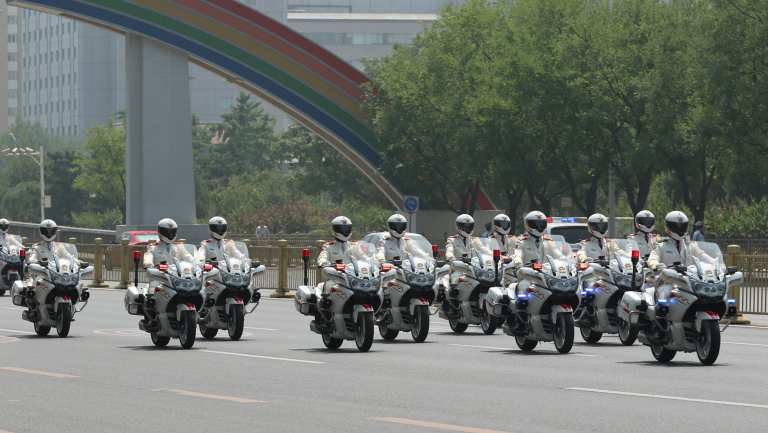 Chinese police escort Kim Jong-un in Beijing on Tuesday.
Kim's first visit to the Chinese capital as leader, by train, in March was shrouded in secrecy and not announced until after he had departed. The secrecy, and heavy policing as officers sought to stop cameras even photographing Kim's armoured car, appeared to reflect a fear of assassination during the young dictator's first visit abroad.
His arrival in Beijing on Tuesday, amid publicity, marks his third visit to China, after he flew to the northern coastal city of Dalian in May to talk with Xi ahead of the June 12 Singapore Summit.
Five days after that second meeting, US President Donald Trump claimed Xi "could be influencing" Kim because North Korea subsequently hardened its demands for the summit.
Last week's historic meeting between Trump and Kim produced a declaration that North Korea would denuclearise in return for security guarantees from the US, but no concrete steps.
The only major concession made on the day of the summit was Trump's commitment to end "war games" between the US and South Korea because they were "provocative".
On Tuesday, Washington and Seoul confirmed that the Ulchi Freedom Guardian military exercises, due to be held in August, would be cancelled.
China and North Korea had long condemned the annual military drills, and the US concession was seen by analysts as not only a bid to ease tensions with North Korea, but a win for China.
Kim Jong-un's motorcade rolls into Beijing on Tuesday.
During the two-day visit to Beijing, Kim is likely to discuss the easing of sanctions on North Korea. China, North Korea's biggest trading partner, had since November strictly enforced crippling UN Security Council sanctions, which was seen as a big factor in Kim halting missiles tests.
On Monday, South Korean Foreign Minister Kang Kyung-wha said sanctions could start to be eased once North Korea had made "substantive steps towards denuclearisation".
China's Foreign Ministry has said the UN Security Council resolution allows for sanctions to be eased, and Chinese Foreign Minister Wang Yi didn't answer a question on when sanctions should be eased, at a joint press conference with US Secretary of State Mike Pompeo last week.
Pompeo, in Beijing to gain China's support for maintaining sanctions until North Korea had completed denuclearisation, said easing sanctions could only be considered at the "appropriate time".
Relations between the Trump administration and Beijing have since deteriorated, with Trump threatening an extra $US200 billion ($270 billion) in tariffs on Chinese goods on Tuesday. Pompeo on Monday accused China of practising "predatory economics".
China's Commerce Ministry responded, saying China would "fight back firmly and take comprehensive measures" if Washington carried out its latest trade threat.
Both countries have threatened to slap 25 per cent tariffs on up to $US34 billion of goods from the other side from July 6.
Breaking the news of Kim's visit, Chinese news agency Xinhua said: "Kim Jong-un, chairman of the Workers' Party of Korea and chairman of the State Affairs Commission of the Democratic People's Republic of Korea, visits China from June 19 to 20."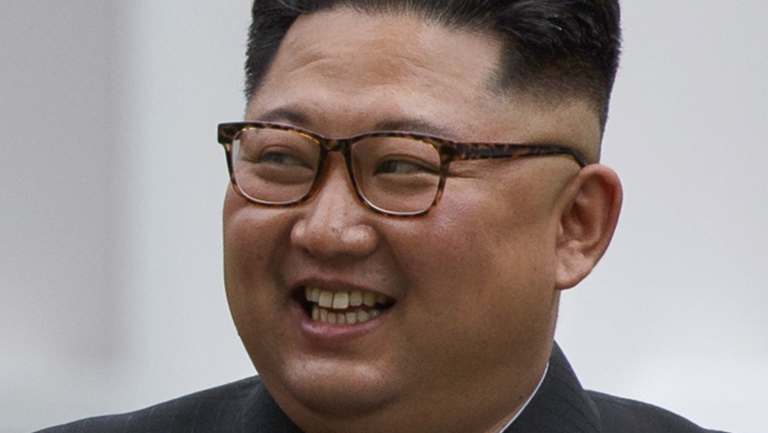 Kim Jong-un during the meeting with Donald Trump: North Korean media says he was the tough negotiator.
Source: Read Full Article