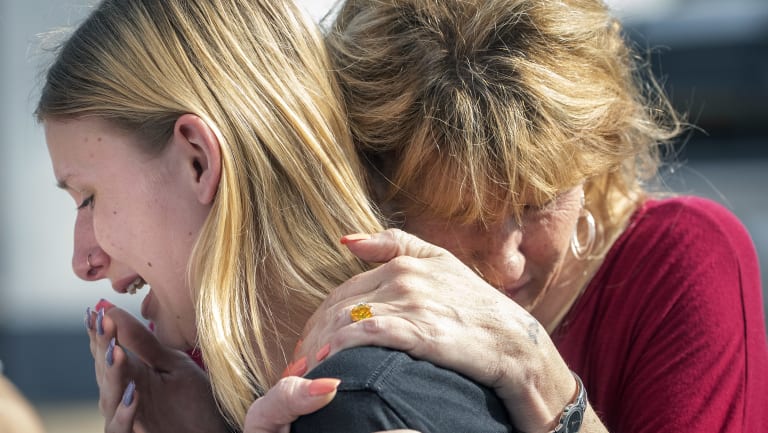 Student Dakota Shrader mourns with her mother.
Santa Fe:  The mother of one of the 10 people killed in America's latest school massacre said her daughter recently rejected the romantic advances of the Texas teenager charged in the shootings, a possible motive for the violent tragedy.
Dimitrios Pagourtzis yesterday appeared in court charged with capital murder and is being held without bail in Santa Fe.
In addition to 10 fatalities, the gunman wounded at least 13 people, with two of them in critical condition. One of those in critical condition was one of the two school resource officers who engaged the shooter before his surrender.
Nicholas Poehl, one of two lawyers hired by the suspect's parents to represent him, said he had spent an hour with Pagourtzis since the shooting.
''He's very emotional and weirdly nonemotional,'' the lawyer told the court yesterday.
As the shooting unfolded, Pagourtzis spared people he liked so he could have his side of the story told, a charging document showed.
While authorities have given no indication why he apparently targeted the art class, Sadie Rodriguez, the mother of victim Shana Fisher, 16 told a number of news agencies that her daughter had rejected four months of aggressive advances from Pagourtzis.
Victim Shana Fisher.
Asked about Rodriguez's allegation, Poehla lawyer said ''That's news to me'', though he cautioned that he'd spent much of the day disputing false rumours about the teen's personal life.
Earlier yesterday, Poehl issued a statement from the family saying that they were ''as shocked and confused as anyone else by these events that occurred'' and asked for privacy.
Pagourtzis' family said in a statement they were ''saddened and dismayed'' by the shooting and ''as shocked as anyone else'' by the events.
''While we remain mostly in the dark about the specifics of [Friday's] tragedy, what we have learned from media reports seems incompatible with the boy we love,'' the family said.
Investigators had seen a photo of a T-shirt that read ''Born to Kill'' on the suspect's Facebook page and authorities were examining his journal, Texas Governor Greg Abbott said, but there were no outward signs he had been planning an attack.
Pagourtzis waived his right to remain silent and made a statement to authorities admitting to the shooting, according to an affidavit ahead of his arrest.
Asked if Pagourtzis had provided authorities with information about the shootings, Poehl said: ''Honestly because of his emotional state, I don't have a lot on that.''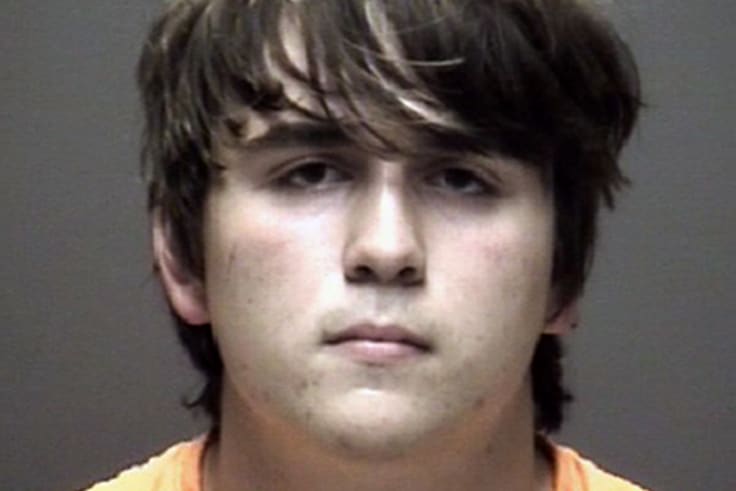 Dimitrios Pagourtzis has confessed to the shootings.
Santa Fe High School, south-east of Houston, became the scene of the fourth-deadliest mass shooting at a US public school in modern history, joining a long list of campuses where students and faculty have fallen victim to gunfire.
Late on Saturday, authorities in Texas released the names of those who died, as relatives and friends reflected on their lives.
Jared Black's favourite class was art, his family said, and that was where he was Friday morning. He had turned 17 earlier in the week, and he couldn't wait for his birthday party on Saturday.
Elizabeth McGinnis, a family friend, said Jared's father, Robert Black, had wondered aloud how this could happen to someone like Jared. ''He would never hurt anyone,'' she recalled Jared's father saying.
Shana Fisher, who was in the art room at the time of the attack, had just turned 16. ''She should be worrying about getting her driver's license, making plans for summer break, maybe start thinking junior year and making plans for college and what she wants be when she grows up,'' an aunt, Ericha Fisher Farris, wrote on Facebook. ''She should be at home rolling her eyes from fighting with her little sister.''
Family and friends called Angelique Ramirez compassionate and funny, a loving older sister with a contagious smile. Sabika Sheikh, 17, was supposed to return home to Pakistan in a matter of weeks.
The Texas rampage again stoked the country's long-running debate over gun ownership, three months after a student-led gun control movement emerged from a mass shooting in Parkland, Florida, which left 17 teens and educators dead.
Students and faculty, bussed on to campus in small groups, were allowed to enter the high school on Saturday to retrieve belongings, though investigators closed off part of the grounds. All schools in the district will remain closed on Monday and Tuesday, officials said.
In a letter to parents dated Friday but posted on the district's website on Saturday, Superintendent Leigh Wall said eight of the dead were students and two were teachers. Authorities had earlier said that nine students and one teacher were killed.
Classmates at the school of some 1460 students described Pagourtzis as a quiet loner who played on the football team. On Friday, they said he wore a trench coat to school on a day when temperatures topped 90 degrees Fahrenheit (32 degrees Celsius).
Texas' governor told reporters that Pagourtzis obtained firearms from his father, who had likely acquired them legally, and also left behind explosive devices.
AP, Reuters
Source: Read Full Article