Houston: President Donald Trump began a trip to Texas on Thursday by meeting privately with families of some of the 10 people killed in a school shooting this month.
A White House spokesman said Trump was "moved" by the May 18 shooting at Santa Fe High School, which left eight students and two substitute teachers dead. A student faces capital murder charges in the attack.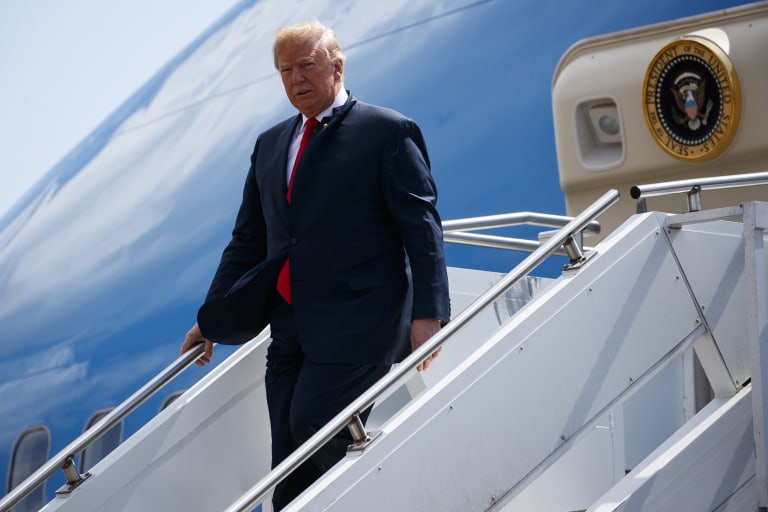 Trump arrives in Houston to meet with victims' families.
"I think he just, you know, he talks to families, he listens and he wants to learn," Shah said.
Texas Gov. Greg Abbott and US Senator Ted Cruz, both Republicans, greeted Trump on the tarmac after he stepped off of Air Force One at a military base in Houston. Abbott joined Trump for the short ride in the presidential limousine to a Coast Guard hangar where the meeting was taking place. Trump was then scheduled to attend several political events in Houston and Dallas.
After 17 teachers and students were killed during a February shooting at a school in Parkland, Florida, Trump said he would work to improve school safety but has not called for new gun control legislation. He created a commission to review ways to make schools safer and named Education Secretary Betsy DeVos to chair it. The panel on Thursday was making its first field trip to a Baltimore-area elementary school.
Trump briefly strayed from gun rights dogma after the Parkland shooting, but quickly back pedalled. His trip to Texas, which embraces its gun-friendly reputation, comes weeks after Trump visited the state to address the annual convention of the National Rifle Association.
Abbott, a Republican and a staunch gun-rights supporter, has called for schools to have more armed personnel and said they should put greater focus on spotting student mental health problems. He's proposed a few small restrictions on guns since the shooting.
Classes at Santa Fe High School resumed on Tuesday for the first time since the shooting.
Investigators say student Dimitrios Pagourtzis, 17, carried out the attack with a shotgun and pistol that belonged to his father.
AP
Source: Read Full Article