West Palm Beach, Florida: US President Donald Trump on Sunday claimed North Korea had agreed to "denuclearisation" before his potential meeting with Kim Jong-un. But that's not the case.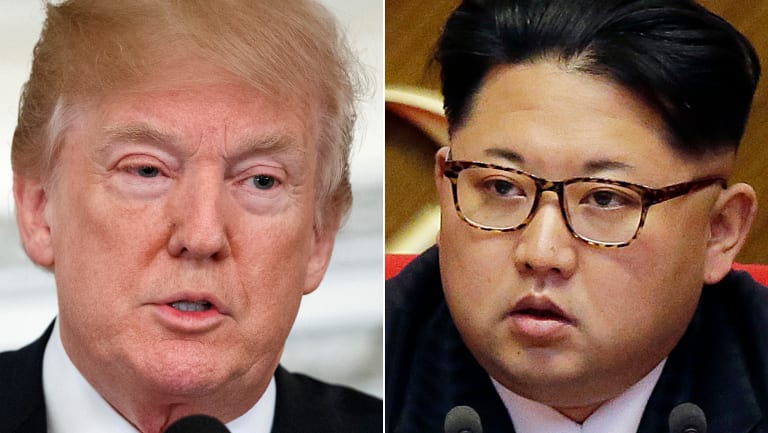 Donald Trump and North Korea's Kim Jong-un are due to meet soon.
Trump nonetheless tweeted on Sunday that the North had "agreed to denuclearisation (so great for World), site closure, & no more testing!"
Being committed to the concept of denuclearisation, however, is not the same as agreeing to it, as Trump claims.
South Korea, which is set to meet with North Korea later this week, has said Kim has expressed genuine interest in dealing away his nuclear weapons. But the North for decades has been pushing a concept of "denuclearisation" that bears no resemblance to the American definition, vowing to pursue nuclear development unless Washington removes its troops from the Korean Peninsula and the nuclear umbrella defending South Korea and Japan.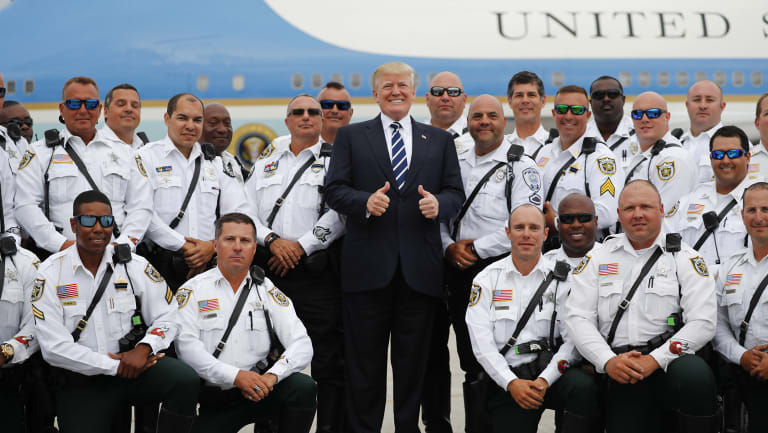 Not quite thumbs up yet: Donald Trump is enthusiastic about North Korea. Here he poses with police officers before boarding Air Force One during his departure from Palm Beach .
South Korean President Moon Jae-in has said Kim isn't asking for the withdrawal of US troops from the Korean Peninsula as a condition for abandoning his nuclear weapons. If true, that would seem to remove a major sticking point to a potential disarmament deal.
But that still doesn't address a North Korean arsenal that now includes purported thermonuclear warheads and developmental ICBMs developed during a decadeslong cycle of crises, stalemates and broken promises.
Later on Sunday night, however, Trump hit back at critics on Twitter suggesting he will still be able to do "a deal" on North Korea.
Trump agreed to meet with Kim after an invitation was delivered by a South Korean delegation that had just returned from Pyongyang.
"I told President Trump that in our meeting, North Korean leader Kim Jong-un said he's committed to denuclearisation," South Korea's national security adviser later told reporters on the White House driveway. "Kim pledged that North Korea will refrain from any further nuclear or missile tests."
A place and date have yet to be set, but Trump's pick to be the next secretary of state, CIA Director Mike Pompeo, travelled to North Korea on the Easter weekend to lay the groundwork for the meeting. Trump has called the talks a success, but it's unclear exactly what was agreed to, if anything, as a condition for the leader-to-leader talks.
"Look, this is a great public relations effort by Kim Jong-un. And I think people recognise that," Republican Senator Bob Corker, said on CNN's State of the Union. But asked whether be believed the North would denuclearise, Corker offered caution.
"Well, I don't think he said anything about denuclearising on the front end necessarily," he said.
He added on ABC's This Week that it was unrealistic to think that "somebody's going to go in and charm" Kim out of keeping his nuclear weapons.
"Is it realistic that he's just willy-nilly going to do that? Absolutely not," Corker said. "But, you know, progress can be made, freezing the program, who knows what he's – what his ambitions are as it relates to South Korea."
Republican Senator Tom Cotton was equally as skeptical on CBS' Face the Nation, arguing that North Korea's recent statements are easily reversible and that no announcement has been made about short or medium-range ballistic missiles that threaten South Korea and Japan.
"Well, I think this announcement on Friday is better than continued testing, but it's not much better than that," he said. "But I do think they show that the President has put Kim Jong-un on the wrong foot for the first time."
Asked what denuclearisation meant to both sides, White House Legislative Director Marc Short said on NBC's Meet the Press that there needs to be a sit-down meeting to make sure everyone's on the same page.
"But I think from our perspective, it means full denuclearisation," he said. "No longer having nuclear weapons that can be used in warfare against any of our allies."
Still, Democratic Senator Dianne Feinstein, told CBS that if the President went through with the meeting, it was "very important" that it "goes well and that there is an ability to put together some terms of an agreement that might exist."
"The question," she said, "is whether it lasts or not. And of course the reputation of the North Koreans has been that they don't necessarily keep their agreements."
AP
Source: Read Full Article