Kallstadt, Germany: Herbert Trump did not want to talk about it. Neither did Ilse Trump. Ursula Trump, who runs the Trump bakery in the next village, eventually relented, palms upturned, and sighed: "You can't choose your relatives, can you?"
The relative in question is Donald Trump, President of the United States, multimillionaire, the most powerful man on the planet and a seventh cousin of Ursula Trump's husband — though in Kallstadt, a sleepy village nestled in the rolling hills of Germany's southwestern wine country, he is simply "Donald".
Ursula Trump, whose husband is seventh cousins with President Donald Trump, outside her bakery in Freinsheim, Germany.
That is not least to avoid confusion with the other Trumps (or "Droomps", as the name is pronounced in Palatinate dialect) listed in a phone book for the area: Beate Trump, a podiatrist in another nearby village, for example, or Justin Trump, a teenager whose friends say he sometimes gets teased for his orange-blond hair.
But the Weisenborns and the Geissels and the Benders and the Freunds in Kallstadt are related to Trump, too. "Practically half the village is," chuckled Kallstadt Mayor Thomas Jaworek before quickly adding: "I'm not."
Both of Trump's paternal grandparents, Friedrich and Elisabeth Trump, were born in Kallstadt, home now to 1200 inhabitants. Growing up directly opposite each other, they were baptised in the village church and married a few kilometres down the road before emigrating to the United States.
By all accounts, Trump shares some key characteristics with his German grandfather, among them an interest in hair: Friedrich worked as a barber in New York before making his fortune running a restaurant and, reportedly, a brothel for gold diggers in the Yukon.
A copy of an early 1900s photo of President Donald Trump's forebears.
Like his grandson, Friedrich was a teetotaller and avoided his military service. Though rather unlike him, he prided himself in paying taxes on the 80,000 marks he possessed in 1904 — the equivalent of a millionaire today — archival records show.
US immigration records list Donald Trump\'s grandfather as Friedr. Trumpf, age 16, and born in Kallstadt, Germany.
In Protestant Kallstadt, where volunteers diligently tend communal flower beds and vintners have run a cooperative for 116 years, Friedrich Trump was a popular guy. Contemporaries described him as "polite," a man who "lived quietly and withdrawn" and had an "unblemished way of life."
Kallstadt's relationship with Donald Trump is more troubled, which may explain why there are no signposts pointing to the ancestral Trump home, a modest property with a sloping roof and a blue gate on one of the main village roads, let alone a plaque.
And even though the local tourism office celebrates the regional delicacy of pig stomach and the fact that the church organ dates to the days of Johann Sebastian Bach, little, aside from the names on a few graves on the village cemetery, hints at Kallstadt's most famous grandson.
An organ that Donald Trump donated money for in 2001, in a church in Kallstadt, Germany.
"We don't use the name in any way in touristic marketing," Jörg Dörr in the tourism office explained. "The topic is too controversial."
Keeping a low profile has not kept the tourists or media away, nor the occasional Trump impersonator wandering up and down the street. On the contrary: "I have people peering through my window or knocking on my door all the time, asking 'Where is the Trump house?'" lamented Manuela Müller-Wohler, who runs a nursery in Trump's grandmother's childhood home.
Sometimes she is so annoyed that she sends them the wrong way (or to the house of a neighbour she does not much like). The other day she wanted to do her weekly shopping, but her driveway was blocked by a tourist bus.
The ancestral Trump home, a modest property with a sloping roof and blue gate on one of the main village roads in Kallstadt.
Her neighbours opposite, who bought Trump's grandfather's house — and, like Müller-Wohler, did not know the history before the purchase — are so exasperated that they have tried (and failed) to sell.
Like the man himself, Trump's ancestral presence is disruptive.
After his election, local hotels received boycott threats and some cancellations from long-time customers. Wine orders were called off. Emails arrived from all corners of Germany, challenging the "Trump village" to take a stance, Jaworek recalled.
Standing behind the counter of the Trump bakery in nearby Freinsheim, Ursula Trump recounted a phone call she received shortly after Trump was elected President.
On the line was a woman imploring her to "please call him and tell him not to build a wall" at the Mexican border, Ursula Trump said.
The famous Trump: the US President.
"I had to break it to her," said Trump, who is 71, nearly the same age as the President, "I don't have his phone number."
When Donald Trump was inaugurated, she baked spongecakes covered in stars and stripes and edible pictures of him. "It was a joke," she said. But neighbours started boycotting her bakery and she did not make the cake again.
If Kallstadt's relationship with Trump is difficult, that appears to go both ways.
"The Germans are bad, very bad," Trump remarked during a meeting with European Union trade negotiators last year, complaining about Germany's chronic trade surplus with the United States.
Trump even used to deny his German ancestry altogether, claiming that he had Swedish roots. (There is a Karlstad in Sweden.)
"Fake news," commented Roland Paul, a local historian who was one of the first to research Trump's German family.
Trump's grandfather left Kallstadt for the United States at age 16 in 1885 and returned in 1902 a rich man, Paul said. He married the girl next door and the couple went back to the United States.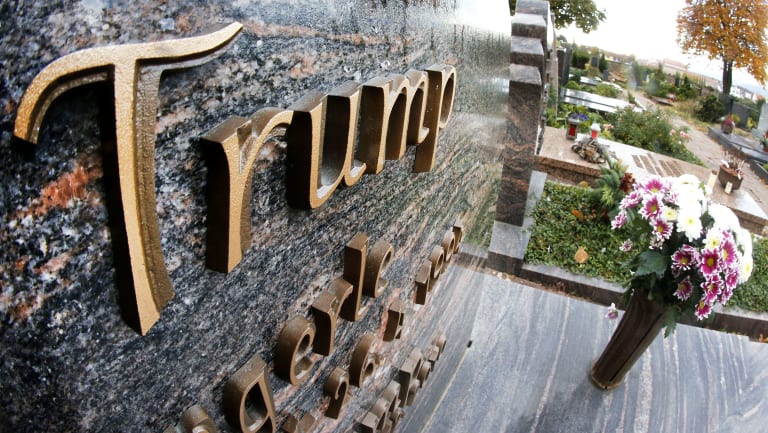 The last name Trump is written on a tombstone on the cemetery in Kallstadt.
But soon Elisabeth Trump became homesick and wanted to come back to Germany. They returned, and her husband wrote a series of letters in 1904 and 1905 requesting the right to regain residency. Because he had not served his military service, the Prince Regent of Bavaria refused.
"We shall be ordered to leave?" Friedrich wrote after being informed that his visa would expire in July 1905. "That is hard, very hard for a family."
For some here, there is irony in that history.
"The heartlessness of the Bavarian bureaucracy towards Mr Trump's grandfather is reminiscent of the heartlessness of the President towards illegal immigrants in America," said Walter Rummel, director of the state archive in nearby Speyer, where the unsuccessful immigration file of Friedrich Trump is kept.
"A loser file," Rummel said sarcastically.
For the past seven decades, contact with the American Trumps has been sporadic.
The Trump Organisation donated $US5000 ($6810) to help restore the church facade in 2001; Trump himself signed the cheque, said the priest at the church, Oliver Herzog.
Trump's grandmother visited in the 1920s, said Paul, the local historian. The only other American Trump who appears to have come through Kallstadt is John Walter, a first cousin of the President and family historian.
Another Trump relative is Steffen Geissel, who does quality control for local wines. His great-grandmother was a sister of Trump's grandfather. His grandmother Louise flew to the United States to attend the 80th birthday of Trump's father, Fred, when Geissel was a boy, he said. She brought him back a signed photograph of Trump.
"Best wishes to Steffen," it reads. All of his cousins got one, too.
Since Trump's election, Steffen said, "everyone has been trying to work out how closely related they are to Trump."
This can sometimes lead to curious exchanges. Bernd Weisenborn, whose great-grandmother Barbara was also a sister of Friedrich Trump, was serving a local customer in his restaurant shortly after Trump quit the Paris climate accord.
"Look what your relative is up to again," the customer said.
"He is your relative, too!" Weisenborn shot back.
A rumoured visit
Now Kallstadt is alive with rumours that the President himself may visit.
In January, the mayor met with the US general consul, who wanted to see the Trump house and, over pig stomach and grape juice, announced that he would send the ambassador to visit next.
And when Chancellor Angela Merkel visited Trump in the White House in April, she gave him a map of the Palatinate region where Kallstadt is.
All recent American presidents have visited the Ramstein air base, the headquarters for US troops in Europe, a mere 45-minute drive away, Jaworek pointed out.
And Trump is due in Europe next week for a Nato summit, a vsit to Britain and a planned meeting with Russian President Vladimir Putin in Helsinki.
But if the President comes, he might be the only Trump around.
"I think I'm going to go on holiday," Ursula Trump said.
New York Times
Source: Read Full Article