Washington: When Donald Trump won the presidency, his long-time lawyer Michael Cohen seemed in position for a coveted spot in the senior ranks of the White House.
At one point, Cohen topped a list of five candidates for White House counsel, according to documents reviewed by The Washington Post. He suggested to some Trump allies that he might make a good chief of staff.
But when Trump built his West Wing team, the brash New York lawyer did not make the cut.
Michael Cohen, centre, President Donald Trump's personal lawyer, leaves federal court in New York last week.
Some in Trump's inner circle worried about blowback from Cohen's associations and unorthodox tactics in fixing the New York developer's problems, Trump associates said.
Among those opposed, the associates said, were Trump's daughter Ivanka and son-in-law, Jared Kushner. For his part, Cohen had warned Trump against giving Ivanka Trump and Kushner White House jobs, saying the President would be hammered by complaints of nepotism, according to two people familiar with the matter.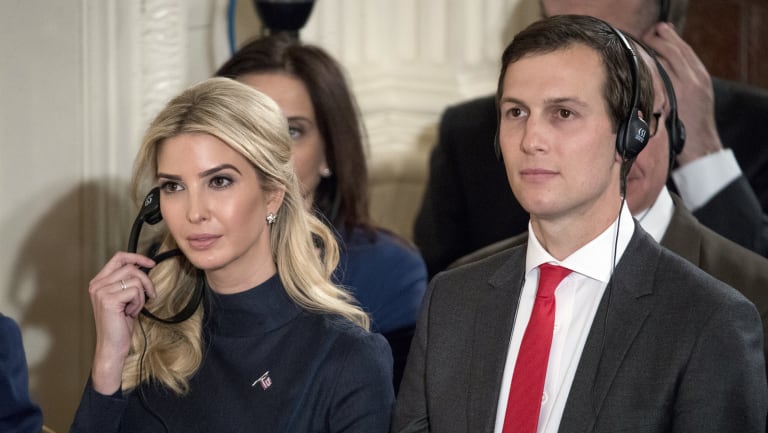 Robert Mueller's investigation is said to also be looking into the financial dealings of Donald Trump\'s son-in-law, Jared Kushner, pictured here with his wife, Ivanka Trump.
The rebuff wounded Cohen, according to people familiar with his views, although he continued to publicly express admiration for his boss.
"Here was a guy who dedicated his life to Trump, who was sure he would be a top pick," said a Trump associate who spoke on the condition of anonymity to describe conversations that he witnessed. But, in the end, "he was iced out".
Now, the bond between the President and his self-proclaimed fixer is under much more punishing pressure: a wide-ranging criminal investigation into Cohen's business dealings and actions he took to quash negative stories about Trump during the 2016 campaign.
The outcome – and Cohen's response to the investigation – could determine the fate of both men, who have relied heavily on each other for years.
Both men have sent public signals in recent days that their relationship remains steady, with Trump describing a federal raid on Cohen's offices and home as a "disgrace" and calling his lawyer to check on him.
But associates of Trump and Cohen say that Cohen, with his deep knowledge of Trump's personal and financial life, could seek to cut a deal with prosecutors at a moment when Trump's business dealings are facing scrutiny related to the separate inquiry by Special Counsel Robert Mueller into Russian interference in the 2016 election.
Trump's former attorney Jay Goldberg, who has talked about the matter with the President, said that if Cohen faced jail time, he would be under extraordinary pressure from his family "to say what he believes the government wants to hear."
In tweets on the weekend, Trump rejected speculation that Cohen would turn against him. Citing a New York Times report on the issue, he wrote that he "always liked & respected" Cohen, adding: "Most people will flip if the Government lets them out of trouble, even if it means lying or making up stories. Sorry, I don't see Michael doing that despite the horrible Witch Hunt and the dishonest media!"
Cohen declined to comment for this story, as did the White House.
Growing up on Long Island
Cohen hardly seemed headed for life as a tough-talking "fixer" growing up in an upper-middle-class town on Long Island. He attended a yeshiva day school, and then elite Lawrence Woodmere Academy. His father, a physician, was a Polish-born Holocaust survivor; his mother was a nurse. Cohen described himself as an "agnostic Jew".
As a teenager in the 1980s, he dated Ukrainian emigre Laura Shusterman. Cohen often visited her home in Queens, and he also visited friends in Brooklyn, where Soviet refugees had settled in Brighton Beach and Sheepshead Bay.
"He grew up in a homogenous, wealthy enclave, and he came to a radically different place, Brighton Beach, on the border of Coney Island, which was filled with immigrants and minorities," said a long-time Cohen friend who spoke on the condition of anonymity to describe a private relationship.
The Soviet emigres were "tough kids", and there was a "lot of friction between the Italian and Russian gangs," the friend said. Cohen emulated them. He later learnt to speak Russian "like a four-year-old," Cohen told The Post in an interview last year.
Laura's father, Fima Shusterman, pleaded guilty in 1993 to fraud charges. Cohen married Laura the following year. He befriended a number of emigres from Russia and Ukraine. Among them was Russian migrant Felix Sater, who years later would work with both Trump and Cohen on efforts to develop Trump-branded real estate in Russia and elsewhere.
Cohen was drawn to politics, first as a Democrat volunteering for the 1988 presidential campaign of Michael Dukakis and then as a Republican, losing a 2003 bid for city council.
In a candidate questionnaire for the New York race, Cohen touted his appointment by Republican Governor George Pataki to a transit board, "where I serve as a public watchdog against corruption in government."
As for his other New York City accomplishments, Cohen wrote that, among his achievements, he had "hectored" a local coffee shop into better managing its trash.
Making money was another Cohen goal. His role model was Trump, whose first book, The Art of the Deal, had inspired him. "I've been admiring Donald Trump since I was in high school," Cohen told ABC News.
Taxi cabs drive past Tiffany's on 5th Avenue in New York.
He invested in the taxi business, for a time managing a fleet of 200 cabs with Simon Garber, a Ukrainian immigrant who also operates a fleet of taxis in Moscow. By 2012, when his partnership with Garber ended, Cohen was earning $US90,000 ($117,000) a month from the taxi operation, according to a court filing. He told The Post last year that he never invested in Garber's Russian business.
Before going to work for Trump, he also invested $US1.5 million in a Florida casino boat with two Ukrainian emigres, but the project flopped. "We lost the boat into a foreclosure," Cohen said last year. "And I wasn't happy."
His investments in Trump properties proved more secure. Cohen bought his first property in a Trump building – Trump World Tower near the United Nations – in April 2001, paying $US1 million for a unit that sold 16 years later for $US5 million. His in-laws had purchased a separate unit. Trump himself signed Cohen's sales document.
In 2005, Cohen purchased his most expensive Trump property, in Trump Park Avenue, a former hotel that Trump turned into some of Manhattan's most luxurious apartments. Its owners included Trump's daughter Ivanka. Cohen paid $US5 million for unit 10A. Again, Donald Trump signed the sales document.
The lobby of Trump Tower in New York.
Cohen met Trump in the late 1990s at a political fundraiser for a local Republican whom the developer hosted in Trump Tower. Cohen performed some legal work for Trump in the early 2000s, according to a person familiar with their relationship.
It was a real estate brawl that cemented their bond.
In 2006, Cohen took Trump's side in a dispute at Trump World Tower, where some condominium owners wanted to oust Trump from managing the property, according to people familiar with the dispute. Cohen, as a unit owner, vocally sided with Trump, who prevailed.
"When Michael won that fight, that's when Trump gained a lot of respect for him," said Cohen's lawyer and friend David Schwartz.
That led to an extraordinary leap in Cohen's career. Trump hired him as special counsel and executive vice president of the Trump Organisation, a privately owned family company that had a collection of hotels, condos, casinos and other properties.
Goldberg, the attorney who was working for Trump at the time, said Cohen stepped into the void left by the 1986 death of Trump's long-time lawyer Roy Cohn, the former chief counsel to Senator Joseph McCarthy, who had told Trump to counterpunch 100 times harder against whoever tried to hit him.
It was a coup for Cohen, Goldberg said, because at the time, "everybody in the world was trying to get Trump as a client."
In the following decade, Cohen handled all manner of problems for his boss that could not be solved through traditional channels. Cohen, according to a former associate, employed Trump's tactics of threats and lawsuits, relying on tough-guy language.
Describing his methods to ABC News, he said that "if somebody does something Mr. Trump doesn't like, I do everything in my power to resolve it to Mr. Trump's benefit. If you do something wrong, I'm going to come at you, grab you by the neck, and I'm not going to let you go until I'm finished."
Cohen also did side deals with Trump. One involved a mixed martial arts fight company called Affliction Entertainment that planned to host pay-per-view bouts in the United States and a reality television show to be filmed in Russia, home to the most famous fighters in the burgeoning sport. The business faltered after Affliction hosted just a few matches.
Cohen, meanwhile, expanded his real estate investments beyond Trump properties. Learning skills from the boss, he invested in New York City real estate and made substantial profits. Starting in 2011, he bought four New York City buildings and sold them for $US32 million. One property, a modest apartment building at 172 Rivington St, cost him $US2 million in 2011. Three years later, he sold it for $US10 million to a family real estate fund represented by Brooklyn lawyer Herbert Chaves, who did not respond to a request for comment. Cohen used the proceeds in 2015 to purchase an interest in a $US58 million, seven-storey apartment building on the Upper East Side.
Cohen's wealth is not publicly disclosed, but he has luxurious tastes. He paid $US150,000 for a one-month vacation rental in the Hamptons but later sued the landlord, complaining about the small beds and electrical problems in what he called a "nightmare". The 2014 suit was settled confidentially.
Part of Cohen's role at the Trump Organisation was negotiating licensing deals, selling Trump's name to developers interested in building Trump Towers abroad. He was the Trump Organisation's main contact for a project in Batumi, a resort city in the former Soviet republic of Georgia. He also told The Post he once travelled to Kazakhstan to try to land a similar deal there.
Ultimately, neither project was constructed, but Trump did make money from preliminary licensing deals in a development in Georgia.
Some of Cohen's work on international deals has drawn the attention of Mueller and congressional committees examining possible collusion between the Trump presidential campaign and Russia.
In late 2015, as the Trump campaign was ascendant, Cohen received an email from his old Brighton Beach friend Felix Sater. Sater had worked with Trump on a number of real estate ventures, including Trump Soho condominium. Sater in 1998 pleaded guilty to a role in a Mafia-linked stock-fraud case and later served as an FBI informant, a role that led a federal official to certify that he had provided "information crucial to national security".
Sater wrote to Cohen that he was pursuing a deal for a Trump Tower in Moscow. Moreover, Sater wrote, Russian President Vladimir Putin could help Trump.
"I will get Putin on this program and we will get Donald elected," Sater wrote to Cohen, according to an email first reported by the New York Times.
In January 2016, Cohen wrote to Putin's spokesman seeking help on the Trump Tower project. The email went to a general press email address, and the Moscow project did not go forward.
Cohen told congressional investigators in a statement that "this was solely a real estate deal and nothing more. I was doing my job."
The Moscow proposal came under scrutiny when Mueller and congressional committees began examining Trump's Russia contacts. Questions also were raised about Cohen's role in the "Steele dossier," a report put together by a former British spy that included the unsubstantiated allegation that Cohen had met with Russians in Prague to discuss the hacking of Democrats' computers. Cohen has said consistently that no such meeting occurred.
Believed in Trump for president
Cohen for years had pushed Trump to seek the presidency. In 2011, Cohen created a website, shouldtrumprun.com, and travelled on Trump's plane to the first-caucus state of Iowa to promote his potential candidacy. Trump decided not to run then, but Cohen kept pushing the idea.
Michael Caputo, a former Trump political adviser, said that Cohen was "an ever-present force" in Trump's activities, including a prospective run for New York governor, the possible purchase of the Buffalo Bills football team, and a presidential bid.
Cohen also became Trump's attack dog, particularly with journalists. Most famously, he vowed to a Daily Beast reporter in 2015 to "mess your life up" if a story was published about Ivana Trump's statement in a deposition that her husband had "raped" her. The story included Cohen's threats and his incorrect assertion that a person cannot be raped by a spouse. He later apologised, and Ivana Trump, Donald Trump's first wife, backed down from the allegation.
Cohen's tough talk and willingness to handle difficult problems for Trump became especially useful as Trump launched his bid for the 2016 Republican presidential nomination.
Cohen said his job was to protect his boss "from all those who seek to malign him." And as Trump was battling Democratic candidate Hillary Clinton for the White House, an issue surfaced that called for Cohen's tough negotiating skills.
In the campaign's final weeks, Cohen paid $US130,000 to adult-film star Stormy Daniels in exchange for her silence about an alleged sexual encounter with Trump a decade earlier.
Cohen has said that the Trump campaign and the Trump Organisation were not involved with the payment, which he said he made by drawing money from a home equity credit line secured by his Trump Park Avenue condo.
In the view of several Cohen associates, the Daniels payment was an ill-conceived Cohen effort to curry Trump's favour at a time when the lawyer's rivals were shutting him out. The President has said he was unaware of the payment.
Federal investigators are scrutinising the payment and any involvement Cohen may have had with another Trump accuser, former Playboy model Karen McDougal. She sold the story of her alleged affair with Trump for $US150,000 to AMI, the company that publishes the National Enquirer.
AMI did not publish the McDougal story.
After leaving the Trump Organisation in early 2017, Cohen became Trump's personal attorney, and he secured a contract with the New York law office of Squire Patton Boggs, which agreed to pay him $US500,000 annually to help the firm land new business, court documents show. The firm ended its association with Cohen this northern spring, according to filings.
In the past year, Cohen has had just two other legal clients besides the President, his attorney told a federal judge last week: Fox News host Sean Hannity, who said he consulted Cohen on unspecified real estate matters, and Elliott Broidy, a major Trump supporter who served with Cohen as a deputy finance chairman of the Republican National Committee. Broidy used Cohen to arrange a $US1.6 million payment to a Playboy playmate with whom Broidy had an affair.
Cohen also had seven unnamed business clients to whom he did not provide legal advice, according to court filings.
Meanwhile, the value of Cohen's taxi medallions, required to operate cabs in New York City, has plummeted – from the 2014 peak of $US1.2 million per medallion to $US300,000 today – amid the rise of ride-hailing companies. Cohen owed $US56,000 in back taxes for his New York taxi business, records show.
How Cohen will fare under the financial and legal strain of the investigation remains an open question.
"I will always protect our @POTUS," he tweeted on April 8.
The next morning, the FBI raided his office and residences.
Washington Post
Source: Read Full Article