Los Angeles: Before US President Donald Trump met Britain's Queen Elizabeth II on Friday, British anti-Trump protesters warned it would not turn out well. Now that the meeting is over, they're counting the ways Trump "insulted" their beloved monarch.
And of course the discussion is taking place on Trump's favourite platform – Twitter.
Demonstrators march along Regent Street during a protest against U.S. President Donald Trump in central London on Friday.
It's not enough that massive demonstrations took place in London and elsewhere, complete with a giant "Trump baby" blimp balloon mocking the president from the skies.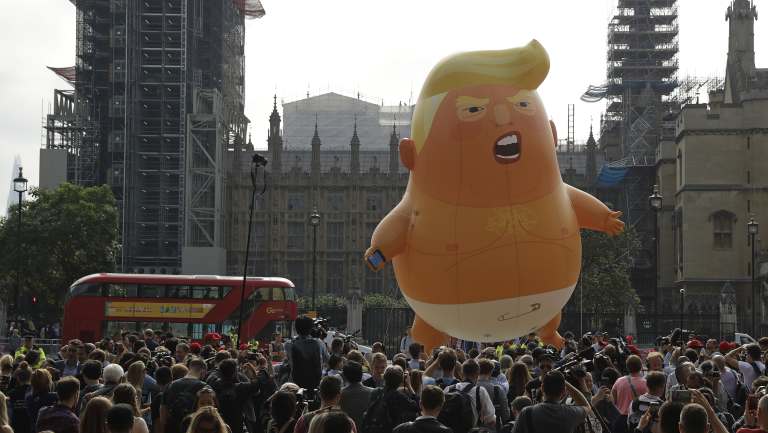 A six-meter high baby blimp of Donald Trump is flown as a protest against his visit, in Parliament Square backdropped by the scaffolded Houses of Parliament and Big Ben in London on Friday.
Trump tormentors – even self-described "non-royalists" – took to Twitter to acidly note moments during the tea-time meeting at Windsor Castle when Trump did something that could be interpreted as a faux pas.
None of these moments were especially horrifying: he didn't grab her in a bear hug or trash her in a tweet as "fake news", for instance.
But he did keep her waiting for more than 10 minutes (which may not have been his fault), shook her hand instead of bowing, turned his back on her for a few seconds, and he left his jacket open and flapping and his too-long tie trailing.
Many people seized on the TV footage of the pair preparing to review scarlet-clad troops assembled in the Quadrangle of Windsor Castle. He turns his back on her, walks ahead and looks the other way as the diminutive monarch moves from one side to another behind him.
The Queen seems to be momentarily upstaged by Donald Trump in the Quadrangle while inspecting a Guard of Honour on Friday.
Described as "cringeworthy" and "uncomfortable" viewing on social media, footage of their walk together came under intense scrutiny. While touring the castle grounds, Trump maintained a relatively brisk walk, which saw the queen, at times, fall behind him as he led the way.
Brits instantly became defensive of the 92-year-old monarch. "Did Donald Trump just WALK IN FRONT OF THE QUEEN?!?!?!" asked one clearly offended user. "I detested how Trump dared walk in front of the Queen today," wrote another.
At one point, the Queen can be seen gesturing to him, although it's unclear what exactly she may have been referring to. On social media, some speculated that Trump was being instructed on which side of her he should walk.
If that was the case, the President didn't grasp the message.
Replay
Not off-with-his-head sins, to be sure, but enough to gin up the already peeved anti-Trump crowd in Britain.
"I'm not a monarchist by any stretch of the imagination but this is such an insult to Britain. Absolutely clueless, classless, thoughtless, lacking in any dignity and without a shred of respect," sputtered Matthew McGregor.
Trump has been called out on his un-presidential style mistakes before, including at his inauguration when his red tie dropped below the belt line and he left his coat unbuttoned.
It is considered impolite to turn one's back to the monarch or walk in front of her. For the 70 years they have been married, her husband, Prince Philip, 97, has always walked a few paces behind her in public.
Even prime ministers, after their weekly audience with the monarch, back out of the room when leaving her presence. It's just the expected thing to do.
Nobody told Trump, or he forgot.
"Very few people are this oblivious to the Actual Queen (images from @itvnews)," British journalist Janine Gibson tweeted in disgust. Gibson is a former top editor of The Guardian, Britain's left-leaning, republican leaning newspaper.
"Trump has also turned his back on the Queen. I have always believed this to be a mortal insult to a monarch. #offwithhishead #pulledapartbyhorses," tweeted Ian Beck, perhaps tongue in cheek.
The President and First Lady Melania Trump were late getting to the castle (or the queen was early), forcing her to wait with some of her palace courtiers under a covered dais in temperatures nearing 26 degrees. Wearing gloves. She kept checking her watch.
But presidents are captives of whoever is doing the driving or the flying so it may not have been his fault. Royal commentator Victoria Arbiter, who works for CNN, Trump's least favourite news network, insisted he was on time.
"For all those asking, no, Trump did not keep the Queen waiting. He was due at 5pm and the motorcade drove into the Quadrangle at 4.59pm," Arbiter noted.
Still, critics fumed.
Queen Elizabeth II, left, smiles as she greets President Donald Trump and First Lady Melania Trump at Windsor Castle.
Then there was the whole bowing and curtsying business. British men who follow tradition bow when meeting the monarch and women curtsy, but they don't have to anymore and Americans certainly don't have to (1776 and all that).
You're supposed to shake her gloved hand when she offers it and that's fine (as long as you don't grip hard enough to leave white marks the way French President Emanuel Macron and Trump have done to each other.)
"Not a royalist but didn't like the way Trump was late for the Queen didn't bow & walked in front of her. Shows how disrespectful to women he is if he is like that to the most famous woman in the world!," tweeted a user named Bea.
A user called Page Nine, a self-described anti-royalist, was nevertheless annoyed enough to post a patriotic pastiche of what looked like the ancient heroic British queen Boudica, her shield covered in a Union Jack, a British lion at her side.
"I'm not a great Royalist – but that is incredible! Trump was in that moment oblivious of the Queen, who in some ways might reasonably be regarded as one of the World's greatest leaders? Also given all the formality he didn't button his jacket? Maybe a bit odd?," puzzled Adrian Ludlam.
"Trump is rude & ignorant to everyone else. Including being extremely disrespectful to Prime Minister May & Queen Elizabeth when he was a Guest! He has earned every insult, every hate, every protest. Smarten up, eh?," tweeted Hope Aldridge.
"Who does Trump thinks he is. He comes over to our country on a supposedly working visit berates our Prime Minister on Brexit then back tracks accusing our papers of spreading fake news. Then to add insult to injury he keeps the Queen waiting 15 mins, doesn't bow just shakes her," tweeted Melanie Cassandra Burstall.
The Queen, who is rarely seen embracing others, is not known for public displays of affection. She surprised many  in 2012 when she was seen placing an arm affectionately around Michelle Obama. Obama reciprocated and the two stood arm in arm for a short while.
At the time, author Charles Mosley described the interaction as "astounding," and told CNN: "The big deal is that the Queen is an almost sacred person. In monarchies there's a sacredness that surrounds the sovereign, which is perhaps not known in republics."
Back in 1992, then-Australian prime minister Paul Keating was heavily criticised for placing his hand on the monarch's lower back. British newspapers at the time referred to him as the "Lizard of Oz" as a result of his uncouth behaviour.
The Queen wore all blue for Friday's meeting with the Trumps and seemed to be in good spirits – despite the presidential eclipse.
USA Today, Washington Post
Source: Read Full Article