Moscow: When the World Cup started in Russia last week, Oleg Sentsov was on day 32 of his hunger strike in a northern Siberian penal colony. An acclaimed Ukrainian film writer and director, Sentsov is serving 20 years in Russia, accused of plotting terrorist attacks in the Crimea.
Sentsov says he's innocent and that the Kremlin is punishing him for peacefully protesting against Russia's 2014 annexation of the Crimea, where he was born. On May 14, Sentsov started the hunger strike to prod Russia to release 64 Ukrainian political prisoners from Russian jails, including himself.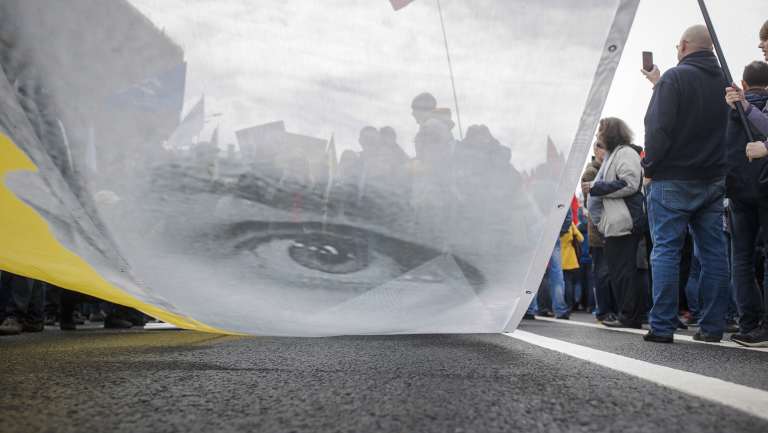 Protesters hold a poster depicting Oleg Sentsov during an opposition rally organised by 'Free Russia' in Moscow.
Wednesday was his 38th day without solid food, and Sentsov's deteriorating health is drawing unwanted international attention on to Russia's human rights record when the Kremlin would rather the world focus on what so far has been a successful start of soccer's World Cup.
In the past month, the US State Department and the European Parliament have issued statements condemning Sentsov's imprisonment.
On Monday the US called for the immediate release of what it identified as 150 religious or political prisoners "unjustly" detained in Russian jails and for Moscow to stop using its legal system "to suppress dissent and peaceful religious practice".
The State Department said it was especially concerned about the wellbeing of 41-year-old Sentsov and three other Ukrainians on a hunger strike.
Sentsov's lawyer Dmitry Dinze says his client has lost close to 8 kilogams since he began refusing food last month. Sentsov, who had been drinking water, has agreed to be put on a glucose drip after doctors warned that the effects of his hunger strike were approaching irreversible stages.
Protesters hold a poster with the image of Oleg Sentsov in Moscow.
In addition to Sentsov, dozens of Ukrainian citizens have been sentenced to Russian prisons for what their defenders have said is dissent against President Vladimir Putin's actions in the Crimea and Kremlin support for separatist rebels in eastern Ukraine.
US authorities have seen a threefold increase since 2014 of "unjustified" detentions of Ukrainians and Russians for peaceful dissent or religious practice, a US State Department official said in a briefing on Monday. Those detained include Muslims who follow a Turkish cleric, Jehovah's Witnesses, and members of the Church of Scientology, he said.
The official denied that the announcement was timed to coincide with the World Cup matches, which are being played in stadiums across Russia.
The US and its allies have already placed economic sanctions on several high-ranking Russian authorities and oligarchs over their alleged ties to human rights abuse and in retaliation for the Kremlin's annexation of the Crimea, which most of the Western world do not recognise, employing the most common punitive action available.
Oleg Sentsov stands behind bars as his verdict is read at a court in Rostov-on-Don, Russia, in 2015.
This week, several leading names in Russia's world of artists, directors and actors issued an open letter on the Echo of Moscow radio station, calling for Putin to pardon Sentsov.
"Dear Mr Putin! A man is dying. We don't think his guilt is so great that he should have been given 20 years. He's sincere and true in his convictions, and his indefinite hunger strike demonstrates this. It's now necessary to show mercy in order to spare a man's life," the letter said.
Putin has said the Kremlin would not interfere in the case. He has dismissed suggestions of exchanging Sentsov for a Russian journalist held in Ukraine.
Sentsov "is being held because of terrorism charges," the President said this month in a live, public call-in show when asked whether the Kremlin was considering the option.
Russian President Vladimir Putin.
Kirill Vyshinsky, a Russian journalist with the Kremlin-owned news agency RIA Novosti, is on trial in Ukraine on charges of treason.
"The cases are not comparable," Putin said.
On Tuesday, the Kremlin reiterated its stance on pardoning Sentsov.
"Public resonance in no way can affect, of course, the decision of the court of the Russian Federation," Kremlin spokesman Dmitry Peskov said in a conference call with journalists. Russia has a procedure for applying for a pardon, and Sentsov must initiate that himself, Peskov said.
Sentsov was active in anti-government protests in Ukraine in the winter of 2013 to 2014, which culminated in the toppling of pro-Moscow president, Viktor Yanukovich.
When Russian troops entered the Crimea in 2014, Sentsov was among many volunteers who brought food and supplies to Ukrainian soldiers blocking the border between Ukraine and the Russian-occupied Crimea.
During that time, Sentsov and other pro-Ukraine activists staged protests and demonstrations against Russia's annexation of the peninsula.
Russia's security services arrested Sentsov in Simferopol, the capital of Crimea, in 2014 on charges that he was planning to blow up public monuments and set fire to Russian political party offices there. A Russian court sentenced him in 2015 on terrorism charges as a Russian citizen, because Moscow considered Crimea to be part of Russia. Ukraine, however, still considers Sentsov to be a Ukrainian citizen.
At the beginning of his trial, Sentsov, who had made a name for himself in independent film festivals for movies such as Gamer,  said he was willing to "suffer and die" for his beliefs.
"I'm not a loser and do not beg for mercy," Sentsov wrote in a letter recently to Zoya Svetova, a Russian journalist and human rights activist. Svetova has corresponded with Sentsov regularly since his imprisonment, publishing some of his notes on the website of Echo of Moscow.
"I was well aware of what was going on, for which I found myself here, and I do not regret anything," he wrote to Svetova last week.
Hand made wooden balls depicting Russian President Vladimir Putin and soccer star Cristiano Ronaldo are for sale as souvenirs in Saransk, Russia.
Svetova said that although Putin probably is not interested in swapping Sentsov for the imprisoned Russian journalist Vyshinsky,  international public pressure might compel him to approve a prisoner exchange.
As for how far Sentsov could take his hunger strike, Svetova said: "I think that nobody would venture to talk him out of the hunger strike, knowing his resolute nature and tough spirit. I am very afraid for him."
LA Times
Source: Read Full Article