US Defence Secretary Jim Mattis has blasted China for "intimidation and coercion" in the South China Sea and strongly endorsed the "Quad" security grouping of the US, Australia, India and Japan as a way to bolster peace and openness in the Indo-Pacific.
Speaking at an international security forum in Singapore, Mr Mattis rebuked China's military build-up in the disputed waters, warning of increasingly severe consequences should the rising Asian power fail to work collaboratively with neighbouring countries.
US Defence Secretary Jim Mattis addresses the Shangri-La Dialogue on Saturday.
The retired general told the Shangri-La dialogue the recent decision to eject China from the Rim of the Pacific multilateral naval exercise was an initial and "relatively small" consequence of Beijing's escalating activities in the South China Sea, which he said were a breach of a 2015 commitment by Chinese President Xi Jinping not to militarise island features in the territory.
"China's militarisation of artificial features in the South China Sea includes the deployment of anti-ship missiles, surface-to-air missiles, electronic jammers and, more recently, the landing of bomber aircraft at Woody Island," Mr Mattis said in his address.
"Despite China's claims to the contrary, the placement of these weapons systems is tied directly to military use for the purposes of intimidation and coercion."
Australian Defence Minister Marise Payne told the dialogue: "Nations must also have the right to be free from coercion or criticism when they lawfully and reasonably communicate objections about the behaviour of other nations. This extends to the reasonable expectation that rules, not the exercise of power, govern our actions."
In addition to the thinly veiled reference to China's actions, Senator Payne spruiked ongoing American engagement in the region and called on nations involved in the South China Sea dispute to comply with international law.
She said Australia welcomed a prosperous China "constructively engaged in global affairs" and the country was needed to address North Korea and climate change.
In an appearance largely focused on mapping out the Trump administration's intentions in the Indo-Pacific, Mr Mattis backed the Quadrilateral security dialogue that takes in the US, Australia, India and Japan – regarded as an initiative aimed at balancing China.
He said the countries shared democratic values and the group was a mechanism focused on maintaining stability, open navigation and peaceful dispute resolution.
"And I think it's absolutely an idea fit for its time and I support it 100 per cent," he said.
Mr Mattis also warned of "much larger consequences in the future when nations lose the rapport of their neighbours", including through piling "mountainous debts" on other countries, a reference to China's growth in development loans, particularly under Mr Xi's much-hyped Belt and Road Initiative.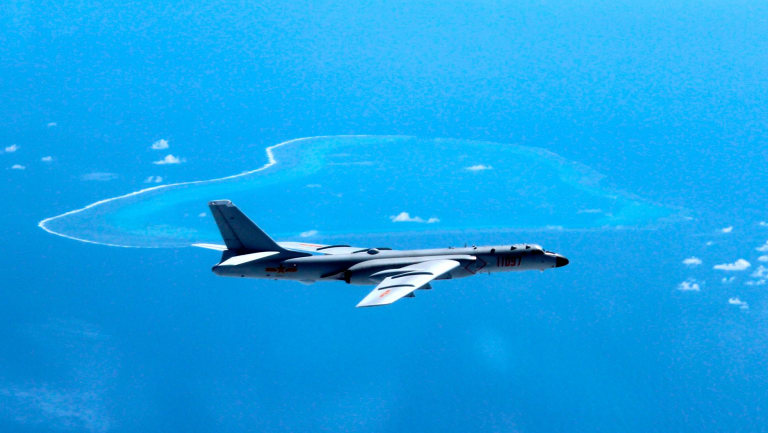 A Chinese H-6K bomber patrols the islands and reefs in the South China Sea.
"There are consequences that will come home to roost, so to speak, with China if they do not find a way to work more collaboratively with all of the nations who have interests," Mr Mattis said.
"Certainly nations can actually lose their freedom simply by taking what appears to be a hand-up when in fact its a hand-out that makes them dependant," he added later.
Asked about President Donald Trump's international battles over trade policy, which risk alienating close allies, Mr Mattis said relations with other countries were strong but conceded there had been some "unusual approaches".
Source: Read Full Article