Every Saturday for the past year, DJ and I have spent our mornings together. "I look forward to it," he says. "It's the highlight of my week."
DJ, as he prefers to be called, is larger than life. He's a white-haired and white-bearded septuagenarian living in Echo Park who was, once upon a time, a theater actor and director, a poet and writer, and a music critic and music buyer. Where DJ is an artsy elderly eccentric, I am a young weirdo: a 30-something with neon hair in short shorts who likes painting his nails and experimenting with shapely earrings. We may appear like the oddest of couples when I take him grocery shopping, but a close eye would discern kindred spirits, simply separated by a few decades.
DJ and I have a unique relationship. We spend our handful of hours together chatting about life, as he recounts stories of his youth in Northern California and explains whatever malady of the week has him down. Then there's the subject of young men and young women, specifically those he ran into during the week — the types of people he imagines he could have spent a life with if he were born in a different era.
"I'm still 23 in my head," DJ says. "I always look for mental stimulation in the sense that I can learn something or share something with someone or we have a mutual enthusiasm." That's what he likes about me, he says: that I am open and receptive, and ready to listen and talk back – and I help him combat creeping loneliness. That makes DJ most comfortable, as if he has switched into another language to tell me something no one else in the world could understand.
For me, I love that being in DJ's presence comes with constant learning, experiencing, as if I'm a sort of intellectual apprentice. I also love learning about sexual otherness in mid-century America which, truly, is our deepest bond: DJ is a lifelong, avowed bisexual and I am a very outwardly gay, man-ish individual who has lived a queer life for literally a seventh of DJ's. When he speaks about a tiny crush or a former flame, it's less of a recounting with me and more of a a sneezing out of information that seems to have been stored away — something that would be misunderstood by any case worker or doctor he encountered outside of our visits.
DJ often looks at his own past relationships in comparison to my same-sex partnered gay world as a window into an imagined other life. "You've got things," he says, things like a relationship that make him think it "would have been nice" if he had that for himself. "Then I have to swat myself in the rear and say, well, honey, if you had perhaps behaved better…" he trails off with a laugh.
Our relationship is volunteer happenstance, a byproduct of two people looking for each other, only to find each other in the most unlikely of ways. As strange as it seems, I spent years searching and searching for ways to connect with queer elders as a young queer person. I found dead ends with local LA organizations that, it turns out, don't have any easy paths to connect the two groups. For a long time, and to this day, I thought about starting my own organization to fill this gap — something I'd love to call "Daddy's Boys" — a volunteer organization to activate both young and old queers in a tongue-in-cheek way. Sadly, time is too luxurious and too many hashtag millennial financial stresses prevent me from pursuing such a dream. Perhaps in my other life.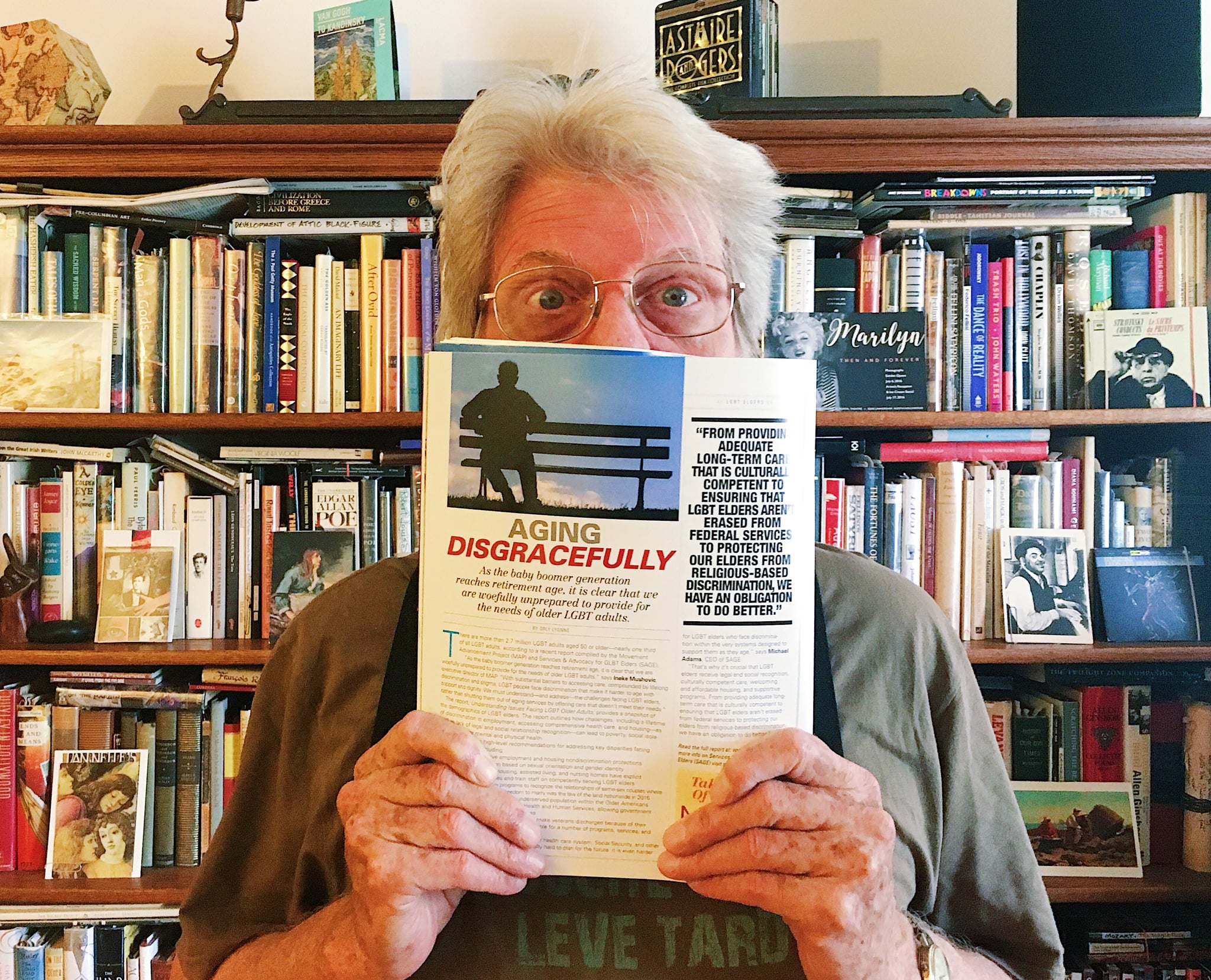 DJ, at home. Photo courtesy the author.
In the meantime, I found a dedicated senior care organization that, through queer magic, connected me with DJ. DJ was looking for someone to think with; an intellectual and energetic equal. He was looking for companionship to help quell loneliness, but, he's since told me, he didn't want someone who was "bedraggled of the mind" or "whose energy level is blotto." My volunteer coordinator didn't know DJ was queer, but it was quickly revealed to me and, truly, was one of the best surprises of my adult life. His knowledge, his history, his life fills so many voids and wants as far as connecting with a different era of queerness. I see myself in LGBTQ+ elders like DJ and have found it absolutely invaluable to learn the importance of safe sex and the need to embrace your single queer friends as middle age approaches from someone who has already lived that life. But the biggest difference between DJ and I is that he does have a son while I do not plan on having any children.
We millennials are in high time for parenting. We live in an advanced world where queer adults like myself can become parents myriad ways. Sometimes I think about fatherhood, but always end up more curious about those who have come before me — my queer elders — who didn't have the parenting options that me and my peers have. What is their life like? What are their needs? How can I adopt them? That's what I'm interested and excited by. I could be a parent, but my boyfriend and I have have chosen not to since, really, it's hard enough for us hashtag millennials to make life work the way we want. (And, coupled with some major world problems, we feel the pressure to just survive. We're seemingly not alone given the low birth rates.)
It's scary though, considering my golden, idle years without children of my own, without a person to lean on when I cannot figure out technology or literally cannot stand. I would be lying if I said I didn't think about that constantly, in fear not only of the loneliness of aging, but of facing end-of-life markers without anyone who loves you; who spent a bulk of their life with you. The biggest lesson I've learned during my time with DJ is that he reached out when he recognized that the quality of his life wasn't to his preference, and he made a change. While I wanted to "give back" to the aging queer community by volunteering, the cliché of my getting back more in return is true: DJ has taught me that there are no limits to speaking up for yourself, of asking for help, of expressing your needs as bluntly as possible. I can do that, too, when I am his age.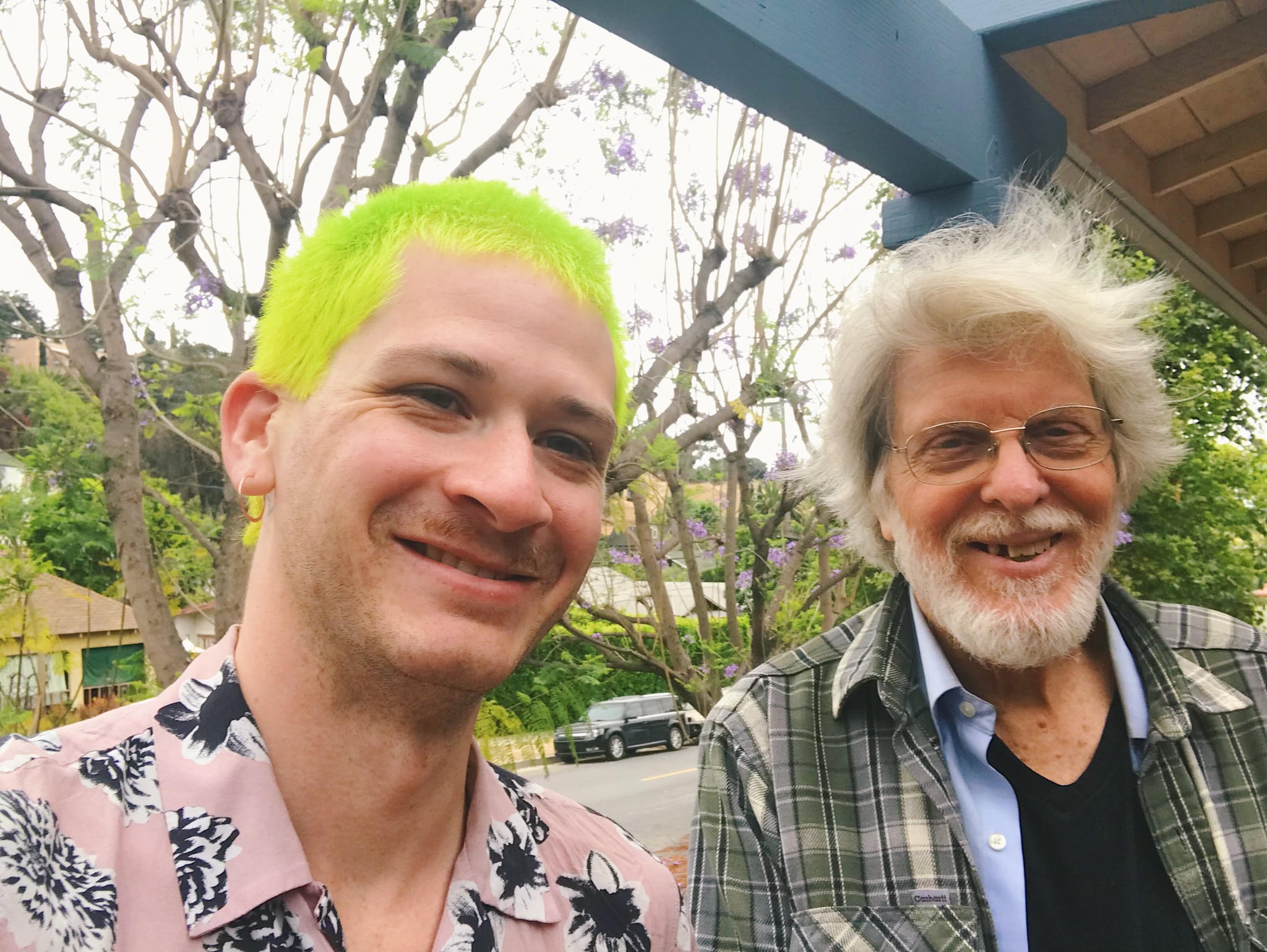 DJ also gives me hope in my peers and in the world. My age group (and younger and, occasionally, older folks) impress DJ constantly given their extreme openness. "There's gotta be a senior center for older gay folks to hang out or watch movies or just get to know somebody," he projects before lamenting the reality of queer aging. "When you get older, especially if you're LGBTQ+, you have to think about some kind of support system, some kind of way of managing the money you will have and the space you want to occupy." This he attributes to a unique type of queer loneliness that, while in many ways universal, is something to consider at all ages by turning to our friends and queer family of choice. "Try and find a friend or a confidant or social buddy who you can say whatever on your mind and expect to get a reasoned reply," he says. "You have to somehow find a mutual vibe there."
DJ sometimes talks candidly about how hard getting older can be. "The thing about aging is…" he trails, softening his speech. "…you get a little bit of deference but not much. Mostly society seems to want to put people away in nursing homes, which is counter productive in my mind." This is exactly why he reached out for help and turned to a social worker who, in turn, connected me with him. It's a sad American truth – and definitely something that we who are young, parentless, and queer can take the charge in righting.
We can hope for a better future, we can hope that the DJs in our lives and in the world have a me, but we also have to make that world. That is my charge and it's your charge, not only for queer elders but for all of our elders. In working with DJ, in seeing his life, aging is made real. I live thousands of miles from any of my grandparents and a similar distance from my parents: seeing people "get old" firsthand is out of my reach. The concept becomes a phantom limb, something you intellectually know but do not have experience of firsthand. My Saturdays with DJ make me want more: to share more, to give more, in the hopes that we can all experience and honor late life as we do young life.
Perhaps I need to start "Daddy's Boys." Perhaps I need to be more wide-eyed and receptive to any elderly person I come across in the world. It's a simple, obvious lesson. It just took a person like DJ to teach me.
If you're interested in helping or advocating for LGBTQ+ seniors, consider the work of Services & Advocacy for GLBT Elders (SAGE) along with regional organizations like Lavender Seniors and OutReach.
Source: Read Full Article