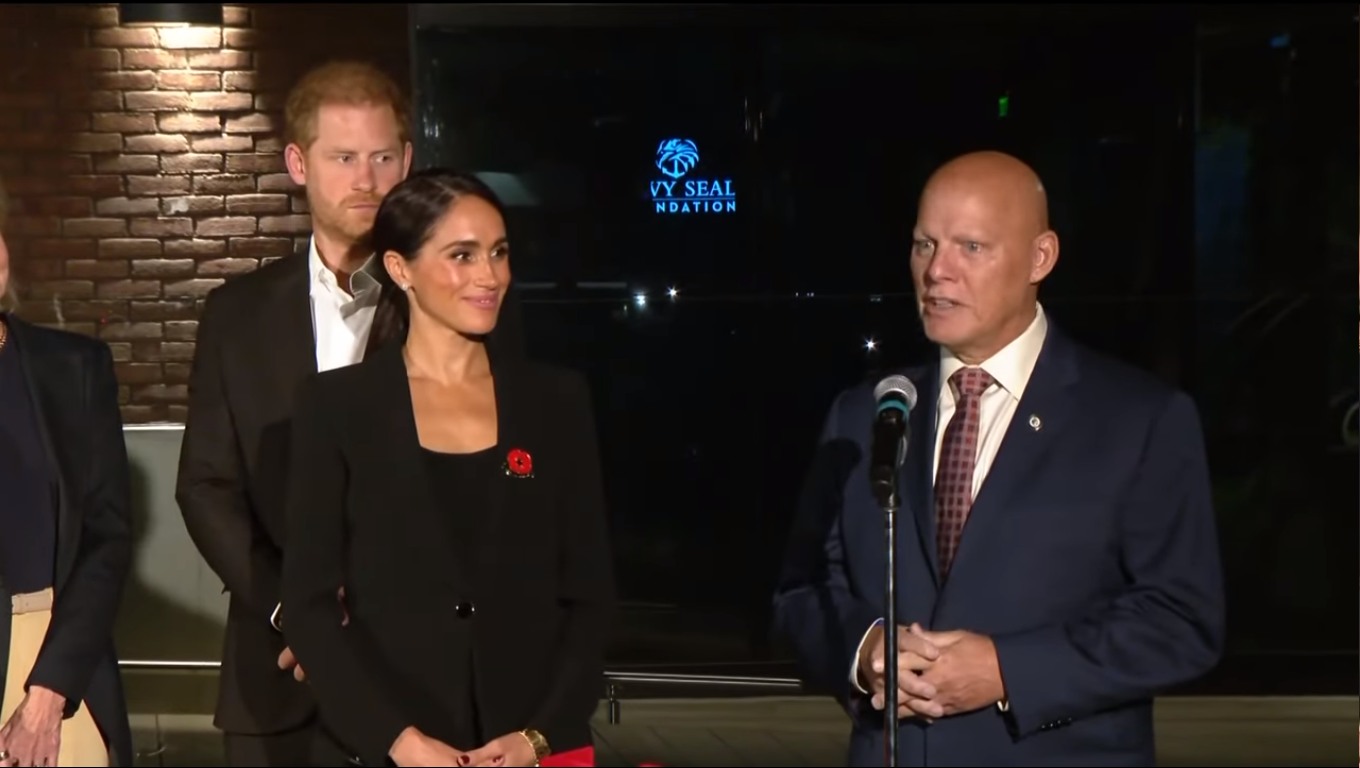 Since the Duke and Duchess of Sussex moved to America, they have always done something stateside to mark Veterans Day, or the UK's Remembrance Day. It was made clear to Harry that the Windsors would shut down every effort Harry made to honor British veterans from America, including the Windsors refusing to lay Harry's wreath at the Cenotaph in 2020. Last year, King Charles even had Harry's Remembrance wreath removed from The Poppy Factory's exhibit, that's how much the royal family despises and disrespects veterans.
In years past, we've only learned about the Sussexes' Remembrance activities after the fact. I'm glad they did something ahead of Veterans Day and Remembrance this year! Meghan and Harry were in San Diego on Wednesday for two events. During the day, they visited Camp Pendleton and spent time with military families. Then in the evening, they helped open up a new facility for Navy Seals and veterans.
Meghan Markle and Prince Harry are preparing for Veterans Day. On Wednesday, the Duke and Duchess of Sussex's organization Archewell shared news that the two "spent the morning with veteran and active duty service members and their loved ones at Camp Pendleton in San Diego, California."

During their visit to San Diego, Meghan, 42, and Harry, 39, stopped by Operation Bigs — a first-of-its-kind mentoring program dedicated to children of military families, including active duty, veteran, and Gold Star families. Those who attended ahead of Veterans Day, which falls on Saturday, discussed how the mentorship offered through Operation Bigs has supported their goals and ambitions, as well as the community's.

According to the Archewell website, the program was founded in 2004, and it helps to connect "young people and families to mentors who can relate to the shared experiences and challenges faced by having a parent or parents in the military when they are on deployment and after they have returned." Since its launch, Operation Bigs has helped more than 3,000 children of Navy and Marine Corps members and has expanded to over 30 affiliates throughout the nation.
[From People]
I'm including videos of the opening, plus photos taken by the photographer Matt Sayles, who is an industry photographer often hired by Archewell to get exclusive snaps. Something I enjoy is the fact that the American military and veteran communities have embraced Harry so much, to the point where he's seen as some kind of in-house royal star at their events. Fashion notes for Meghan: her navy cardigan at Camp Pendleton was Carolina Herrera (and it's already sold out) and her suit at the facility opening was Armani.
— People (@people) November 9, 2023
— Panqueque Real 🥞 (@panquequereal) November 8, 2023
Photos courtesy of Avalon Red, screencap courtesy of CBS San Diego/YouTube.
Source: Read Full Article